At Saatva, we know that most of our customers research a lot of mattress brands before making a decision. If you're shopping for a bed, you may be comparing Saatva and Nectar, a popular mattress in a box option. The Saatva mattress that most closely compares to Nectar's Premier model is the Saatva
Memory Foam Hybrid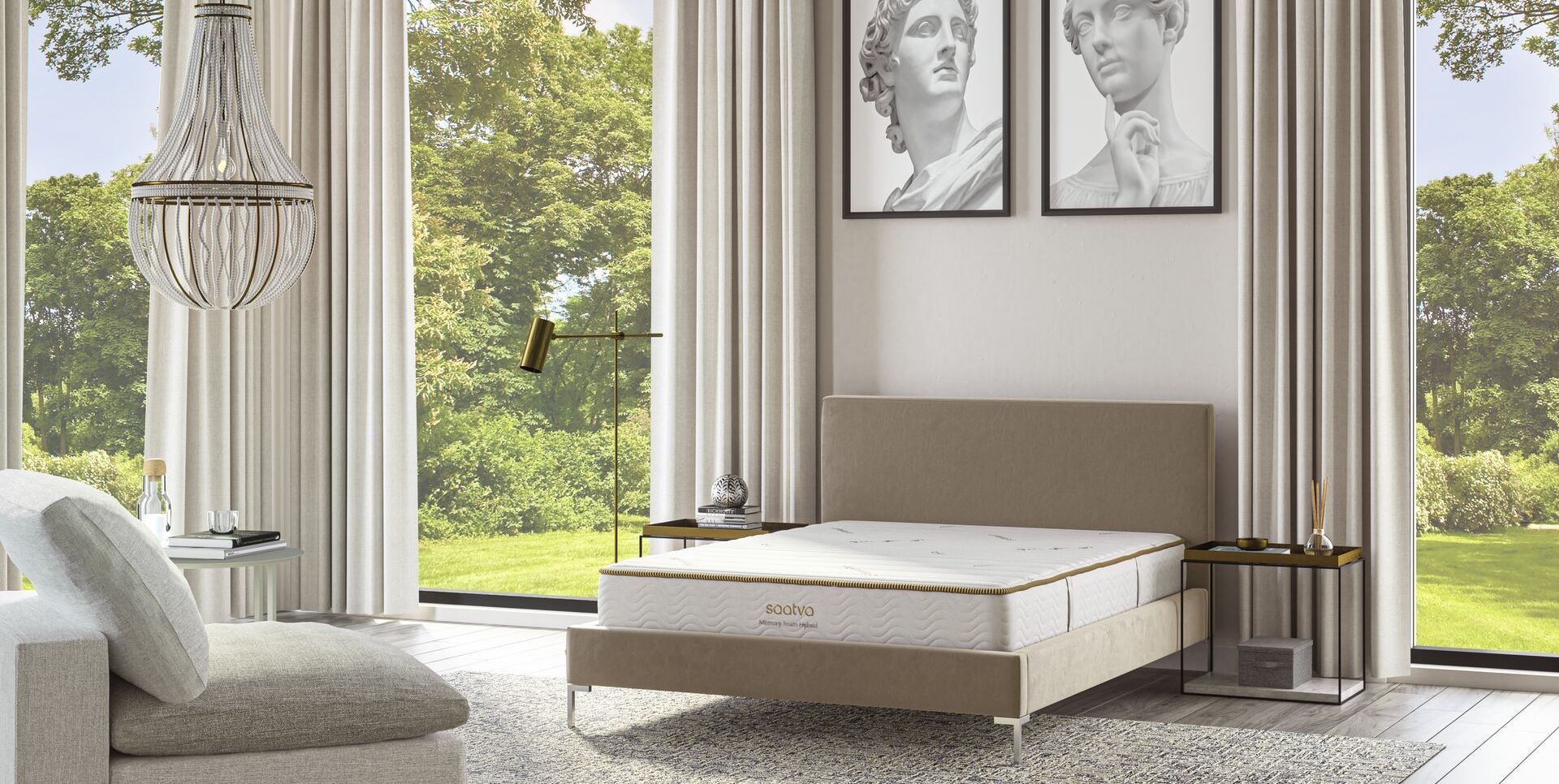 Memory Foam Hybrid
Our innovative memory foam & innerspring hybrid for cooler sleep
, the newest addition to Saatva's luxury mattress lineup.
While both mattresses feature a layer of cooling gel-infused memory foam for pressure relief and comfort, the similarities pretty much end there.
Here, we look at the top eight points of differentiation, starting with the biggest difference: how the mattresses are built.
Saatva vs. Nectar: key points of comparison
1. Construction
The biggest difference between the Saatva Memory Foam Hybrid and Nectar Premier is that Nectar is a compressed foam mattress in a box, whereas Saatva is a premium handmade mattress that gets hand-delivered and set up in the room of your choice.
Folding and rolling a mattress so it fits in a 47x16x16-inch box makes it cheap and easy for the manufacturer to ship, but it doesn't do anything good for the mattress.
Don't just take our word for it. Watch this video to see what happens when a mattress is crushed under 1,000 pounds per square inch of pressure:
Then watch this video to see how a Saatva mattress is handcrafted to understand the difference:
To learn more about what can happen to foam and springs when a mattress is compressed, read this comparison between Saatva and mattress in a box brands.
2. Foam quality
Foam has to be light to be compressed for shipping. The lighter, or less dense, the foam, the less durable and supportive the mattress will be over time.
Nectar doesn't disclose the foam density of the Premier mattress. (A representative said this information is "propriety" and they are "unable to share" details of the product.)
The memory foam in the Saatva Memory Foam hybrid is 4 pounds per cubic foot. (According to mattress review site The Sleep Judge, premium memory foam should be 3 to 4 pounds per cubic foot.)
Foam is like a sponge, and it has tiny cells that can break when you compress them. Not all of the cells will be broken during compression, but enough of the cells will be compromised that the lifespan of the mattress, and its ability to deliver proper support, will be reduced.
3. Off-gassing
Because Nectar mattresses are shrink-wrapped in a box, they may emit odors when first unwrapped.
This off-gassing is caused by volatile organic compounds (VOCs) escaping from foams as they expand. According to the Nectar website, you may have to wait up to 72 hours until the mattress is fully expanded and ready to use.
You can nap on your Saatva the moment it arrives (though we recommend you put sheets on it first!). Because Saatva mattresses are made to order and not boxed, shrink-wrapped, or kept in inventory, any off-gassing of materials takes place in the factory, not in the customer's home.
4. Mattress cover and flame retardant
The key to a cool and comfortable night's sleep is breathable materials close to the skin. The cover of the Nectar Premier is described as a "quilted poly-blend cover with polyethylene." We're not exactly sure what that is, but we know it's not natural cotton, the most comfortable and breathable material for mattress covers.
More important, though, is that Nectar Premier mattresses were subject to a recall in April 2022 for failure to meet federal flammability standards.
The Saatva Memory Foam Hybrid, like all Saatva mattresses, is covered in naturally breathable organic cotton. The cover is additionally treated with Guardin®, a proprietary botanical antimicrobial agent that inhibits the growth of bacteria, mold, and mildew.
Saatva uses a natural plant-based thistle pulp and wool flame barrier, never fiberglass or toxic chemical flame retardants.
5. Made in U.S.A.
In addition to the recent Nectar Premier recall, Nectar's parent company, Resident Home, also recently entered into a settlement with the FTC over false claims that its Dreamcloud mattresses were made with U.S.- sourced materials. According to the Nectar website, its products are "sourced and manufactured in places such as Vietnam, Malaysia, China, Mexico, and the U.S.A."
Every Saatva Memory Foam Hybrid is handcrafted in one of our 19 U.S. factories, using premium quality materials that comply with the highest standards of health and environmental safety.
6. Cost
You might think a luxury mattress, made to order in the U.S.A. with premium materials and delivered for free (with free old mattress removal upon request) would cost thousands of dollars more than a mattress manufactured overseas and shipped in a box.
As of this writing, a queen-size Nectar Premier costs $1,199 before any sales or special promotions. A queen Saatva Memory Foam Hybrid costs $1,595 before any sales or special promotions.
7. Delivery, setup, and returns
Both Nectar and Saatva offer free delivery; the difference, as we've noted, is that you have to unbox and set up the Nectar Premier yourself, whereas the Saatva Memory Foam Hybrid comes with in-home white glove delivery and old mattress removal included in the price. (It's worth pointing out here that a queen-size Nectar Premier mattress weighs 97 pounds.) If you want in-home delivery of your Nectar it will cost an extra $149.
Both the Nectar Premier and the Saatva Memory Foam Hybrid come with a 365-night home trial and lifetime warranty. Both offer free returns within the trial period, with a slight difference: If for any reason you want to return your Saatva mattress, a white glove delivery team will pick it up and take it away for a full refund, less a $99 processing fee.
Nectar doesn't pick up returns. Instead, the company says it will "help you find a local donation center" and issue a refund after it receives proof that the mattress has been donated. Additionally, Nectar doesn't accept returns before 30 days.
8. Customer satisfaction
Any mattress brand (including ours) will tout its positive customer reviews and high star ratings. But if you really want a view into customer satisfaction, look to independent third-party sources.
One such source is the Better Business Bureau (BBB). According to the BBB's website, Nectar, which is unaccredited, has a 1.19-star customer rating and has received more than 1,500 consumer complaints in the past three years.
The BBB hasn't issued its own rating to Nectar "for reasons that include insufficient information about a business or ongoing review/update of the business's file."
Saatva is BBB accredited, with a customer rating of 4.7 out of 5 stars. The BBB gives the business an A+ rating, which is a measure of how the company interacts with customers when it comes to complaints.
That's no surprise when you consider that Saatva's customer service representatives are available 24 hours a day, seven days a week, every day of the year, by phone, online chat, and email.
For a closer look at the Saatva Memory Foam Hybrid, check out our mattress page, where you can find full specs, a diagram of the layers, and more information about the newest addition to Saatva's luxury mattress lineup.
Want to see how Saatva mattresses stack up against other brands you might be considering? We've put together these comparisons to highlight the differences: