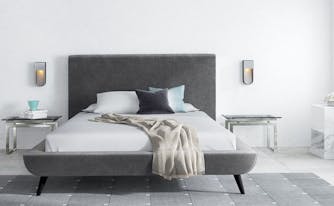 Bed Frames: A Buyer's Guide
We'd be the first to say that the most critical piece of the sleep experience is your mattress. Once you've chosen the right one for your needs—and complemented it with the best pillow, mattress pad, and sheets—you're well on your way to sound slumber. But there is another way to enhance your sleep setup, and that's with a carefully chosen bed frame.
Apart from style considerations (more on those later), the right bed frame can make your bedroom a more comfortable and relaxing place, especially if you like to spend time lounging in bed during waking hours.
Why you might want a bed frame
A bed frame's essential function is to support your mattress and foundation. It can be something quite basic, like the standard metal bed frame, or a more decorative version that also includes a headboard, side rails, and a footboard.
While you can certainly live a healthy and happy life with a standard bed frame, there are some good reasons to upgrade:
To add a personal touch to your bedroom. A well-chosen bed frame that complements your bedroom decor is often the first thing people notice when they enter the room and can help you create the right ambience.
To protect your wall. During the night, your pillow absorbs sweat and dead skin cells (which is totally normal). If you regularly lean your pillow—or your head, for that matter—directly against the wall, it will eventually leave a mark there. A bed frame with a headboard can keep the wall pristine.
To make you more comfortable. If you like to read in bed or settle in to watch a movie before dozing off, you'll be much more comfortable leaning up against a padded headboard than propped up on a mushy stack of pillows.
To keep you warmer. In the winter, having a bed frame with a headboard between your head and a cold wall will make you feel cozier.
Types of bed frames: Which one is right for you?
When choosing a bed frame, you need to take into account your preferred material, the size of your bed, your bedroom decor, and how you plan to use it.
Wooden bed frames are the most traditional type of bed frame. These usually feature a headboard, side rails, and sturdy legs and lend a rustic look to your bedroom.
Upholstered bed frames come in a variety of styles, like sleigh and wingback, so it's easy to find one that suits your decor and taste. If you like to read or watch TV while sitting up in bed, an upholstered bed frame that includes a headboard will keep you comfortable.
Check Out Saatva's New Line of Upholstered Bed Frames
Oslo Bed Frame
A modern take on the timeless sleigh bed. Featuring a hand-tufted headboard, nailhead trim, and fully upholstered back. Available in natural linen and taupe and graphite vintage velvet.
Shop
Metal bed frames are another popular option. Basic metal bed frames (without a headboard, side rails, or a footboard) often come as part of a set when buying a mattress and foundation, but you can also find versions with decorative features if you're looking to add more personality to your bedroom and want a lighter look than wood or upholstery. Most standard metal frames come with slots for attaching a headboard.
Wrought-iron bed frames, which include a headboard, side rails, and footboard, are lower maintenance than upholstered frames since you don't have to worry about fabric upkeep. They're also easier to move, as they're usually lighter than wood or upholstered bed frames.
Platform beds have quickly become one of the most popular types of bed frames, thanks to their contemporary, low profile look. Platform beds support your mattress without the need for a box spring or foundation. While traditional platform beds usually don't include headboards, you can now find newer styles that do. Platform beds can be made of wood (upholstered or not) or metal.
Related: The best mattress for an adjustable base
Bed frames vs. headboards
Now, just a quick note on headboards. They can be purchased separately and attached to most standard metal bed frames. Buying a headboard on its own is often less expensive than buying a full bed frame and is a good choice if you don't want to buy an entirely new bed but want to switch up the style of your bedroom.
You can find headboards in low or high styles. A tall headboard brings the drama—it'll be the first thing anyone notices in your bedroom. It can also make low ceilings look higher. A low headboard, meanwhile, might be better for smaller spaces or if you want to hang something on the wall above your bed.
Bed frame costs
The cost of bed frames ranges widely. Inexpensive ones can cost as little as $200. A high-quality upholstered bed frame, made from super-durable kiln-dried wood and constructed with mortise and tenon joinery (the gold standard in furniture-making), can cost anywhere from $1,200 to over $4,000. Metal bed frames, meanwhile, can range from $150 for cheaper options to over $1,000 for higher-quality ones.
Bed frame care
Bed frames don't require a ton of maintenance, but if you opt for an upholstered one, a little cleaning will go a long way toward keeping it in tip-top condition for years to come. You'll want to vacuum regularly to remove dust and dirt and follow the manufacturer's care instructions to treat stains.
Need a New Mattress to Go with Your Bed Frame? See What Saatva Offers
Saatva Classic Innerspring
Our flagship luxury mattress is expertly engineered with coil-on-coil construction for durability, a layer of memory foam for enhanced back support, and a cushiony Euro pillow top for extra comfort.
Shop