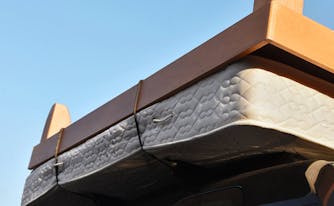 How to Know When It's Time to Replace Your Mattress
A mattress can be an expensive item, so it's no wonder people are tempted to keep theirs around for a long time. But at a certain point, you are going to need a new one.
"Mattresses don't come with timers in them, like turkeys, that pop out when they're done," says Michael Breus, PhD, a clinical psychologist and fellow of The American Academy of Sleep Medicine. "And they don't really fail, per se. They don't disintegrate on you like sneakers do, so it's easy to convince yourself it's still working."
Do I need a new mattress? Signs it's time
So how do you know when it's really time to replace your mattress? Look for these telltale signs.
You wake up with aches and pains
The old thinking was that you should replace a mattress every 10 years, but that's not really the case anymore. "Mattresses have made a lot of new advancements in the past 10 to 15 years," says Nancy H. Rothstein, director of Circadian Corporate Sleep Programs. "The materials back then weren't as good as they are now, so new mattresses can possibly last a lot longer."
What you should focus on is how you feel when you wake up. "If you feel stiff or sore, and this is happening two to three times a week, it's pretty likely that you need a new mattress," Breus says. "This can happen because of wear and tear over the years or because your body has changed—maybe you gained weight or got in an accident and need more support than you used to." (If you suffer from chronic back pain, check out these mattress-buying tips.)
Your mattress looks like a topographical map
Big dips or impressions in the top, or comfort, layer where you sleep each night is a surefire sign the mattress is breaking down. Also inspect the mattress for rips, lumps, or springs poking through—all of those indicate it's time for a replacement. (Here's how putting your mattress on the floor can affect its lifespan.)
How to get the most life from a mattress
When it comes to mattress longevity, different materials have different lifespans. As a rule, innerspring mattresses don't last as long as those made from memory foam or latex. When it comes to memory foam, denser foam (4 pounds per cubic foot or more) typically is more durable, with a lifespan of 10 to 15 years. Latex wins on the longevity front, with a lifespan of up to 20 years. All-natural latex lasts longer than synthetic or blended versions.
That said, how many years you'll get out of any individual mattress depends in large part on how you use and maintain it. For the longest life, it's best to rotate your mattress—turn it 180 degrees so the head and foot are reversed—at least once a year, so the surface wears more evenly. Some mattresses can also be flipped over, although most newer models are designed to be single-sided (check with the manufacturer if you're not sure).
Another key to making a mattress last is setting it on the right kind of base. Foam mattresses, for example, need a solid foundation (or a slatted base with slats no more than 3 inches apart), while Queen, King, and California King innersprings require a center support to keep from sagging. "And don't forget about a good mattress protector that's breathable and waterproof," Rothstein adds.
If it's not quite time to replace your mattress but you just wish it were a little cozier, there are some things you can do. The most obvious is to add a mattress topper. These foam or latex layers can help provide additional pressure relief and soften up a too-firm surface. You can also update the base; new adjustable bases, for example, let you elevate the head and foot of the bed for maximum comfort.
Time for a New Mattress? Check Out Saatva's Options
Saatva Classic
Our flagship luxury mattress is expertly engineered with coil-on-coil construction for durability, a layer of memory foam for enhanced back support, and a cushiony Euro pillow top for extra comfort.
Shop