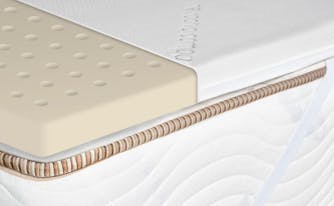 4 Ways to Make Your Mattress Feel Softer
It used to be thought a firm mattress was the best mattress for back pain. But in reality, everyone needs a different level of firmness. Side sleepers, for example, actually do better on a soft mattress because it provides more cradling under their shoulders and hips.
If your new mattress feels too firm for your liking, don't despair. There are a few things you can do to soften it up.
How to make your mattress feel softer
Follow these four pieces of advice for a softer mattress.
Give it time
Remember that most mattresses have a break-in period that might be a couple of months long, after which it will feel softer. But it's not only the mattress that takes time to soften up and mold to your body. Your body also needs time to adjust to your new mattress. Even if you know for sure it's better for you, your body will need time to get used to it. That being said, if your mattress is still uncomfortably firm after a month or two of sleeping on it, contact the manufacturer and see if you can exchange it during the trial period.
Get a mattress topper
If your mattress is past the trial period, you can get a mattress topper to soften things up. A mattress topper can be made of memory foam, latex, or can be filled with down or down alternative. They are usually 1-3 inches thick and come in different levels of firmness.
The different materials of mattress toppers will have different properties. Memory foam toppers provide great pressure relief and come in several different levels of firmness, depending on the density of the foam. Latex toppers will have a "springier" feel to them, and down or down alternative toppers will give you an extremely soft, even cloud-like surface to sleep on (but may not provide enough support for some people).
Don't confuse mattress toppers with mattress pads. Pads are much thinner than mattress toppers and while they can provide a layer of cushioning, their primary purpose is to protect the mattress from wear and tear.
Our Best Mattress Toppers
Graphite Memory Foam Topper
The latest in high-tech cooling. The contouring support of memory foam, plus the advanced heat-dissipating properties of graphite.
Shop
Flip your mattress
Most mattresses made today are not designed to be flipped, but a small number are. Check with your manufacturer before you flip yours. If yours can be flipped, you may find that one side of the mattress is softer than the other. For example, our Zenhaven mattress was specifically designed to be flippable and has two different comfort levels: a softer comfort level on one side and a firmer comfort level on the other.
Check your thermostat
Many mattress materials like memory foam soften up in warm temperatures. If your room is too cold, consider adjusting your thermostat just a bit (not too much, as you won't be able to sleep well if the temperature is very high). Use a heated blanket perhaps or flannel sheets to warm it up a bit more.
Get a Good Night's Sleep on One of These Saatva Mattresses
Saatva Classic
Our flagship luxury mattress is expertly engineered with coil-on-coil construction for durability, a layer of memory foam for enhanced back support, and a cushiony Euro pillow top for extra comfort.
Shop