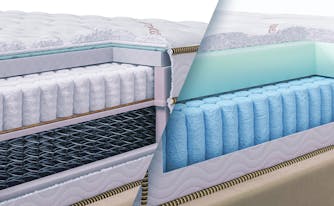 Hybrid vs. Innerspring Mattresses: Benefits, Drawbacks, and Key Features
If you're in the market for a new mattress, you've likely heard that hybrid mattresses are one of the most popular options for an upgrade. 
But how exactly do shiny new hybrid mattresses differ from more traditional options like innerspring mattresses—and why might you choose one over the other?
Let's explore the key differences between hybrid and innerspring mattresses to help you decide which one is best for your personal sleeping habits. 
What is the difference between innerspring and hybrid mattresses? 
Hybrid and innerspring mattresses are two very different types of mattresses when it comes to average cost, construction, firmness levels, and more. 
Innerspring mattresses are known for their classic, springy feel. They have a metal coil system to offer bounciness and a firmer feel for increased spinal alignment. 
Hybrid mattresses also use a coil support system but have soft layers of foam and a body-conforming pillow top. They have a transition layer of memory foam between the coils and mattress top, making them much softer than an innerspring mattress.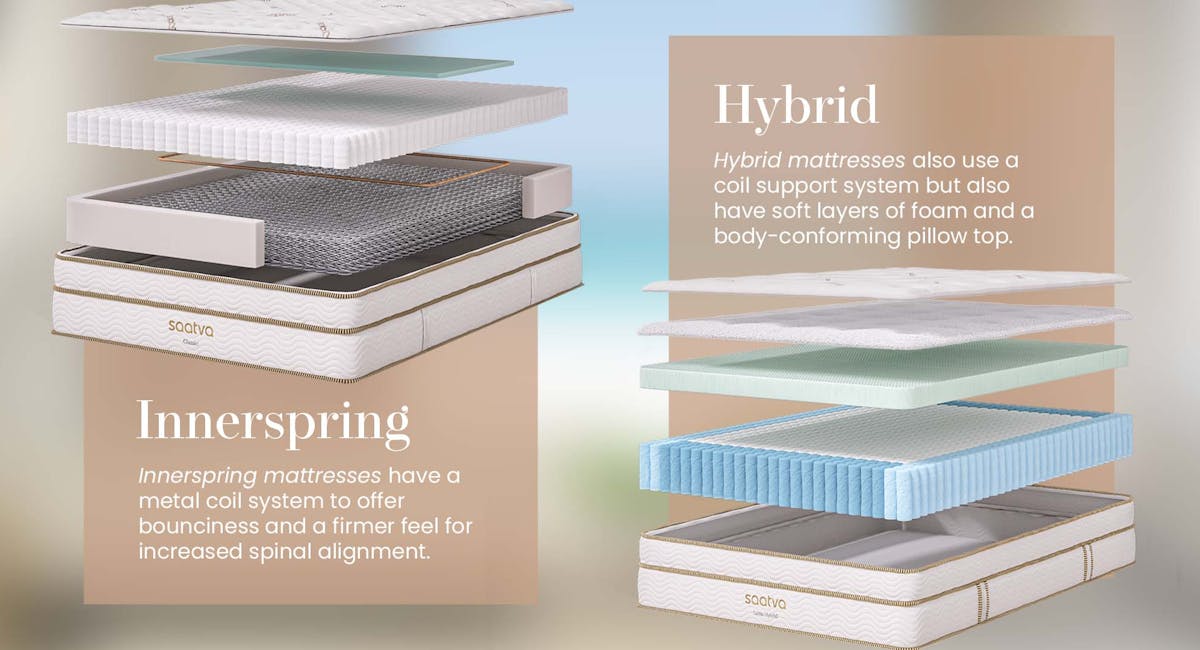 Let's take a look at some of the key differences between innerspring and hybrid mattresses.
| Mattress Trait | Innerspring Mattresses | Hybrid Mattresses |
| --- | --- | --- |
| Average Price (Queen Size) | $500-$1,800 | $500-$2,700 |
| Lifespan | 6 to 8 years | 10+ years |
| Firmness Levels | Medium-firm to extra firm | Medium to firm |
| Construction | Metal coil base with a small, padded comfort layer | Pocketed coil system with a plush foam top layer |
| Motion Isolation | Low to medium | Medium to high |
| Edge Support | High | Medium |
| Ideal Sleeping Position | Back sleepers and stomach sleepers | Stomach sleepers, side sleepers, and back sleepers |
Key features and benefits of an innerspring mattress
Innerspring mattresses are the most traditional mattress type on the market today. They're still popular due to their high levels of support and durability. Aside from that, innerspring mattresses have a few other advantages over their hybrid counterparts. 
Innerspring mattresses are cost-effective. Typically, innerspring mattresses come with a lower price tag than hybrid, latex, and memory foam mattresses—a huge perk if you're living on a tight budget.
They keep you cool. Innerspring mattresses sleep cool and cut down on body heat. The space between coils allows for higher levels of airflow and breathability throughout the night.
They're familiar. If you've always slept well on an innerspring mattress, sticking with the classic or upgrading to a hybrid innerspring mattress might just make sense. There's real comfort in knowing what to expect from your mattress, especially considering you could be sleeping on it for over a decade.
They offer great support. Because of the metal coil system in place, innerspring beds tend to be very supportive. A supportive sleep surface like this can help ease back pain and ensure a good night's sleep. 
Innerspring mattress drawbacks
The same features that many people love about innerspring mattresses—their springiness and simplicity—can turn into downsides depending on your personal preferences. 
An innerspring mattress might disrupt your sleep due to increased motion transfer from springy coils and may not be soft enough to keep you comfortable throughout the night, especially if you're in need of pressure point relief. 
Ideal sleep styles
All in all, whether or not an innerspring mattress makes the most sense for you depends on your body type and sleeping position.
In general, innerspring mattresses tend to be better than other mattress types for stomach sleepers, back sleepers, and hot sleepers. 
Additionally, single sleepers will benefit from using an innerspring mattress over couples because of the higher levels of motion transfer.
Stomach sleepers should opt for a firm to extra firm innerspring mattress to help relieve pressure from their lower back. 
Back sleepers should opt for a medium-firm to firm innerspring mattress for a contouring support layer and extra comfort.
Key features and benefits of a hybrid mattress
Hybrid mattresses are much newer than the traditional innerspring mattress. They use a combination of a pocketed coil system and a comfort layer made of memory foam, latex foam, or polyfoam for a supportive yet soft feel. Hybrid beds have a few key benefits that set them apart from the rest of the mattresses on the market: 
Sleeping on a hybrid mattress feels like floating on the surface. Thanks to a combination of memory foam or latex and springs, hybrid mattresses are buoyant for comfort and don't cause sinkage.
Hybrid mattresses reduce motion transfer. Individually-wrapped coils topped with foam lower the chances that you and your partner will wake each other up when you shift in position or get out of bed at night.
They keep you cool. With high-tech cooling materials plus airflow between coils, hybrid models can keep you from overheating at night, unlike most memory foam mattresses.
They're comfortable for any sleeping position. With varying options for firmness and comfort foam layers, hybrid mattresses can easily suit your personal preferences.
They're soft on pressure points. The additional memory foam layers of a hybrid mattress can help distribute your body weight and help with pressure relief on your back, neck, and hips.
Drawbacks of a hybrid mattress
Since hybrid mattresses offer a combination of features found in both innerspring and memory foam mattresses, they tend to be more expensive than more traditional mattress options.
Ideal sleep styles
A hybrid mattress can make a great fit for any sleeping position. Here's how to choose the right firmness level for the way you sleep:
Side sleepers should opt for a softer hybrid mattress to relieve pressure on their back, shoulders, and hips. 
Back sleepers should opt for a medium-firm hybrid mattress to cushion their pressure points but maintain the natural curvature of the spine.
Stomach sleepers should consider a firm hybrid mattress to help keep their posture in check.
Combination sleepers should opt for a medium-firm hybrid mattress that can support their back and reduce pressure on their joints at the same time.
Other types of mattresses to choose from
While spring mattresses and hybrid mattresses have their own benefits, they still might not be the correct fit for you. Luckily, there are quite a few other mattress options you have to choose from, including:
Memory foam mattresses
Gel memory foam mattresses
Natural latex mattresses
Synthetic latex mattresses
Latex and memory foam beds are both on the softer, plusher side. While they don't offer the same natural support from innerspring coils, they do offer an excellent level of comfort and contouring.
You can check out our other mattress comparisons in the following articles to learn more:
Choosing the best mattress for your sleeping habits with Saatva
Whether you've decided to opt for a traditional innerspring mattress, a plush hybrid mattress, or a completely different mattress type, Saatva has the perfect selection for you. Our high-quality mattresses are curated with your comfort in mind. 
Start getting better sleep with a high-quality and comfortable Saatva bed. You can take our online mattress quiz to find the right mattress for your personal sleeping habits and take advantage of our industry-leading warranty on all of our mattress products.