If you're shopping for a new mattress, it's easy to end up split between latex and hybrid. Both mattress types are popular choices because they offer a combination of uplifting comfort and support.
But what's the difference between latex vs. hybrid mattresses, and which one might be best for you? Read on to learn everything you need to know about these two mattress types, including the pros and cons of each.
What is the difference between latex and hybrid mattresses?
Selecting a type of mattress can be difficult. To find the perfect mattress type for your sleeping habits, you'll need to consider the cost, construction, and features like firmness and edge support.
Latex mattresses are made with a hypoallergenic blend of natural latex foam. They're known for their body-contouring abilities, durability, and pressure relief. They're a great option if you want a soft and plush feel with added support for your back and neck.
Hybrid mattresses are constructed with a pocketed coil system inside and a soft latex, memory foam, or polyfoam comfort layer on top. While they're very similar to innerspring mattresses, they offer more flexibility when it comes to firmness level and feel.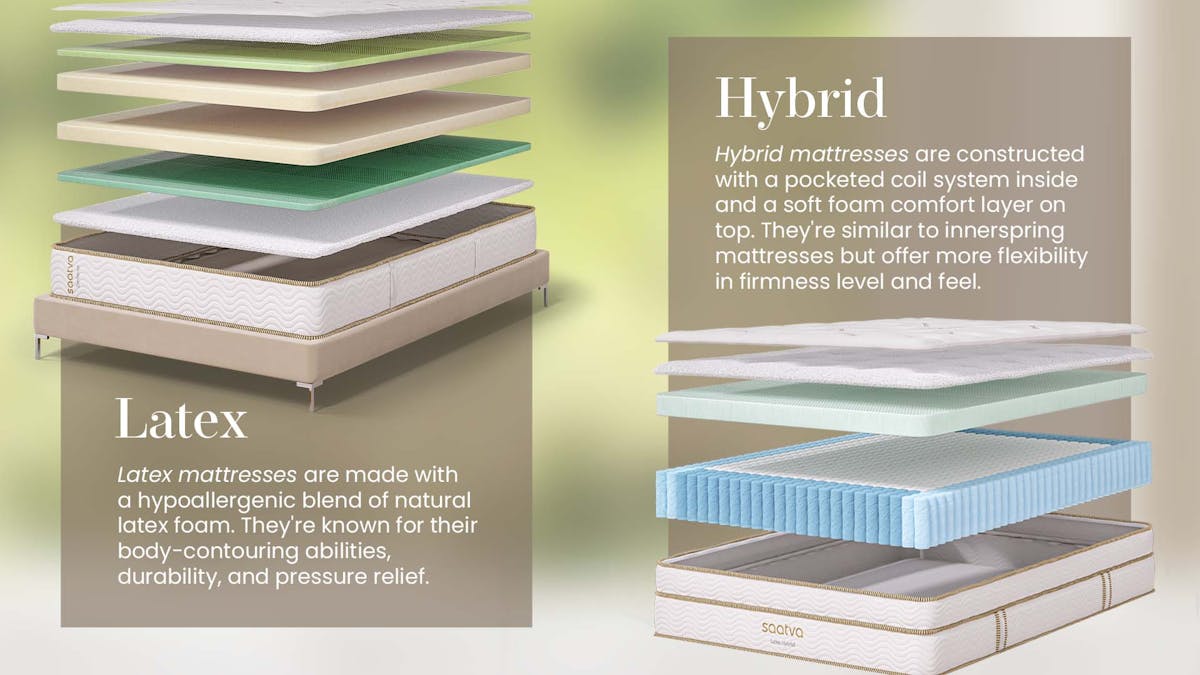 Let's explore some of the key differences between natural latex and hybrid mattresses.
| | | |
| --- | --- | --- |
| Mattress Trait | Latex Mattresses | Hybrid Mattresses |
| Average Price (Queen Size) | $1,300-$3,000 | $500-$2,700 |
| Lifespan | 15 years | 8 to 10 years |
| Firmness Levels | Soft to firm | Medium to firm |
| Construction | High-density latex foam built with your comfort in mind | Pocketed coil system with a plush foam top layer |
| Motion Isolation | High | High |
| Edge Support | Low | High |
| Ideal Sleeping Position | Back sleepers, side sleepers, and stomach sleepers | Back sleepers, side sleepers, stomach sleepers, and combination sleepers |
Benefits of latex mattresses
Latex mattress construction is pretty simple. Latex foam is a natural material, sourced directly from the rubber tree. In a latex bed, the bottom layer is the support core, while the top layers are engineered for comfort. A natural latex mattress will also include other materials, such as organic cotton or natural wool, commonly used as a flame retardant, in the padding and cover.
These mattresses have quite a few benefits compared to some of the other mattress types on the market including:
Latex mattresses are supportive and comfortable. Latex conforms to your body like memory foam but remains buoyant, so you sleep on top of your mattress without sinking into it.
Latex mattresses are a good choice if you have allergies. Natural latex resists mold and dust mites, and it's hypoallergenic—a win-win! However, synthetic latex mattresses won't have the same hypoallergenic properties.
They stay cool. Compared to other types of foam, all-latex foam beds have a more open-cell structure which allows for a cooler night's sleep thanks to increased airflow.
They're eco-friendly. Sustainable, nontoxic, and biodegradable, natural latex is a greener mattress choice compared with other mattresses made with foams that may contain hazardous chemicals like formaldehyde and perfluorocarbons.
They're ultra-durable. Because natural latex is such a strong material, latex mattresses can outlast other mattress types by about five to 10 years. They also tend to be denser than polyurethane foam mattresses, making them much more durable.
Drawbacks of latex mattresses
While latex mattresses have plenty of benefits, they also have their drawbacks. Before purchasing a latex mattress, there are a few things you should keep in mind.
Latex mattresses are expensive. Due to the cost of production, latex mattresses are pricier than other mattress types. While synthetic latex beds are cheaper, they're not as earth-friendly or durable as their natural counterparts. Synthetic materials also don't have the same quality or benefits as a natural latex mattress.
They have low edge support. Edge support can affect the security of your bed and increase the surface area. Latex foam mattresses don't have as much edge support as some other mattress types. Because of this, they may not be the best option for children or plus-size sleepers.
They're heavy. Latex mattresses tend to be even heavier than other mattress types, so you may need extra help moving your mattress.
Ideal sleep styles for latex mattresses
While latex mattresses have their own pros and cons, the main thing that will determine your ideal mattress type is your sleep style. Latex mattresses will be the most beneficial for side sleepers and back sleepers, although stomach sleepers can choose this type of mattress if it has added support.
Side sleepers will benefit from the additional cushioning and body-contouring abilities. It can help with pressure point relief for your back and neck.
Back sleepers will benefit from the additional support and spinal alignment from a latex mattress.
Stomach sleepers need a firmer sleep surface to support their back and neck throughout the night. If you're a stomach sleeper and latex appeals to you, then choose a latex mattress with zoned support.
Benefits of hybrid mattresses
Hybrid mattresses feature a structured coil support system to reduce motion isolation inside. Additionally, you'll find multiple foam comfort layers and a pillow top for a plush, soft feel.
Some of the key benefits of using a hybrid mattress include:
Sleeping on a hybrid mattress feels like floating on the surface. Thanks to a combination of memory foam or latex and springs, hybrid mattresses are buoyant for comfort you won't sink into.
Hybrid mattresses reduce motion transfer. Individually-wrapped coils topped with foam lower the chances you and your partner will wake each other up when you shift in position or get out of bed at night.
They keep you cool. With high-tech cooling materials plus air circulation between coils, hybrid mattresses have increased breathability. They have excellent temperature regulation and can keep you incredibly cool throughout the night.
They're comfortable for any sleeping position. With varying options for firmness and comfort layers, hybrid mattresses can easily suit your personal preferences.
They're soft on pressure points. The additional comfort layers of a hybrid bed can help distribute your body weight evenly. This can help with spinal alignment and add extra support to help reduce back pain.
Drawbacks of hybrid mattresses
Hybrid mattresses offer a lot of benefits, but they also do come with their drawbacks. Before purchasing a hybrid mattress you should consider:
Hybrid mattresses are expensive. A big drawback to hybrid mattresses is the price tag. Because they often come with advanced features you can't find in a different mattress, they're some of the most expensive mattresses on the market.
Hybrid mattresses are noisy. Hybrid mattresses are on the noisier end of the spectrum compared with latex beds, which have no mechanical components or moving parts.
Hybrid mattresses are heavy. Because hybrids use both high-density foam and a coil system, they can be heavy and difficult to move.
Ideal sleep styles for hybrid mattresses
At the end of the day, the most important part of choosing a mattress type comes down to your sleeping style. Luckily, hybrid mattresses work well for just about any sleeping position.
Back, side, and stomach sleepers can all benefit from the extra support and comfort of a hybrid mattress. Because of their universal ability to support all types of sleepers, they also work well with combination sleepers.
Additionally, if you have a heavier body type, a medium-firm hybrid mattress can provide the combination of support and cushioning you need.
Our best hybrid and latex mattresses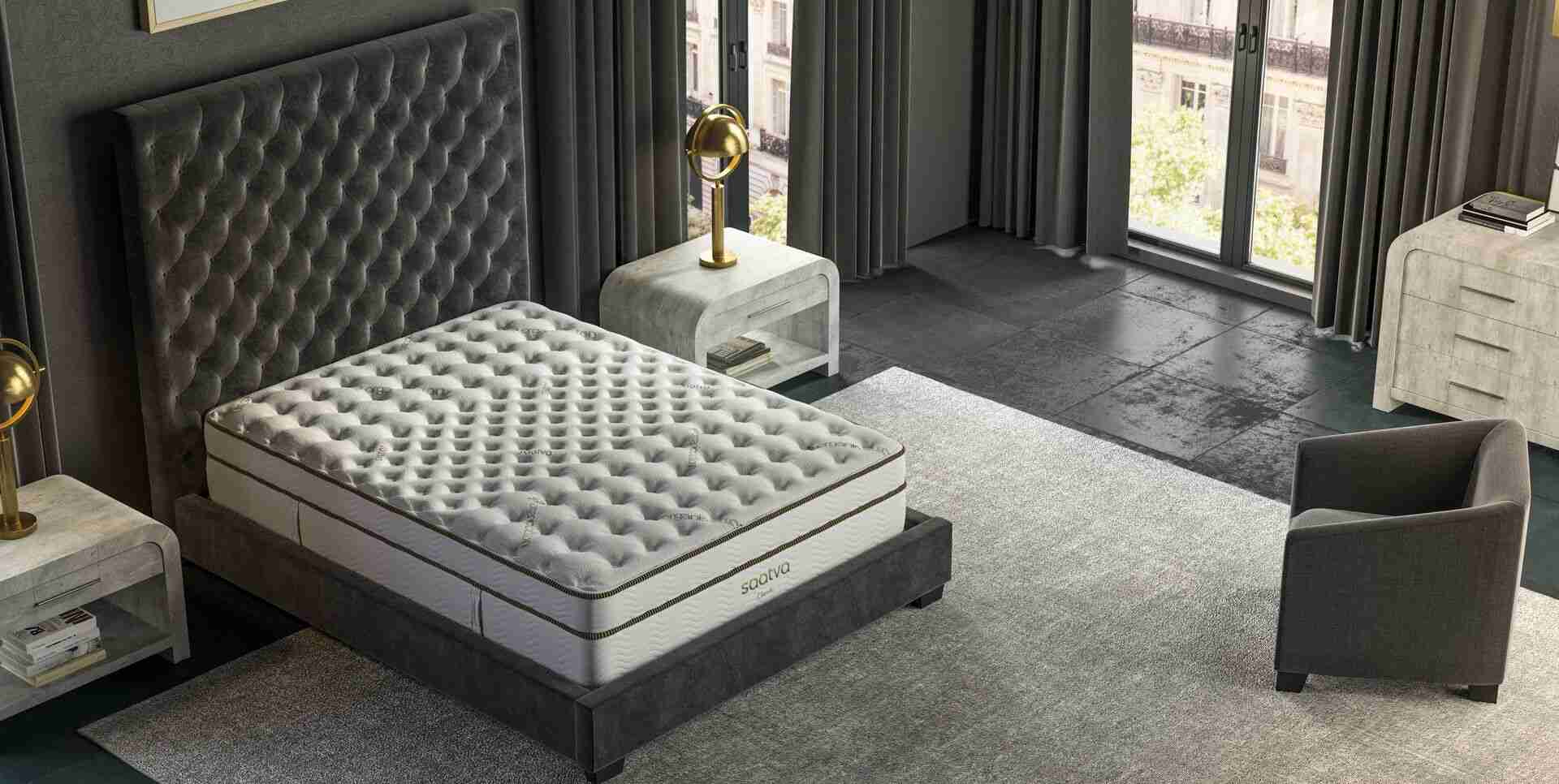 Our flagship luxury mattress is expertly engineered with coil-on-coil construction for durability, a layer of memory foam for enhanced back support, and a cushiony Euro pillow top for extra comfort.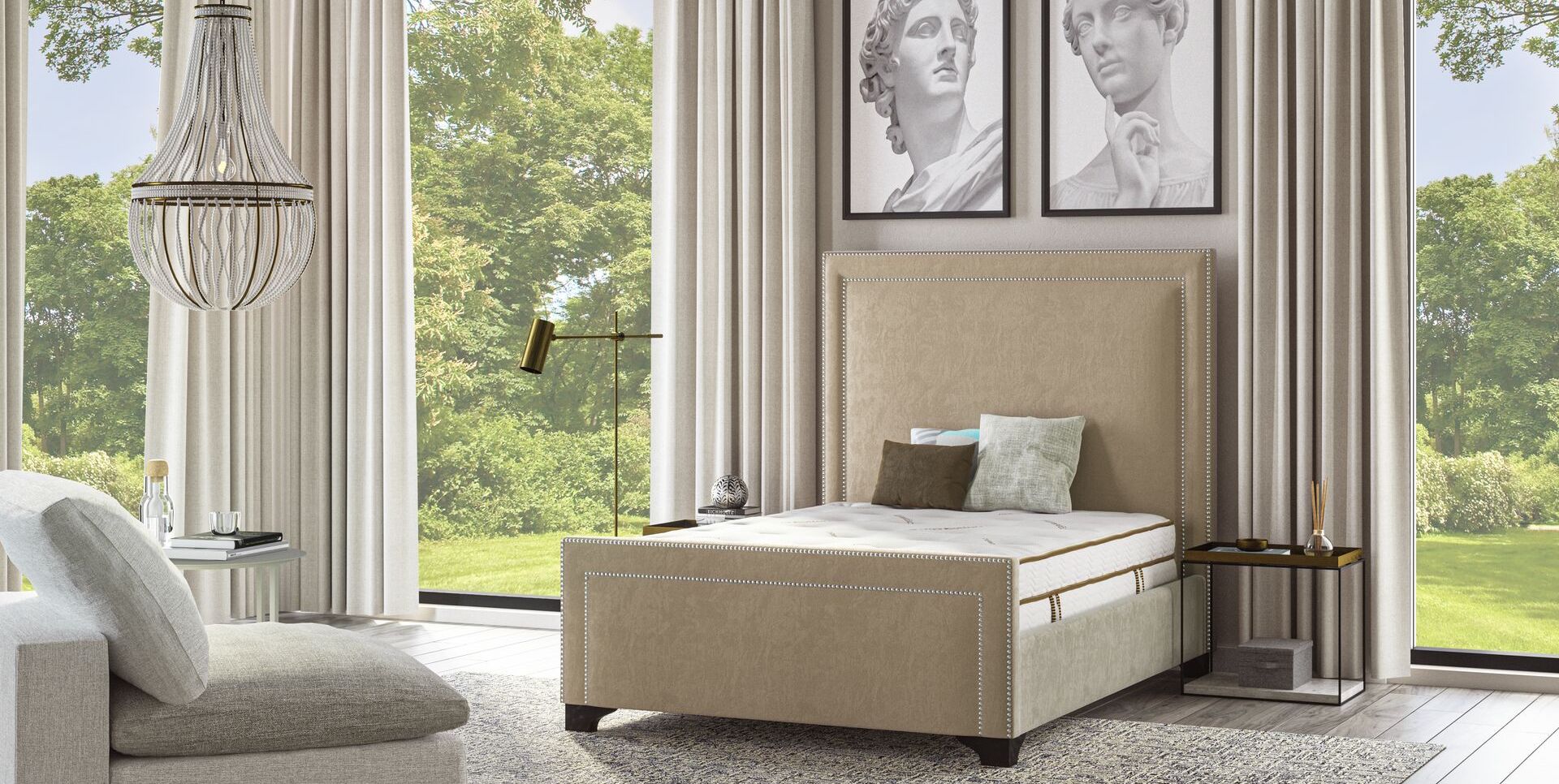 This hybrid mattress combines the pressure-free support of natural latex with the classic innerspring feel. Handcrafted with pure materials for the ultimate in cool and healthy sleep.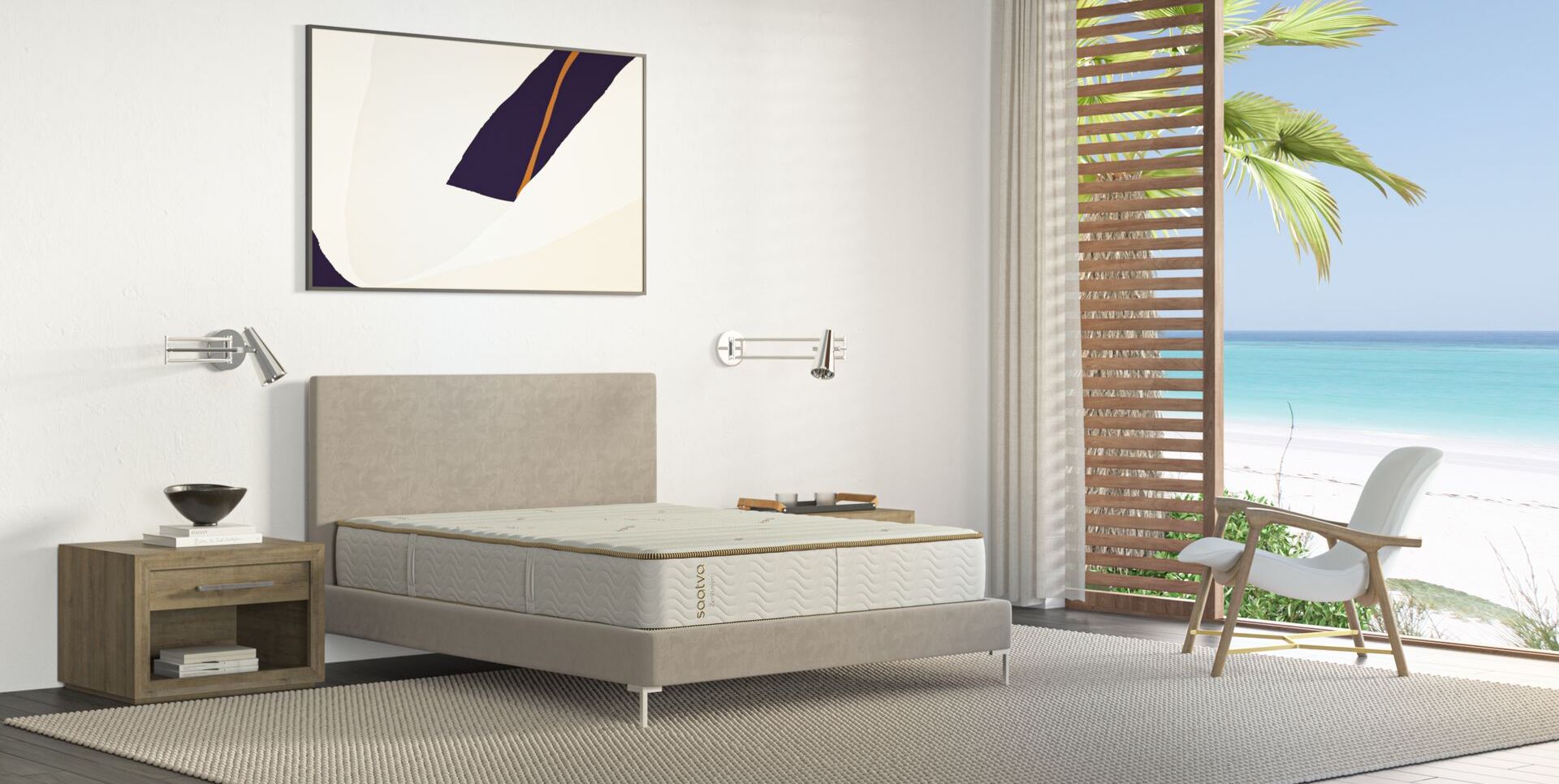 Natural latex responds to every curve for pressure-free support and responsive comfort. Natural latex is supple, resilient, and durable, for the ultimate in elevated sleep. (It's naturally hypoallergenic too.)
Other mattress types to consider
If you still don't think a hybrid or latex mattress fits your needs, don't worry! There are plenty of other mattress types on the market with different price points, construction, and benefits. Some of the other main mattress types include:
Innerspring mattresses
Traditional memory foam mattresses
Gel memory foam mattresses
To learn about more of the main mattress types available, explore our other mattress buying guides:
Discover Saatva's high-quality latex and hybrid mattresses
After deciding what is the best mattress type for your sleeping habits, you just have to figure out where to buy it from. With so many mattress manufacturers out there, it can be difficult to determine where to shop.
Saatva's here to help. We offer high-quality
latex mattresses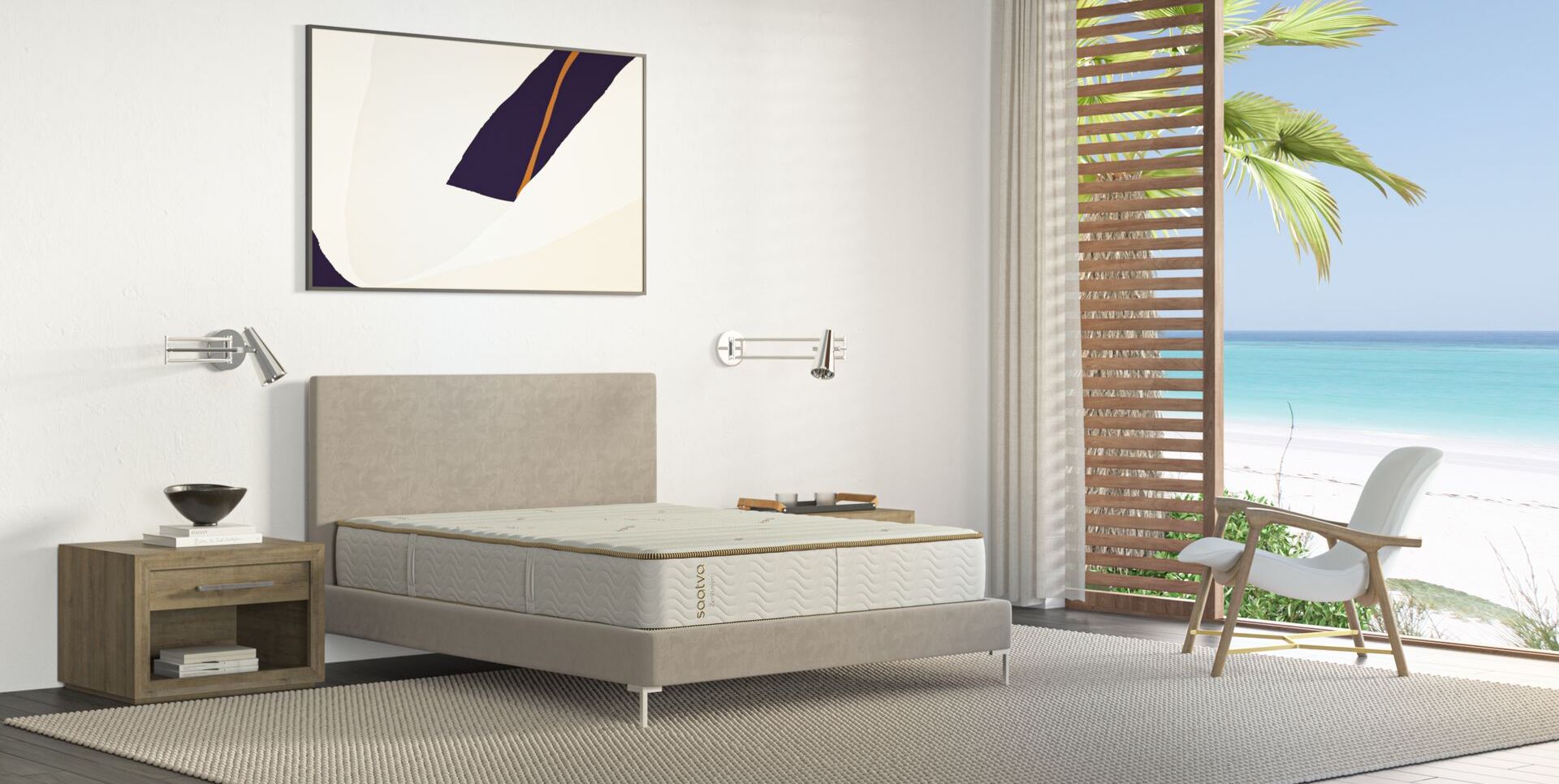 Zenhaven
Our dual-sided organic natural latex mattress for buoyant, pressure-relieving comfort
and
hybrid mattresses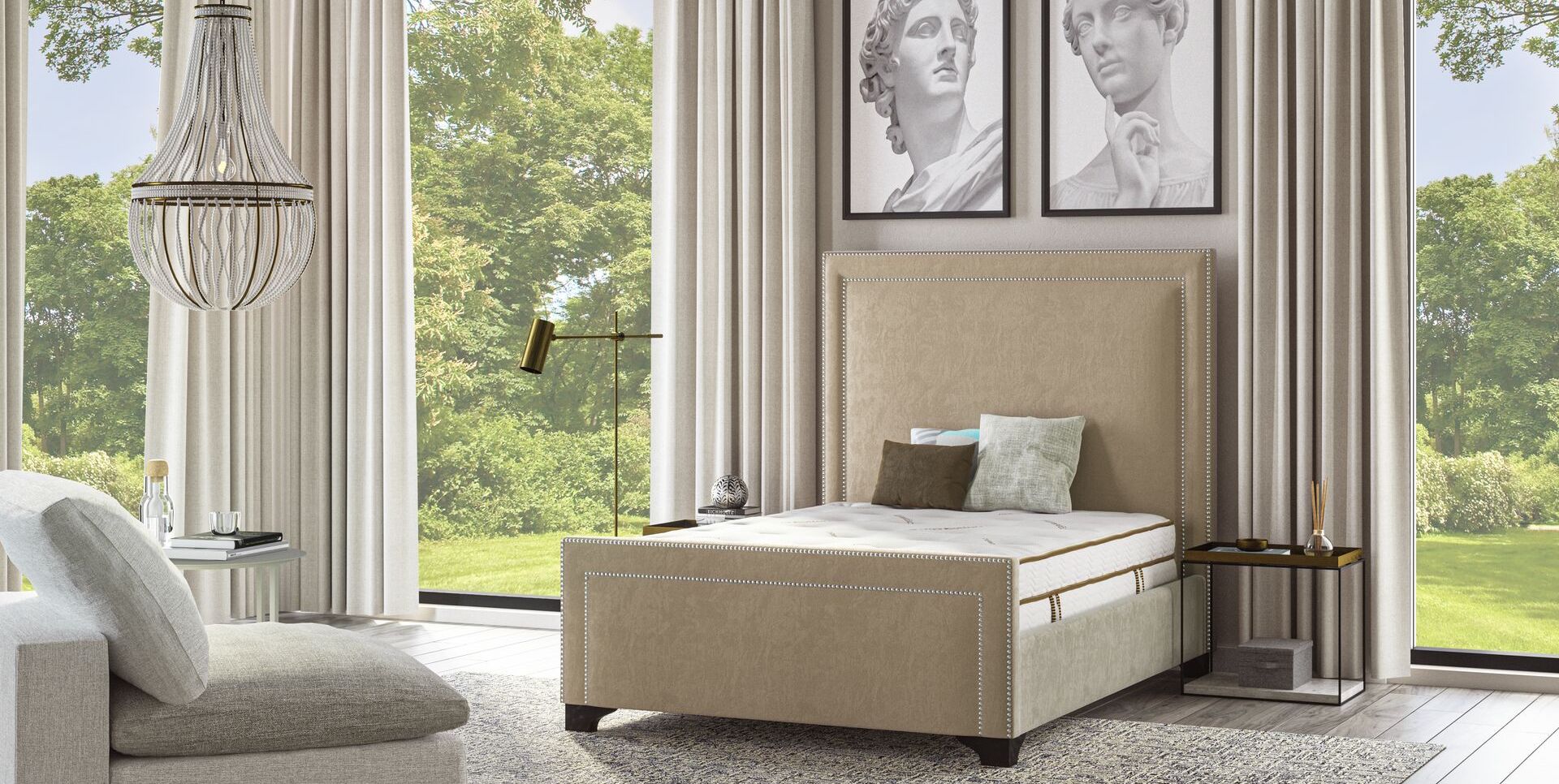 Latex Hybrid
Our hand-tufted, organic natural latex hybrid innerspring for buoyant, cooling comfort
to suit every sleep style. To decide which one is right for you, take our
online mattress quiz
. Then take advantage of our 365-night sleep trial and industry-leading warranty.