Welcoming summer requires some prep—stocking up on SPF, planning barbecues, waxing your surfboard. Also on the list should be readying your bedroom for warmer weather and the lovely abundance of light.
"It's nice to create a lighter, brighter interior that's a bit more relaxed to reflect the overall summer mood," says Brooklyn-based interior designer Julia Mack.
How to transition your bedroom from spring to summer
The summer bedroom calls for a few changes, starting with the right linens to help you sleep comfortably and wake up refreshed.
Beyond bedding, Mack says, there are also a few surprisingly simple, inexpensive décor tweaks you can make to create that living-is-easy ambiance. "Just don't wait till temperatures are hovering at 90 degrees, or you won't want to lift a finger," she says. Use this list as your guide.
Strip, clean, and store
Even if you already performed a proper spring cleaning, it may still have been too cool to put away your heavy quilt, thick curtains, and deep pile rugs. Now's the time.
Launder large items like your comforter in a commercial washer, then dry until fluffy; store in a plastic zipper bag with a vacuum seal if you're short on space.
Splurge on professional cleaning for area rugs or rent a shampooer from a home improvement store; enclose in rug storage bags vented for air circulation if you opt to put them away.
Change your sheets
According to Jodi Ruggeri, owner of Designers Linen Source, a trade-only showroom in the Chicago Merchandise Mart, selecting the best summertime sheets depends on a number of factors, including bedroom temperature and whether you're a cool sleeper or tend to run hot.
Generally speaking, natural, breathable fibers such as 100% cotton, as opposed to synthetic blends, feel most comfortable in warm weather.
Hot sleepers, however, may do well with moisture-wicking "smart" fabrics that purport to banish perspiration.
Weave—percale versus sateen—is worth noting too. Percale is a plainer, more open weave with a matte finish, much like a fine dress shirt. If you like a crisp sheet (and don't mind wrinkles), percale is a good summer choice. Sateen is a tighter, silkier weave, good for summer sleepers who like to snuggle in the AC or use just a top sheet in lieu of a blanket.
When it comes to thread count, don't be fooled into thinking that higher always equals better. "Thread count can be misleading and misunderstood," Ruggeri says. "The quality of cotton is the most important factor when selecting bed linens, so choose long or extra-long-staple cotton and you won't be disappointed."
Related: What you need to know before buying new sheets
Stay cool for the summer with these sheets and coverlets from Saatva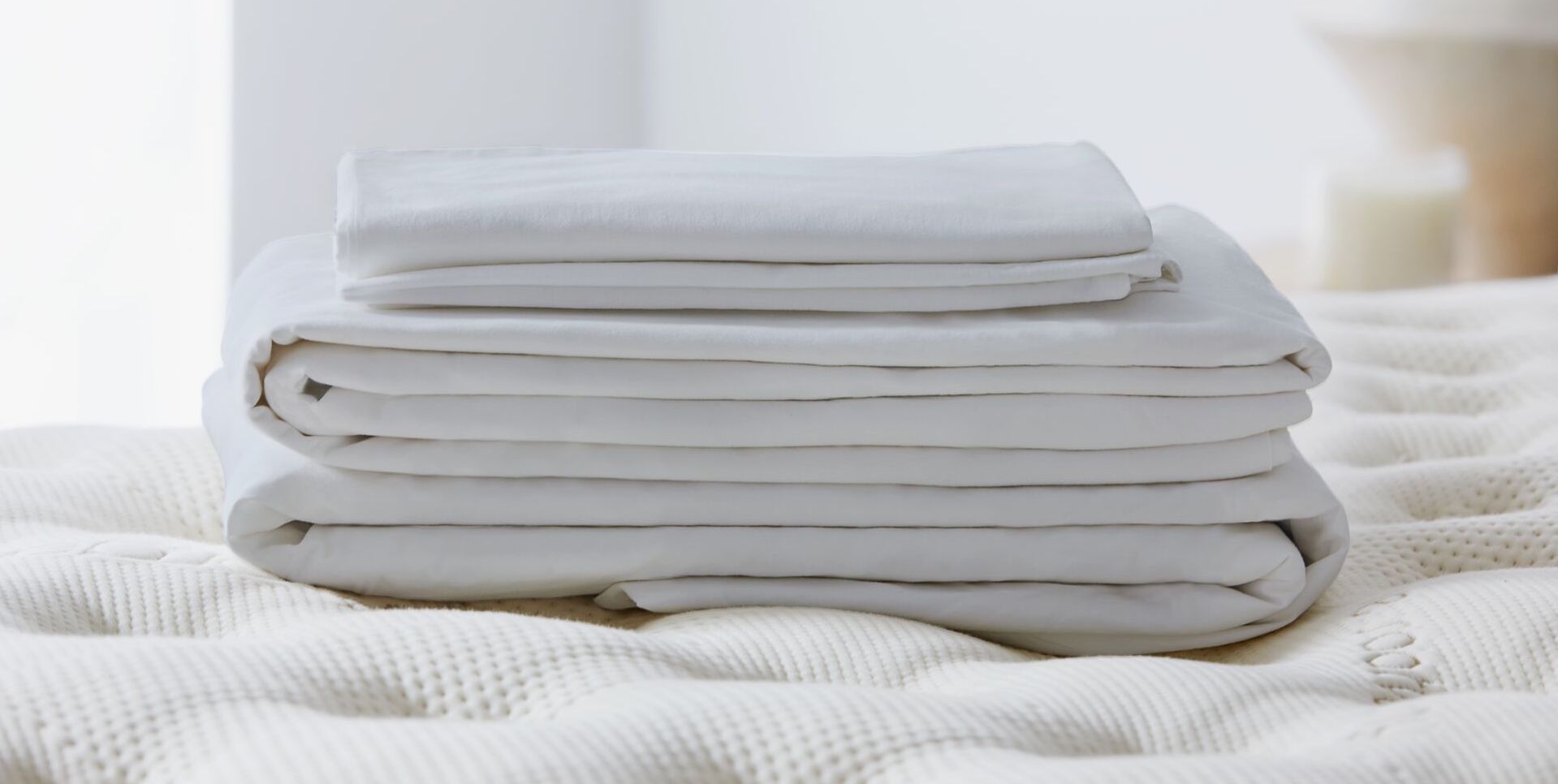 Pamper yourself in deluxe comfort with our breathable percale sheets. They're made from the world's best long-staple cotton that gets softer and better with every wash.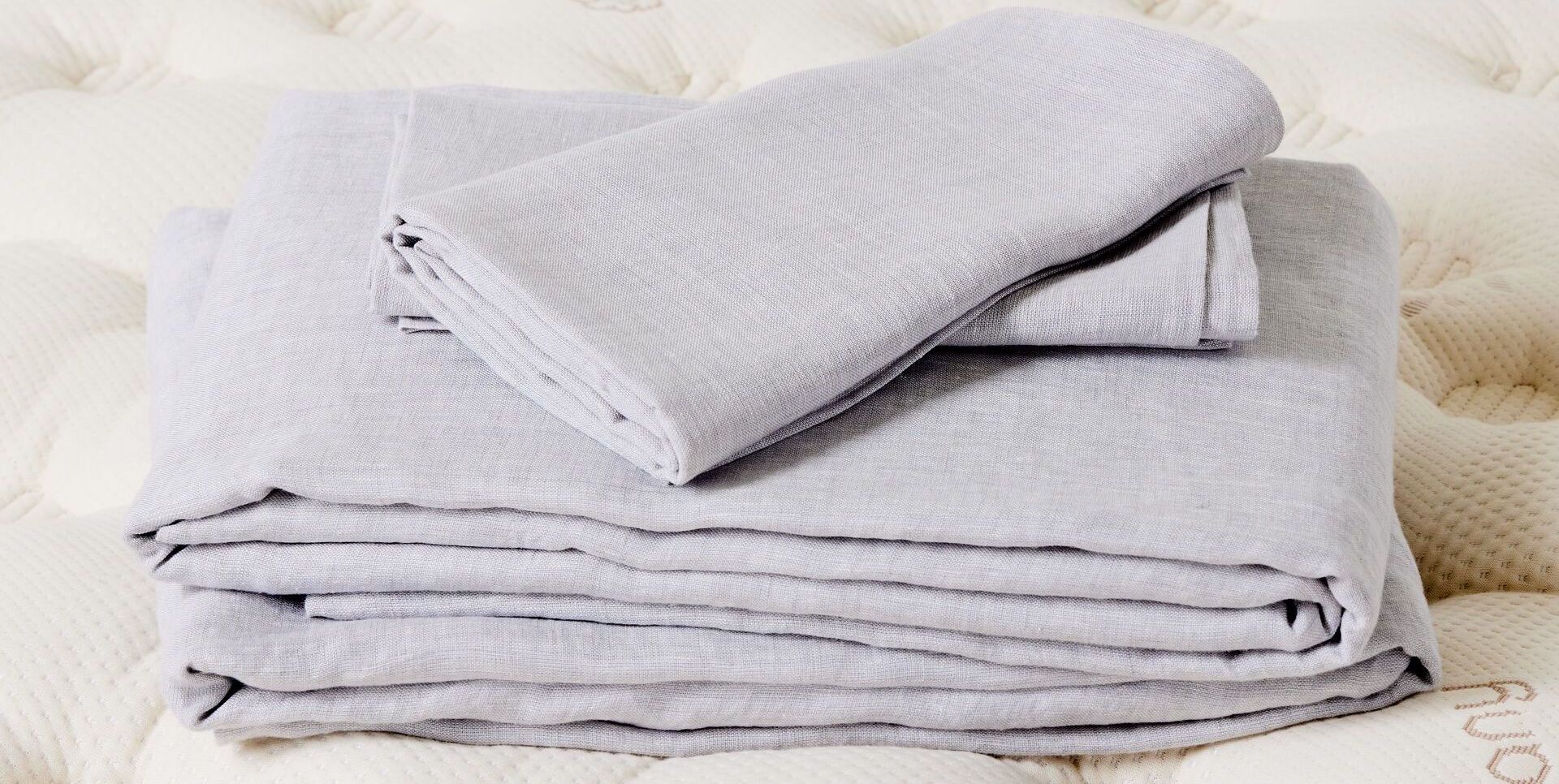 Sleep in effortless style with our deluxe linen sheets made with responsibly-sourced, all-natural Belgian linen. Stays cool in the summer, warm in the winter, and gets softer with every wash.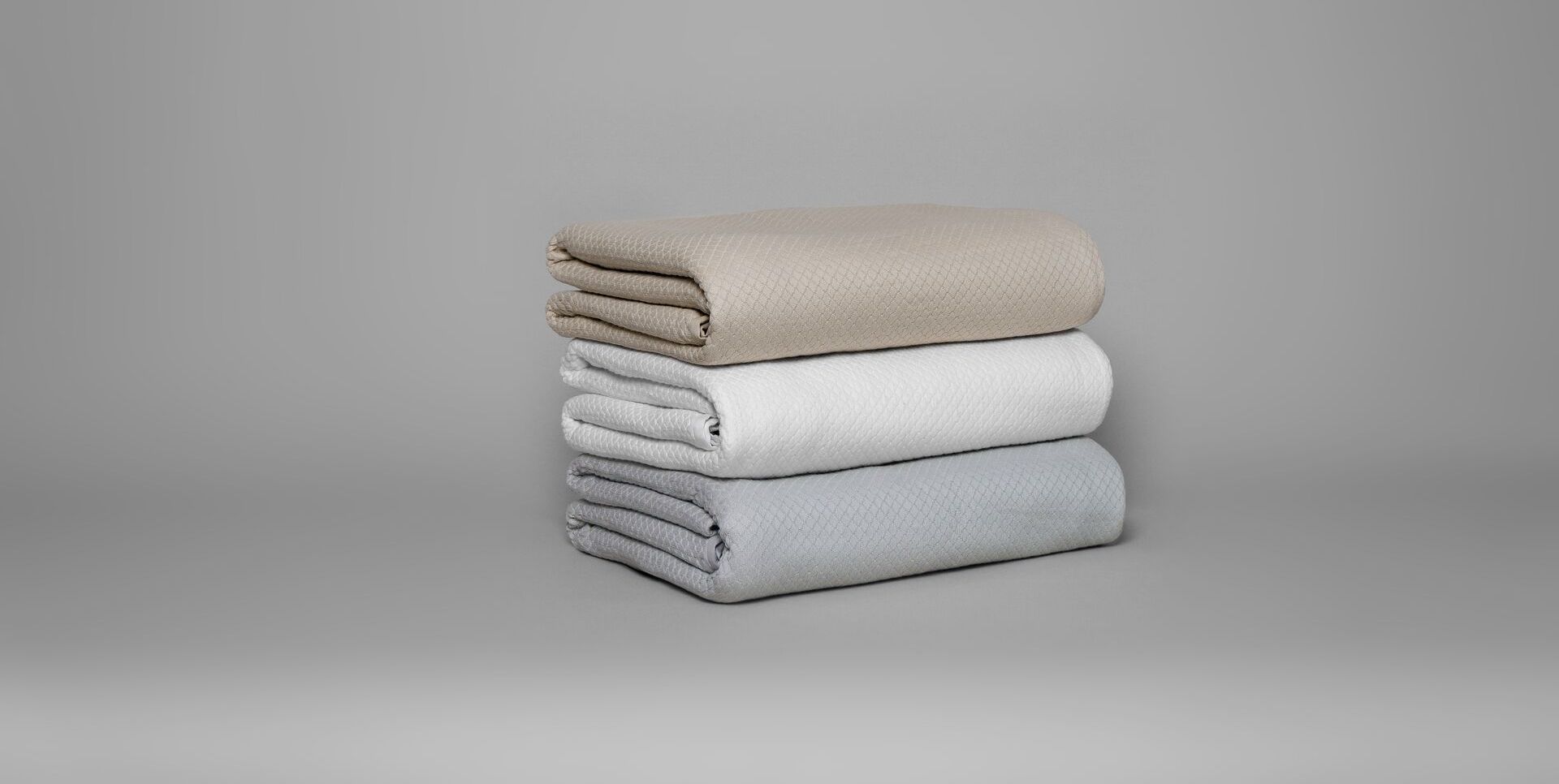 Enjoy the breathable coziness of this versatile lightweight knit blanket made with luxurious long-staple cotton.
Make a blanket statement
Once you settle on sheets, top them with something to keep the chill away when you're in bed and look neat when you're not.
A coverlet made of matelassé—a single-ply fabric, typically woven with a pattern—is a great option. "It provides light, breathable comfort against air conditioning and looks pretty when the bed is made," says interior designer Cynthia Espy, owner of Chicago's Amenities Home Design.
An alternative is an airy, open-weave knit blanket in cotton or, for an extra touch of luxury, cashmere.
Call up cooler colors
When it comes to color, there are plenty of summer vibe options. Think beach-worthy blues and greens, sherbet pastels like mint and peach, sunny brights such as orange and yellow, pale neutral sand shades, and the spectrum of good old reliable white.
However, even if your bedroom could use a paint job, summer isn't the time to do so. Without getting too technical about relative humidity and dew point numbers, suffice to say that paint doesn't dry well in hot, humid conditions.
Instead, add splashes of color through décor. In addition to bedding in summery hues, pop in new throw pillows, swap out dark wood picture and mirror frames, and add accents like vases. "Whichever colors you introduce, repeat them in strategic places here and there for cohesiveness," says Mack.
And while you're advised to put off a full-room paint job, how's this for a fun summer project: Pick up an old piece of furniture at a flea market or yard sale—a wicker chair, a stool you can repurpose as a bed table—and spray paint it in a color that suits the season.
Work your windows
Rather than blast the AC all night, you may prefer to run a window fan in the bedroom—and enjoy lower utility bills as a bonus (the devices use as much as 60% less energy than air conditioners). Many feature two fans side by side that can operate independently to pull air in from the outside while expelling hot indoor air. (Here's what you need to know about the benefits and drawbacks of sleeping with a fan on.)
In terms of window dressing, swap out heavy curtains for Roman shades or lightweight linen, lace, or sheer side draperies. Consider blackout blinds or shades if you hope to outsmart summer's early sunrises.
Rethink your rugs
Rugs, crucial for winter comfort, can weigh a bedroom down now.
"In the South, folks roll up their rugs in summer," Espy points out. "If you want something soft underfoot, particularly at the bedside, switch out wool rugs for cotton or sisal; even a quality indoor-outdoor rug can look crisp and cool in the bedroom."
Don't get hokey!
Going for a laidback look is one thing, but avoid overdoing the kind of coastal or nautical décor that would make your bedroom scream beach house reality show.
Yes to a glass bowl on your bureau displaying seashells or a shapely piece of driftwood on a shelf. But ceramic fish, mermaid imagery, and anchors? Away!
Related: How to feng shui your bedroom for better sleep
Let there be life
Bring the outdoors in with plants and flowers. Beyond their beauty, plants release water into the air (a process called transpiration) to cool their leaves—and their environment. Plants also improve air quality.
"Just keep in mind how much light your bedroom gets and how much maintenance you're willing to put in," Mack points out. Nothing's sadder than waking up to parched plants and wilted blooms. Some of the best bedroom plants include English ivy, peace lily, and Warneckei (also known as Dracaena).
To help cut flowers look beautiful longer, add equal parts of sugar and apple cider vinegar to the water in a vase, and replace the solution every day or so. If flowers feel too fussy, place one large, green elephant ear in a pitcher for a simply striking, lively look that lasts.
Shift your sleep
If you're feeling ambitious (and you have the space), consider relocating your bed to another spot in the room. Not only will you gain a different perspective, but you may also be able to take better advantage of summer breezes or the relief of a ceiling fan.
Headed out of town this summer? Check out our guide to sleeping well while traveling.