You probably know the king is the largest standard mattress available. King-size mattresses are ideal for couples, especially if they have children and/or pets who like to pile on the bed when the weekend rolls around. But even couples can have different sleeping preferences and may not agree on the right mattress.
Everyone has different sleeping needs, which means the best type of mattress for a couple should accommodate their different sleeping preferences. But traditional mattresses, even king-size ones, force couples to settle on one type of mattress, which may not work for their different sleeping needs.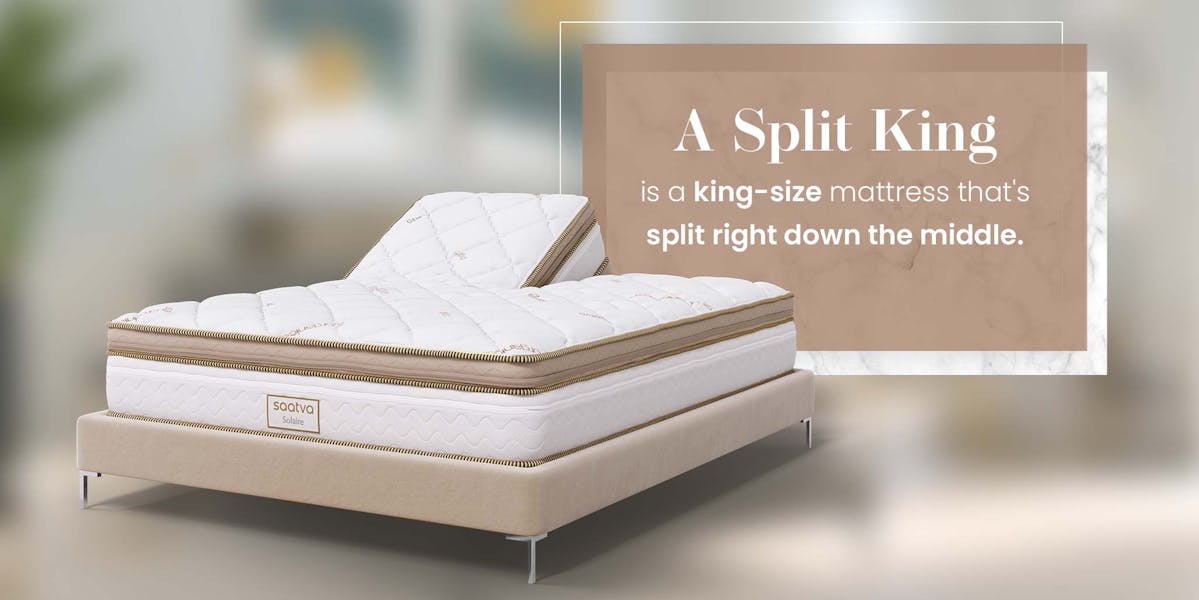 That's where the split king-size mattress comes in. It's ideal for couples who can't agree on the right mattress. The split king mattress is different from the regular king-size mattress in that it's split right down the middle. In fact, it's actually two twin XL mattresses placed side by side.
This allows two people who have different mattress preferences to customize the feel of their shared mattress without compromising either person's sleeping preferences.
Split king vs. standard king: What is the difference?
As the name suggests, the biggest difference between a split king mattress and a standard king-size mattress is the fact that split kings are split down the middle, while standard king-size mattresses aren't.
The standard king mattress measures 76 inches wide by 80 inches in length. The split king consists of two side-by-side twin XL mattresses, each measuring 38 inches wide by 80 inches in length, for a total of 76 inches wide by 80 inches in length.
The split king allows for flexibility when it comes to mattress type and works well for couples with different sleeping preferences. If one of you likes a firm mattress but the other prefers a softer one, you can each have the mattress you want.
Unlike queen mattresses or traditional king-size beds, you won't feel your partner moving on this mattress type because with split king beds, you're technically on two separate sleep surfaces.
Below, we've put together a chart that breaks down the most common mattress sizes for couples, including the split king, king, and California king-size mattresses, and who they're best for:
| | | | |
| --- | --- | --- | --- |
| Mattress Type | Dimensions | Surface Area | Best For |
| Split King | 76" x 80" (two 38" mattresses in width) | 6,080 sq. ft. | Couples with different sleeping preferences |
| Standard King | 76" x 80" | 6,080 sq. ft. | Couples with similar sleeping preferences |
| California King | 72" x 84" | 6,048 sq. ft. | Couples that want extra leg room |
| Standard Queen | 60" x 80" | 4,800 sq. ft. | Single sleepers or couples with small spaces |
Benefits of a split king mattress
Sleeping on a split king mattress offers a ton of benefits if you share a bed with a partner. Each of you can choose your ideal mattress type and firmness so you can both sleep soundly—no matter what type of sleeper each of you is. Couples can customize their sleeping experience by adjusting the:
Motion transfer: If you're a light sleeper, you don't want to feel every time your partner moves in bed. With a split king, you can reduce motion transfer and increase motion isolation.
Mattress type: People with drastically different sleeping preferences likely won't be able to agree on a mattress type. With a split king, you both have the option to choose from a soft memory foam mattress, medium-firm hybrid mattress, or anything else in between.
Firmness level: Firmness level is so important when picking a mattress type. With a split king, you can customize the firmness level based on your ideal sleeping position, need for pressure relief, spinal alignment, and more.
Breathability: If you're a person who sleeps hot at night, it can be a struggle to sleep on a mattress that tends to trap heat. With a split king, you can ensure your sheets and mattress are made for breathability.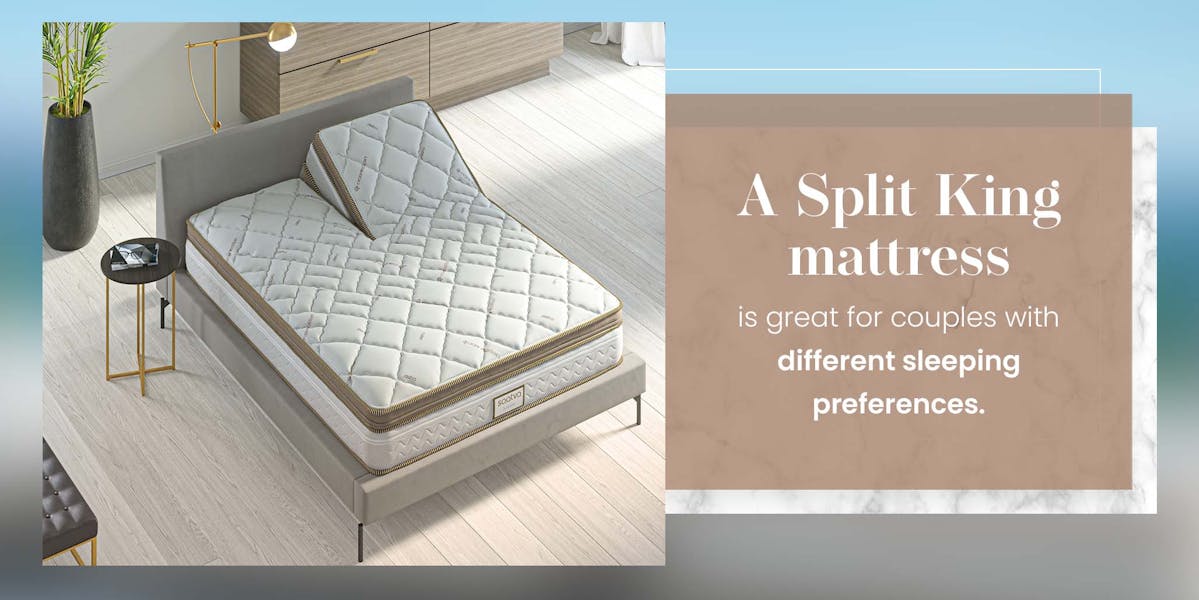 Split king mattresses are also great for couples who have different sleeping positions and pressure points. They provide a comfortable night's rest for back sleepers, side sleepers, and stomach sleepers by offering an ideal mattress for their particular pressure relief.
One partner may want a firm mattress offering a sleep surface that relieves back pain. The other may value the split king's motion isolation which relieves them from being awakened each time their partner gets up during the night.
Drawbacks of a split king
A split king comes with a lot of benefits—and for many couples the customizable option is unbeatable. But there are some drawbacks you should consider before making a final purchase. These include:
Price: Split king mattresses are often extremely pricey as they're considered a luxury product. You have to be willing to invest in an expensive mattress to experience the benefits.
Time-consuming: One of the biggest complaints about split king mattresses is that it can be incredibly time-consuming to change the bed sheets. It can be difficult to find a fitted sheet that will fit over both sides of the bed and even more difficult to change the sheets since they're two separate mattresses.
Difficult to cuddle: If you're a couple that likes to snuggle up at night, a split king may not be the right option for you. The separate mattresses and small gap between them may make it difficult to cuddle in bed.
That said, many people still swear by sleeping on a split king bed over anything else because it allows you and your partner to choose different mattress types that suit your needs. At the end of the day, it comes down to your personal preferences.
Find a split king mattress with Saatva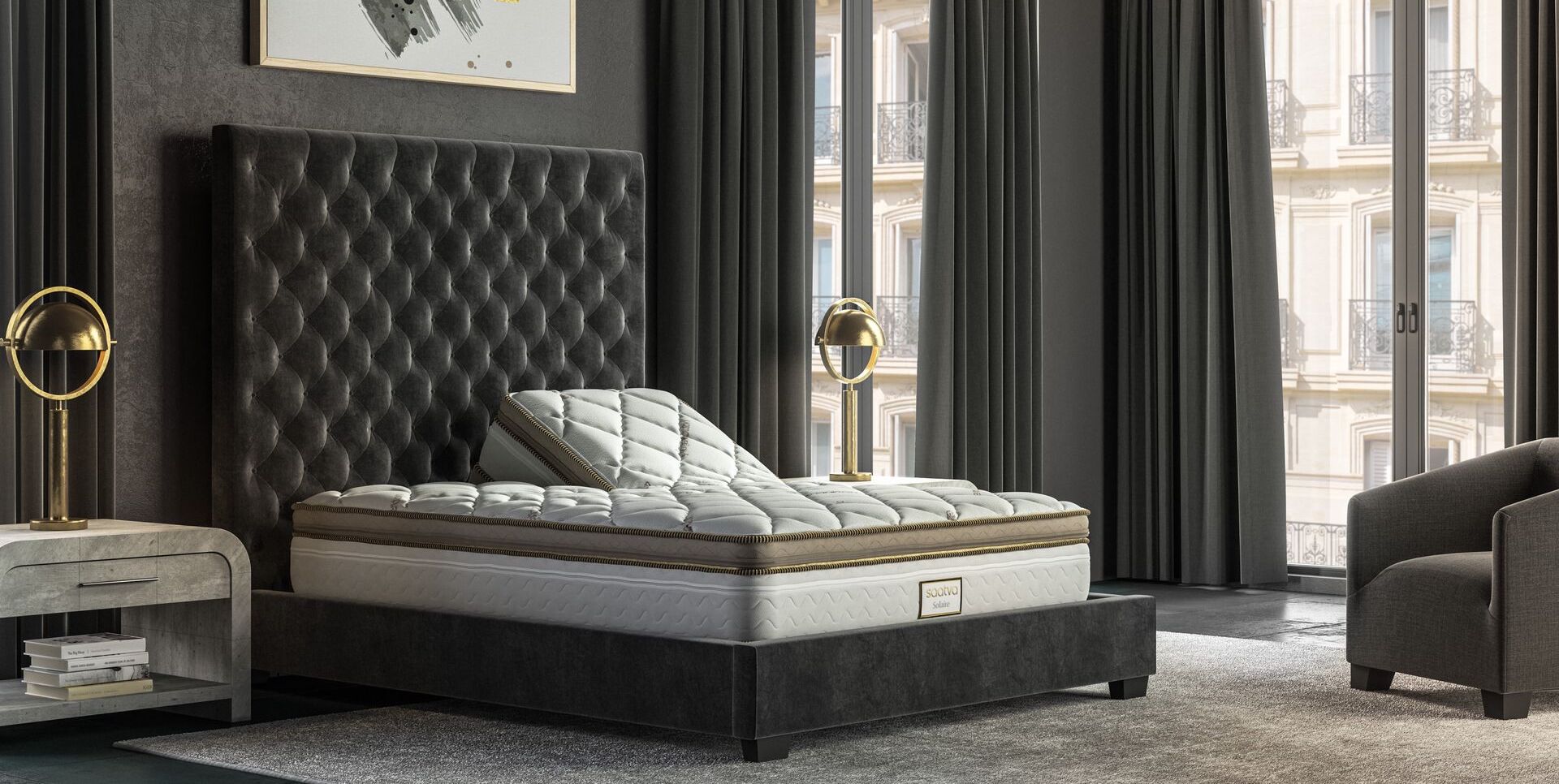 Featuring precise 50 firmness settings on each side of the bed for personal customization. Natural latex and gel-infused memory foam layers provide luxurious comfort and support.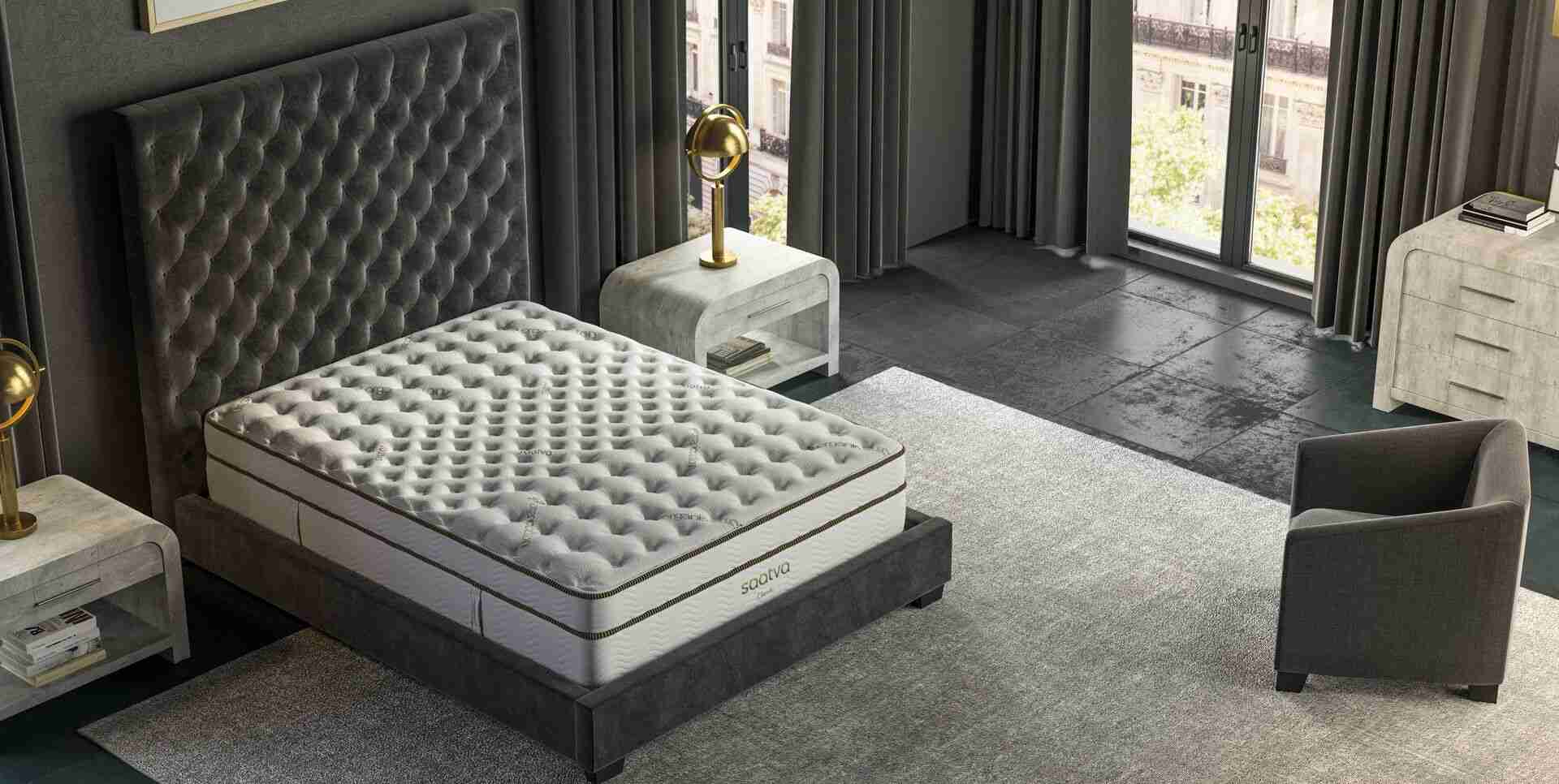 Our flagship luxury mattress is expertly engineered with coil-on-coil construction for durability, a layer of memory foam for enhanced back support, and a cushiony Euro pillow top for extra comfort.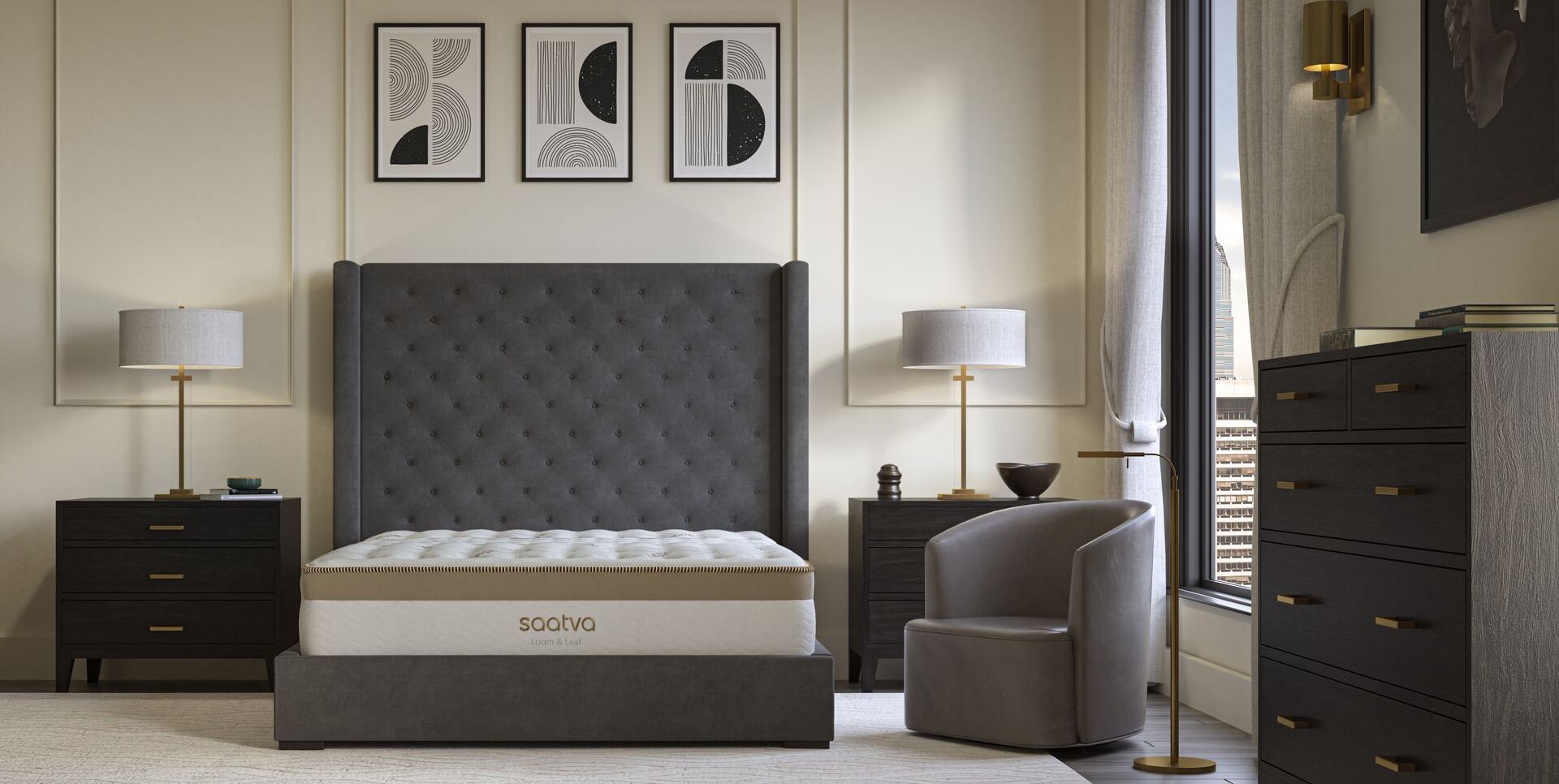 Premium memory foam, handcrafted in the U.S. with eco-friendly materials. Breathable organic cotton, cooling spinal gel, and layers of high-density support foam assure a cool, comfortable night's sleep.
What type of bed frame should you use for a split king?
The ideal bed frame for a split king mattress is an
adjustable bed base.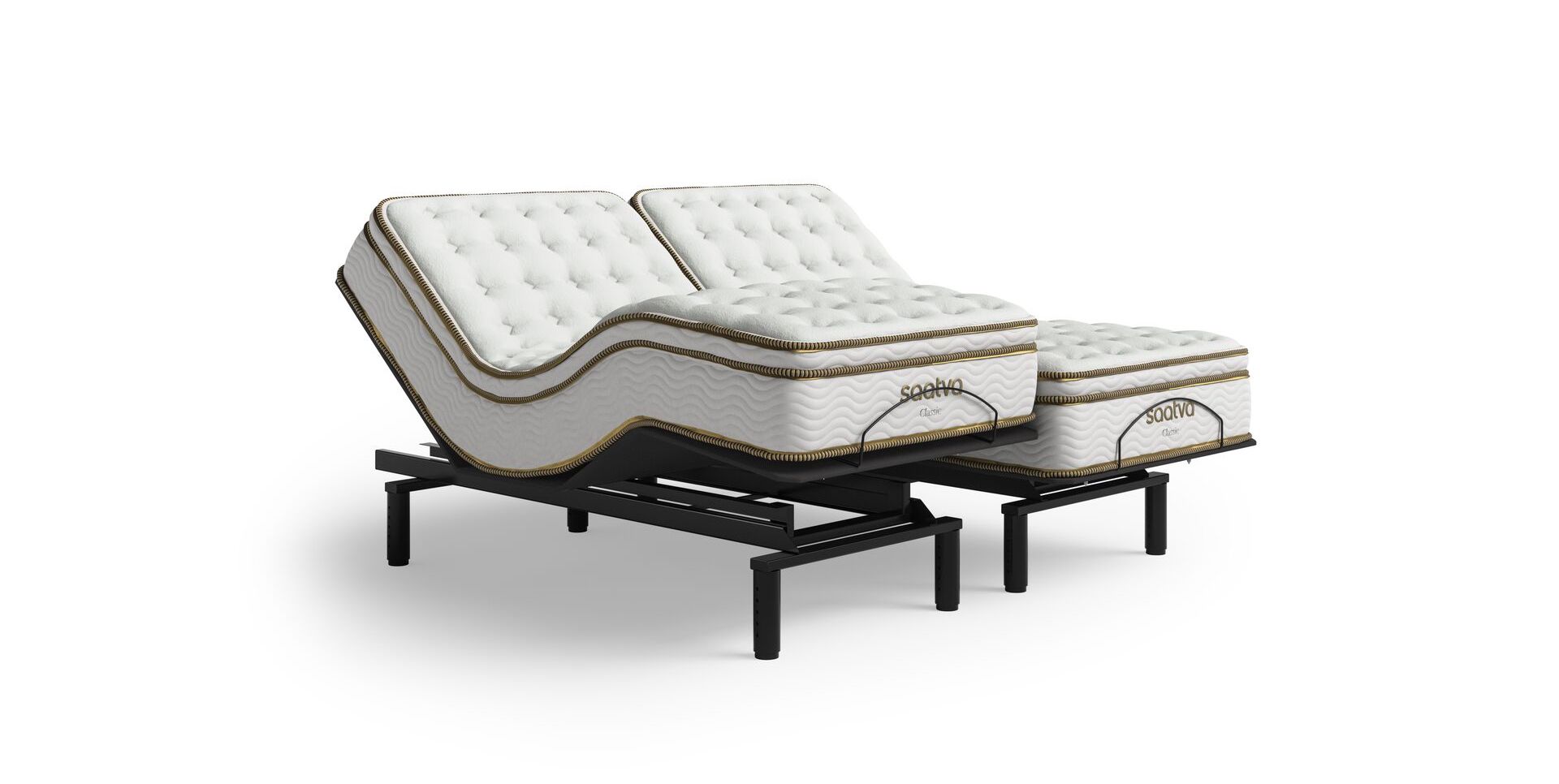 Saatva Adjustable Base Plus
Our deluxe adjustable base with even more customized comfort options
It allows you to fit both separate mattresses comfortably within the frame, while also adjusting the position of your mattress. Adjustable bases are a great way to further customize your sleeping experience so you and your partner can both get a sound night's sleep.
Keep in mind that adjustable bed frames are often fairly pricey. But they can be worth the investment, especially if you and your partner are struggling with different sleeping preferences.
As for the type of mattress to select, it's usually best to get a
latex mattress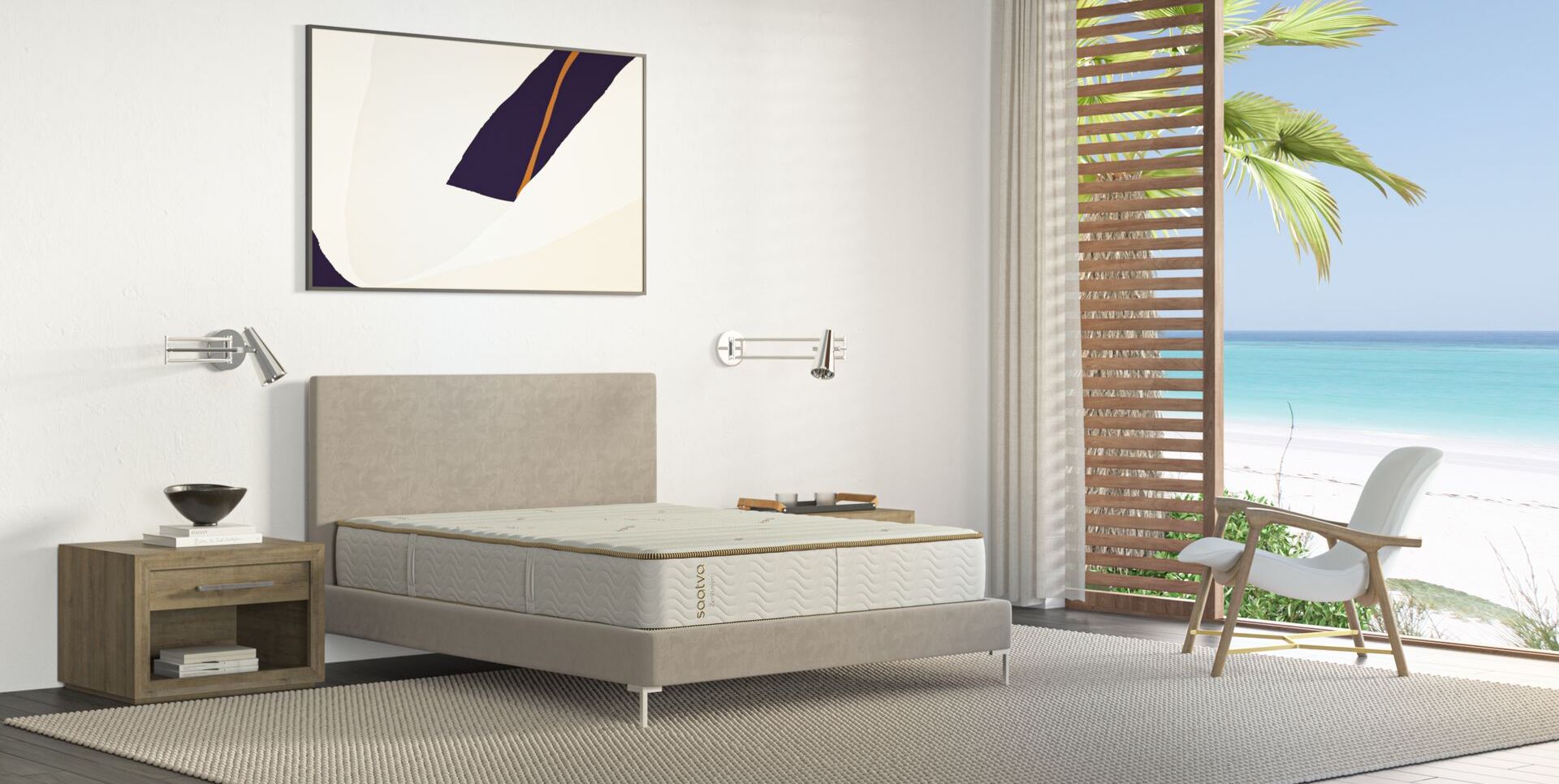 Zenhaven
Our dual-sided organic natural latex mattress for buoyant, pressure-relieving comfort
or
memory foam mattress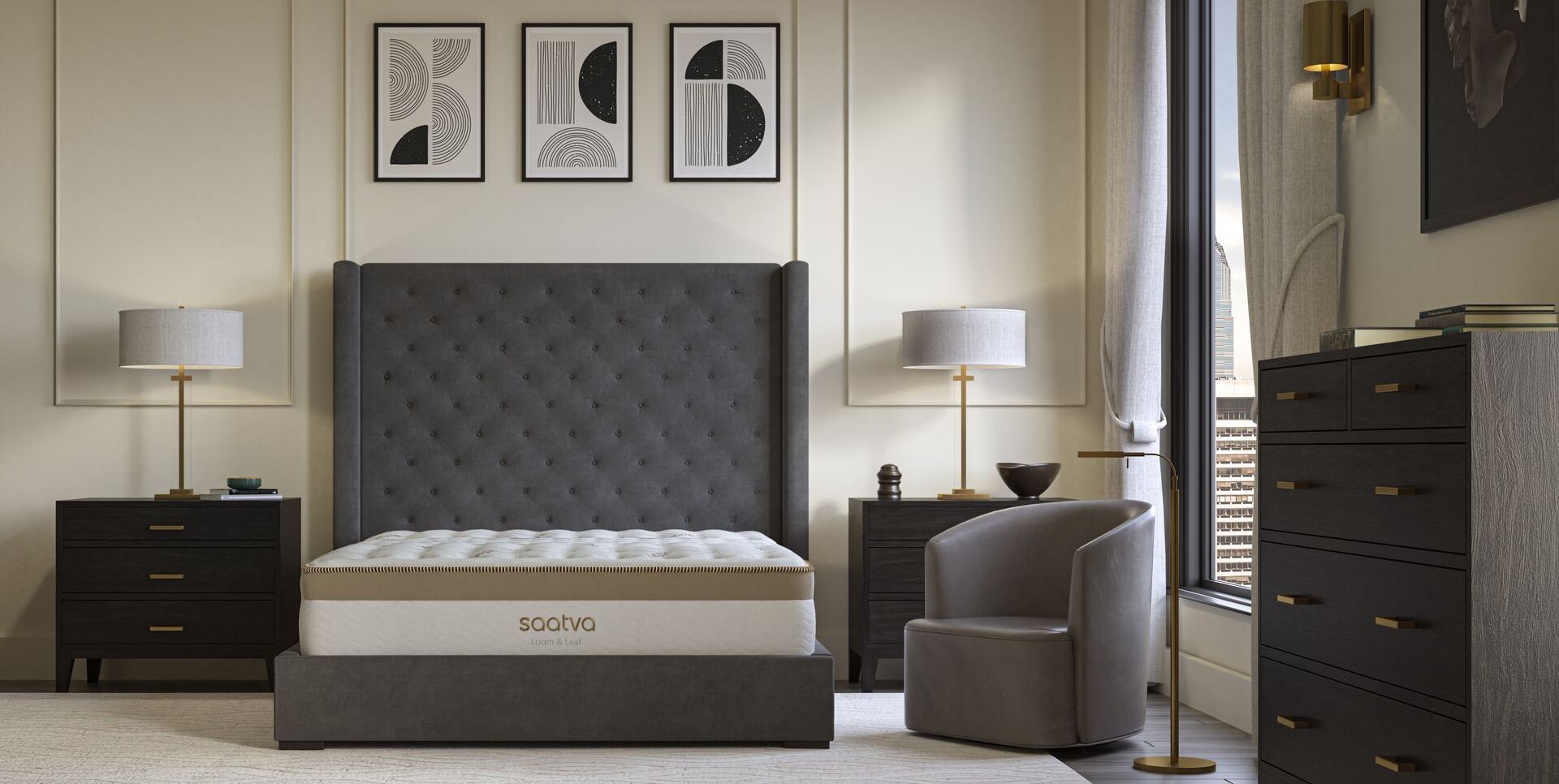 Loom and Leaf
Our ultra-premium 5-lb memory foam mattress for a body-hugging feel
with adjustable bases because they're so flexible and won't wear down over time. But you can still get a firmer half to your split king bed as long as the mattress is suitable for an adjustable bed frame.
Other split mattress types
Split king-size mattresses aren't the only split mattress type on the market. In fact, you can get split mattresses in a variety of sizes.
For example, if a traditional king-size bed or split king is too large for your living space, you can consider getting a split queen-size bed. This will allow you to save some additional space in the bedroom while still maintaining your ideal sleep experience.
You can also get split California king mattresses, which are great for people who want some additional legroom at the foot of the bed. They're a little narrower in width than traditional split kings but offer a few additional inches of length.
FAQs
Why would you get a split king?
A split king mattress is ideal for couples who need extra space and have different sleep preferences.
Are split king mattresses more comfortable than a king?
It depends. If you and your sleep partner have different mattress firmness preferences, then a split king mattress might be more comfortable for you both than a standard king. But keep in mind that the split down the middle can interfere with cuddling and sleeping right next to your partner in bed.
Sleep better with a Saatva mattress
For partners with different sleeping preferences, a split king mattress is the best mattress for couples. Because at the end of the day—and all night long—the right mattress is key to getting the best night's sleep possible.
Saatva is the number-one place to buy high-quality mattresses, bed sheets, and other bedding accessories. We invite you to check out our Solaire
adjustable firmness mattress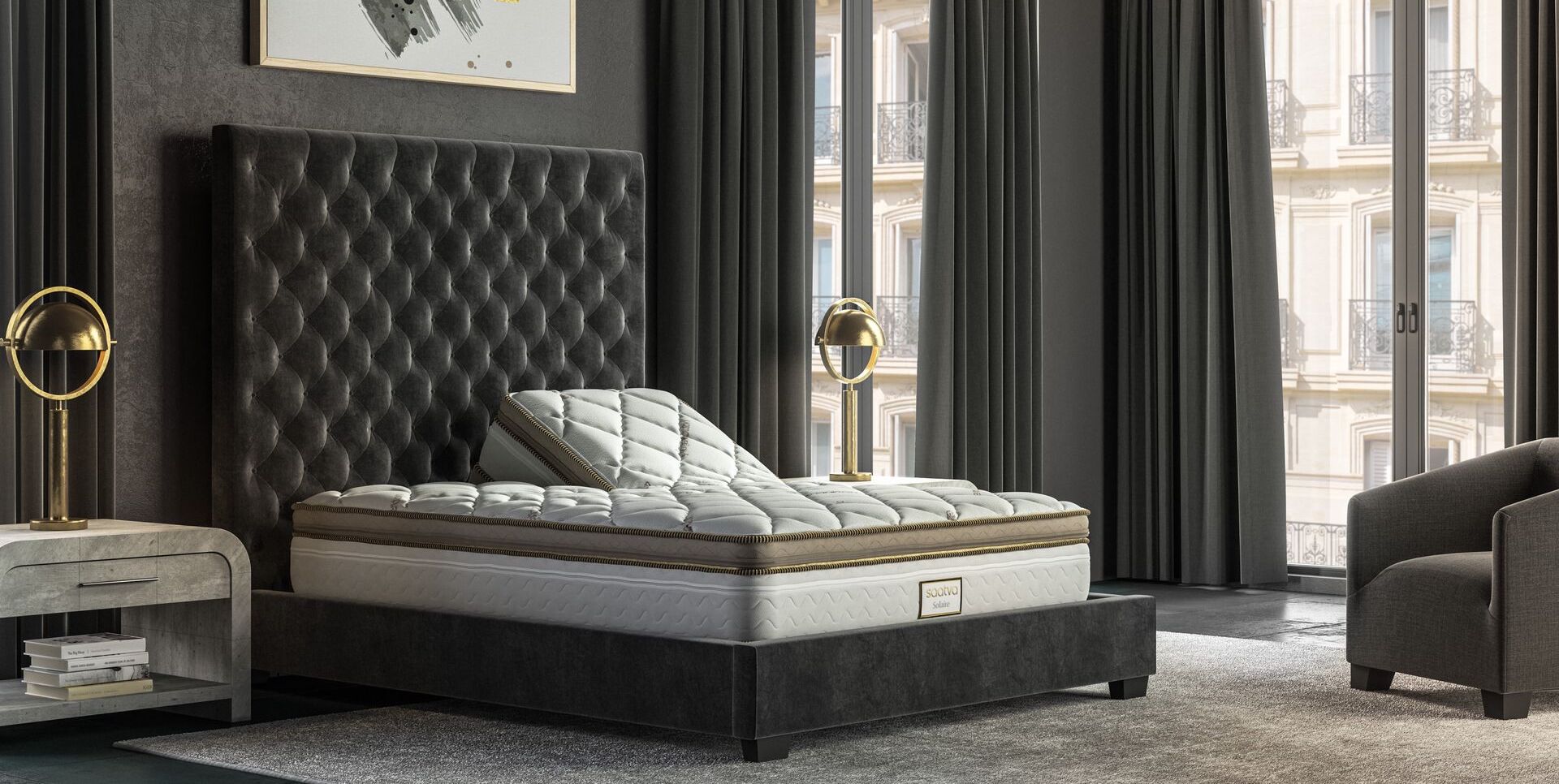 Solaire
Our luxurious customizable mattress with 50 precise firmness options
, our most customizable mattress for couples. It's available as a split king and features 50 firmness options on each side of the bed so you and your partner can each find your ideal firmness level.
All of our mattresses come with a 365-night home trial as well as a generous warranty so you can try one out before deciding if it's right for you.