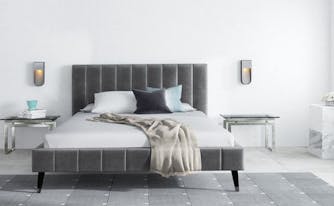 Finding the Perfect Bed Frame Size for Your Bedroom
So you've settled on a mattress size—now you have to choose a bed frame to go with it. The one you choose will depend on your style preference, budget, and room size.
Before you start shopping for a new bed frame, it's always a good idea to measure your bedroom first. That's because you'll want to make sure whatever you buy can comfortably fit inside your sleeping space. You should also double-check the dimensions on your bed frame because not all of them are standard.
Ready to purchase a new bed frame to go along with your new mattress? We put together this guide to bed frame dimensions to help make your shopping decision easier.
Benefits of having a bed frame
While putting your queen size mattress on the floor may seem tempting, a bed frame can help improve your overall sleep hygiene and sleep experience. Here are some of the biggest benefits to having a bed frame in your room:
Improved sleep hygiene: Putting a mattress directly on the floor means you'll be more prone to allergies from dust mites and could suffer from allergy symptoms more frequently. Using a bed frame will give your bed height and keep it away from the dust mites and bacteria living on your floor. 
Better support: A mattress on the floor doesn't have much support. It's more likely to wear down quickly and cause back or neck pain. Using a bed frame gives you an extra level of support along with a box spring or slats. 
Avoid voiding your warranty: Many mattress companies will void a warranty on a bed if it's sitting on the floor. A bed frame will help keep your mattress eligible for a warranty so you can get it replaced if something happens. 
Comparing bed frame dimensions
There are a few different mattress sizes and bed frame sizes on the market. Let's take a look at some of the most popular and explore their dimensions, what room size they fit in, the ideal type of sleeper, and their pros and cons.
Mattress Size

Dimensions

Minimum Room Size

Type of Sleeper

Pros

Cons

Twin

38" x 75"

7' x 10'

Child or teen

Great space savers and the perfect size for little ones

-Children may outgrow them

-Too small for the average adult

Twin XL

38" x 80"

7' x 10'

Taller child or teen

- Great space savers 

- Can be used for tall children and teens

Not enough space for the average adult

Full/Double

54" x 75"

10' x 10'

Single adult or teen

- Great space savers in small apartments 

- Suitable for children or single adults

Can't fit more than one person— not ideal for couples

Standard Queen

60" x 80"

10' x 10'

Single sleeper or couple with a small room

- Work in a variety of spaces

- Suitable for single sleepers or couples

Not enough room to stretch out comfortably with your partner

Standard King

76" x 80"

10' x 12'

Couple with a mid-size to large room

- Suitable for large bedroom spaces

- Can comfortably sleep two adults

Can't fit in small spaces

California King

72" x 84"

12' x 12'

Couple with a large room

Oversized for extra space

Can't fit in small spaces
Ideal bed frames for twin size beds and twin XL beds
A twin bed and standard twin size bed frame measure 38 inches wide by 75 inches long. A twin XL bed and standard twin XL size bed frame measure 38 inches wide by 80 inches long. Twin and twin XL size bed frames are great for loft beds, bunk beds, or solo sleepers in studio apartments. 
Platforms with built-in storage to maximize space, bunk beds for siblings who share a room, or a simple wooden foundation and metal bed frame are all good options for twin and twin XL beds.
You can also pair a twin size mattress with a daybed, also known as a trundle bed, which is a mix between a couch and a bed. This is a good option if you live in a college dorm room or studio apartment and are trying to save space.
Ideal bed frames for full size beds
A full size bed (also known as a double bed) and standard full size bed frame measure 54 inches wide by 75 inches long. If your bedroom is tight on floor space, this is a great option to open up your room and make use of the room size.
For adults who sleep solo and live in small spaces, consider a platform bed with built-in storage underneath to maximize your space. For children and teens, platforms with storage built-in could also make sense.
Full size beds are compatible with most standard types of bed frames, though you may not want to opt for one of the larger bed frames like a sleigh bed if you're short on space.
Ideal bed frames for queen size beds
A queen size bed and standard queen bed frame each measure 60 inches wide by 80 inches long. With more legroom than a full size bed, these are a great option for tall sleepers. The extra length will ensure your legs are comfortable and have enough space throughout the night.
A queen size bed can be paired with a large variety of frames, from platform beds to upholstered bed frame styles such as sleighs and canopies. (Read our sleigh bed guide to learn more about this type of bed frame.)
There are also some lesser-known variations on queen size mattresses—such as the Olympic queen, California queen, and split queen—but keep in mind it will be harder to find bed frames (and bed linens) for those sizes since they're not as common.
Ideal bed frames for king size beds
A king size bed and standard king size bed frame each measure 76 inches wide by 80 inches long. With such a large bed, the bed frame possibilities are endless. You could go for a solid wood foundation and metal bed frame, an adjustable base, a sleek and contemporary platform bed, or a more ornately-styled bed frame, like a sleigh bed or a four-poster bed. 
Note that besides the standard king size mattress, there are also two common specialty king sizes—a split king and a California king. A split king has the same dimensions as a standard king but is formed from two 38-by-80-inch twin XLs placed side by side. A California king mattress is slightly narrower and longer than a standard king, measuring 72 by 84 inches.
Split kings offer the most customization—you can pair it with an adjustable bed frame that lets you raise and lower your head and feet separately from your partner.
Frequently asked questions
To help you choose the right bed frame, we're answering the most common questions about bed frame sizes and more.
Will a headboard or footboard affect the size of my bed frame?
Yes, a headboard or footboard could add an extra 2-5 inches to your bed frame dimensions. This is especially prevalent with sleigh beds, wide floating platform bed frames, or anything else larger than a standard bed frame. 
What are the best bed frames for people trying to save space?
If you're low on extra space in your bedroom, you should avoid the larger styles of bed frames like sleighs, upholstered, or panel beds. These will take up unnecessary space.
Instead, you should opt for something like a platform storage bed, a loft bed, or a traditional metal bed frame.
Do I really need a bed frame?
The short answer is no, you don't necessarily need a bed frame. Your mattress will still serve as a soft sleeping surface on the floor. 
However, you'll be more prone to allergies from dust mites, water damage, and any other bacteria on the floor. Additionally, sleeping with your mattress on the floor will void some company warranties. 
Check out Saatva's wide variety of bed frames
No matter what style, size, or type of bed frame you need, Saatva has your back. Our wide selection of bed frames and bases has something for everybody. Whether you're looking for a new bed frame for your main bedroom, guest room, or child's room, we can help you find the right one for your needs.
Looking to upgrade your mattress too? You can take our online mattress quiz to see which of our high-quality innerspring, hybrid, latex, or memory foam mattresses is the best fit for you.