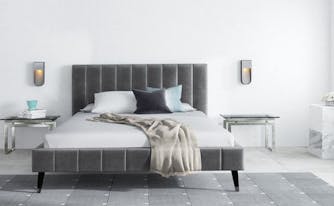 Guide to Twin, Full, Queen, and King Bed Frame Dimensions
So you've settled on a mattress size—now you have to choose a bed frame to go with it. The one you choose will depend on your style preference, budget, and room size.
Although mattress sizes and bed frame sizes are usually the same, keep in mind that some bed frames are 2-5 inches larger than the mattress to accommodate a headboard and/or footboard. For example, sleigh beds and wide floating platform beds need more space than standard bed frames. (Learn more about the most popular bed frame styles.)
That's why it's always a good idea to measure your bedroom first and double-check the dimensions of the bed frame you're interested in before buying.
Ready to purchase a new bed frame to go along with your new mattress? We put together this guide to bed frame dimensions to help make your shopping decision easier.
King bed size frame dimension
A king size bed and standard king size bed frame each measure 76 inches wide by 80 inches long.
Benefits of a king
A king size bed provides more room for couples. Each sleeper gets about 38 inches of space to themselves. It's an especially good option if one of you is a restless or active sleeper because you can comfortably move around without bothering your partner.
A king size bed allows plenty of room for kids and furry friends to pile into bed with you.
A king size bed is an aesthetically pleasing choice in a large bedroom, where a smaller bed might look puny.
A king size bed serves as a cozy and comfortable activity space for working, reading, and watching TV.
Types of king frames
You could go for a standard wood foundation and metal bed frame, an adjustable base, a sleek and contemporary platform bed, or a more ornately-styled bed frame, like a sleigh bed or a four-poster bed. (And hey, why not choose a regal-looking frame for a regal size bed?!)
Note that besides the standard king size, there are also two common specialty king sizes. A split king has the same dimensions as a standard king but is formed from two 38-by-80-inch twin XLs placed side by side, and a California king mattress is slightly narrower and longer than a standard king, measuring 72 by 84 inches.
Split kings offer the most customization—you can pair it with an adjustable base that lets you raise and lower head and feet separately from your partner.
Our Best Bed Frames for Any Mattress Size
Saatva Foundation
Engineered to provide optimal support for your mattress. Handcrafted from North American spruce, our foundation is more durable than a traditional box spring. Pair with our metal frame. 
Shop
Queen bed size frame dimension
A queen size bed and standard queen bed frame each measure 60 inches wide by 80 inches long.
Benefits of a queen
It's versatile, making it an outstanding option for couples and solo sleepers alike. Each sleeper gets about 30 inches of space to themselves. This gives couples plenty of room to move around. If you're a combination sleeper—someone who switches positions throughout the night—you should have enough room in a queen size bed so you won't disturb your partner.
You'll have enough room for kids and pets as well. Although a queen size mattress isn't quite as large as a king, you should still comfortably be able to snuggle with your family.
There's more legroom than a full size bed. Because queen size beds are longer than full size beds, they're a better option for tall sleepers. Remember: A queen size bed is 80 inches in length (roughly 6 feet 8 inches), while a full size bed is 75 inches, which is barely more than 6 feet in length.
Types of queen frames
The queen size bed is the most popular mattress size because it provides ample room for couples and families and fits in most bedrooms. Like a king size bed, it can be paired with a large variety of frames, from platform beds to upholstered bed frame styles such as sleighs and canopies.
There are some lesser-known variations on queen size beds—such as the Olympic queen, California queen, and split queen—but keep in mind it will be harder to find bed frames (and bed linens) for those sizes since they're not as common.
These Saatva Mattresses Come in a Variety of Sizes
Saatva Classic
Our flagship luxury mattress is expertly engineered with coil-on-coil construction for durability, a layer of memory foam for enhanced back support, and a cushiony Euro pillow top for extra comfort.
Shop
Full bed size frame dimension
A full size bed and standard full size bed frame measure 54 inches wide by 75 inches long.
Benefits of a full
Full size beds offer an ideal situation for solo sleepers. If you live by yourself, a full size bed will provide ample room.
This mattress size is a natural fit in downsized spaces. Those who live in apartments or who have small bedrooms will find that a full size bed is a good option. A full size bed can fit comfortably into a bedroom that's at minimum 10 feet by 10 feet.
Full size beds are a great option for children. Prudence Bailey, founder and principal designer of Prudence Home + Design in Connecticut, speaks from her first-hand design experience, saying, "We use full size beds a lot when designing kids' rooms since it's a bed that they won't outgrow until they leave home."
They're also usually less expensive than their larger counterparts and easier to transport than bigger mattresses.
Types of full frames
For adults who sleep solo and live in small spaces, consider a platform bed with built-in storage underneath to maximize your space. For children and teens, platforms with storage built in could also make sense.
Full size beds are compatible with most standard types of bed frames (the same as king and queens), though you may not want to opt for one of the larger bed frames like a sleigh bed if you're short on space.
Twin bed size dimension
A twin size bed and standard twin size bed frame measure 38 inches wide by 75 inches long.
Benefits of a twin
A twin mattress is great for growing children. It's an ideal size between toddler beds and the full size mattress they may use as teenagers.
Its versatile size makes it a good choice for bunk beds, day beds, and for solo sleepers in studio apartments.
It's inexpensive and easy to transport. Since a twin mattress is the smallest mattress size, it naturally comes with the smallest price tag and is a piece of cake to move.
Our Best Twin Size Mattress for Children
Saatva Youth
This dual-sided innerspring mattress provides optimal support and comfort to children of all ages. Simply flip it over from the 3+ side to the 8+ side when your child is ready.<br data-rich-text-line-break="true">
Shop
Types of twin frames
You have similar options for frames as you do with the full: platforms with built-in storage to maximize space, bunk beds for siblings who share a room, or a simple wooden foundation and metal bed frame are all good options.
You can also pair a twin size bed with a daybed, also known as a trundle bed, which is a mix between a couch and a bed. This is a good option for guests or if you live in a studio apartment and are trying to save space.
Bed frame dimension comparison
Consult this handy comparison chart of mattress and bed frame dimensions and recommended room sizes to help you determine which size is right for you.
| Bed Frame Size | Dimensions | Min. Room Size |
| --- | --- | --- |
| King | 76" x 80" | 10' x 12' |
| Cal King | 72" x 84" | 12' x 12' |
| Queen | 60" x 80" | 10' x 10' |
| Full | 54" x 75" | 10' x 10' |
| Twin XL | 38" x 80" | 7' x 10' |
| Twin | 38" 75" | 7' x 10' |