3 Things to Look for in a Latex Mattress if You're a Side Sleeper
Side sleeping is the most common sleep position among adults. That makes sense, given that sleeping on your side can be beneficial if you are prone to acid reflux, snoring, or back pain. But sleeping on the wrong mattress as a side sleeper can lead to sore joints and spinal-related discomforts.
A latex mattress is a great option for side sleepers. Latex is responsive like innerspring but also conforms like memory foam, providing excellent comfort and support to side sleepers. It's extremely eco-friendly to boot.
Keep in mind that the mattress that's right for a side sleeper will be different from the one that's ideal for a back or stomach sleeper. Here's what to look for in a latex mattress if you sleep on your side.
How to find the best latex mattress for side sleepers
In general, the best mattress for a side sleeper will conform to your body's natural curves and take the pressure off your hips and shoulders. While no one mattress is best for any particular sleep style, latex mattresses are good options for side sleepers because they provide a nice level of "give" while still providing support to keep your spine aligned in a neutral position.
Latex also sleeps cool and holds its shape well, so you won't have to worry about indents when you lie in the same spot every night.
If you're a side sleeper shopping for a latex mattress, look for the following features:
Talalay latex support core: There are two methods of producing latex, and each one results in a very different feel. Dunlop, the original latex production process, involves stirring, molding, and baking the liquid sap of the rubber tree (hevea brasiliensis). Talalay is the second iteration of latex foam. To make Talalay latex, the sap is vacuum-sealed and flash-frozen to stabilize the particles before being baked into solid form, making it softer and lighter than Dunlop latex. The uniform consistency and greater resilience of Talalay provides unmatched comfort to side sleepers.
Slightly softer comfort levelcomfort level: The best mattress for side sleepers—latex or not—is one that is soft (or "plush") enough to cradle your hips and shoulders while supporting your spine in a neutral position. A too-firm latex mattress will cut off circulation at those pressure points, leaving you with numbness or soreness.
Zoned lumbar support: If you're a side sleeper, it's particularly important to find a latex mattress that has added reinforcement in the lumbar region. This will help support the heaviest part of your body, across your hips and belly. A mattress with a reinforced lumbar zone typically features an area of firmer latex in the center third of the mattress. (Learn how to protect your back while you sleep.)
Our Best Latex Mattress for Side Sleepers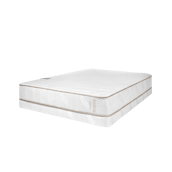 Zenhaven Latex Mattress
100% Talalay latex responds to every curve for pressure-free support and responsive comfort. Talalay latex is supple, resilient, and durable, for the ultimate in elevated sleep. (It's naturally hypoallergenic too.)
Shop
How to find the best pillow for side sleepers
Matching your pillow to your sleep position is important too. A thicker pillow will fill in the gap between your shoulder and head and help maintain your neck in a neutral position. If you're a side sleeper, consider also cradling a body pillow in front of you for additional shoulder support and placing a pillow between your knees to keep your hips level.
For more advice on finding the right latex bed for you, here's how to choose the best latex mattress for your sleep position.