It seems pretty obvious that a mattress topper is, well, something that goes on top of your mattress. But as with all things bedding, there are more layers to the category than you might think.
What is a mattress topper?
Let's start with what a mattress topper is not:
It is not a mattress pad. Pads provide a thin quilted layer designed to protect your mattress from stains and sweat.
It is not a mattress protector. These are sheet-like, often cover the entire mattress, and are primarily used to keep contaminants such as mold and bacteria (and other nasties like bed bugs) from getting to your mattress.
Mattress toppers are more substantial than pads and protectors. At 1 inch to 4 inches thick, they're designed to comfort you, as opposed to provide protection for the mattress.
Why you might want a mattress topper
There are a handful of reasons why someone might invest in a mattress topper. These are the most common:
To prolong the life of an old mattress or add a layer of cushiness if your mattress feels too firm. Alternatively, if your mattress has gone soft, a firmer mattress topper may help make it more comfortable. Keep in mind, though, that a mattress topper will not fix a sagging mattress or revive one that is well past its prime. (Here's how to know when it's time for a new mattress.)
To relieve pressure points and provide a more comfortable surface for people with chronic pain, temporary injury, arthritis, fibromyalgia, or other musculoskeletal problems.
To help regulate temperature for those who tend to be too hot or too cold at night.
To reduce motion transfer. A mattress topper can help limit the disruptive jostling one bed partner feels when the other partner moves around or gets up during the night.
To ease the "break-in period" that sometimes occurs with a new mattress. (Here's more information on how to determine if a mattress topper is worth it.)
Types of mattress toppers: Which one is right for you?
Like mattresses themselves, mattress toppers come in a variety of materials. Here are the pros and cons of the most popular types:
Latex mattress toppers
Pros: Latex is resilient and responsive, which makes it a suitable choice whether you sleep on your side, back, or stomach. It's often recommended by orthopedists and chiropractors for people who suffer from neck, back, or shoulder pain. Latex has some "bounce," yet it's firm enough to offer good support and cuts down on motion transfer. It's also quite durable.
Cons: Because latex is a naturally sourced material (it comes from the sap of the rubber tree) it is generally more expensive than other mattress topper options.
Memory foam mattress toppers
Pros: Memory foam is a polyurethane-based foam that softens when it comes into contact with body heat. When you lie on it, it conforms to your unique curves and provides pressure relief to any painful parts; side and back sleepers benefit the most. Memory foam mattress toppers excel at reducing motion transfer.
Cons: Traditional memory foam retains heat close to the body, which makes it uncomfortably warm for some sleepers. To offset this tendency, some foam mattress toppers are now infused with high-tech materials, like cooling gel or graphite, that dissipate heat more effectively. Depending on the composition of the foam, it can also emit a chemical smell when new.
Wool mattress toppers
Pros: Wool is exceptionally breathable, which helps with temperature regulation for those who tend to get too hot or too cold at night. In warm weather it wicks away sweat; when temperatures drop, it's a good insulator. Wool is also naturally hypoallergenic, antimicrobial, flame-retardant, and environmentally friendly.
Cons: Wool mattress toppers, while soft and cozy, are not good at cutting down on motion transfer and do not conform to your body the way memory foam does. If you're looking to relieve pressure on your pain points, this material is not the best option.
Down/down alternative mattress toppers
Pros: Down and some of its synthetic fiber alternatives are extremely soft and just the ticket if you like that "sleeping on a cloud" feeling. Down is also the most breathable option among mattress topper materials. Mattress toppers made with down alternatives are usually reasonably priced and good for those on a budget.
Cons: Down mattress toppers don't offer much in the way of support or pressure relief. They are also higher maintenance since they need to be periodically "fluffed" to retain their loft. While they might help you sleep more snugly, they don't cut down on motion transfer. If you're allergic to feathers, choose one with an alternative filler.
Improve your sleep with these Saatva mattress toppers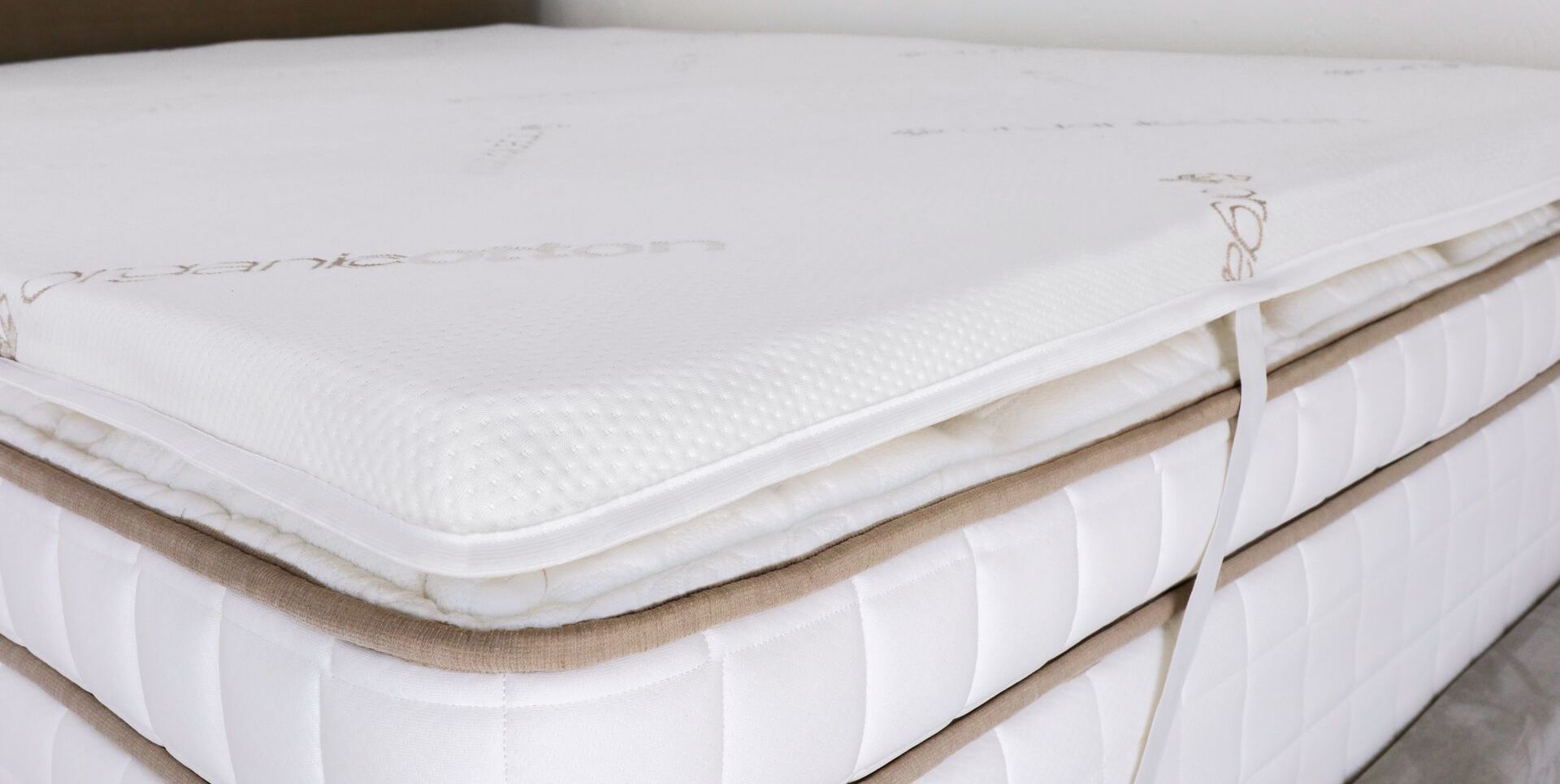 This breathable, comfortable, and durable topper instantly adds a layer of responsive softness and unmatched pressure-point relief.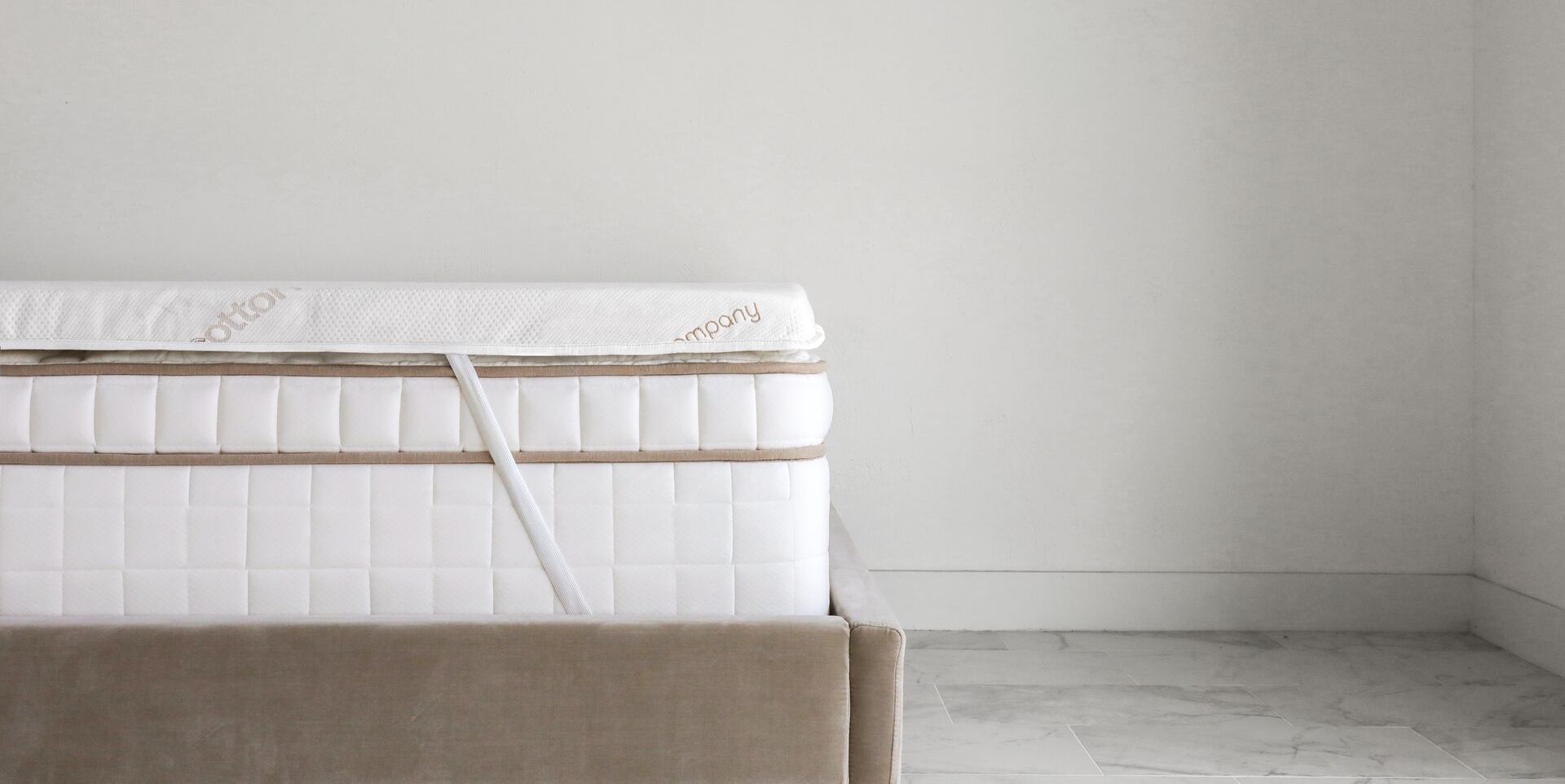 The latest in high-tech cooling. The contouring support of memory foam, plus the advanced heat-dissipating properties of graphite.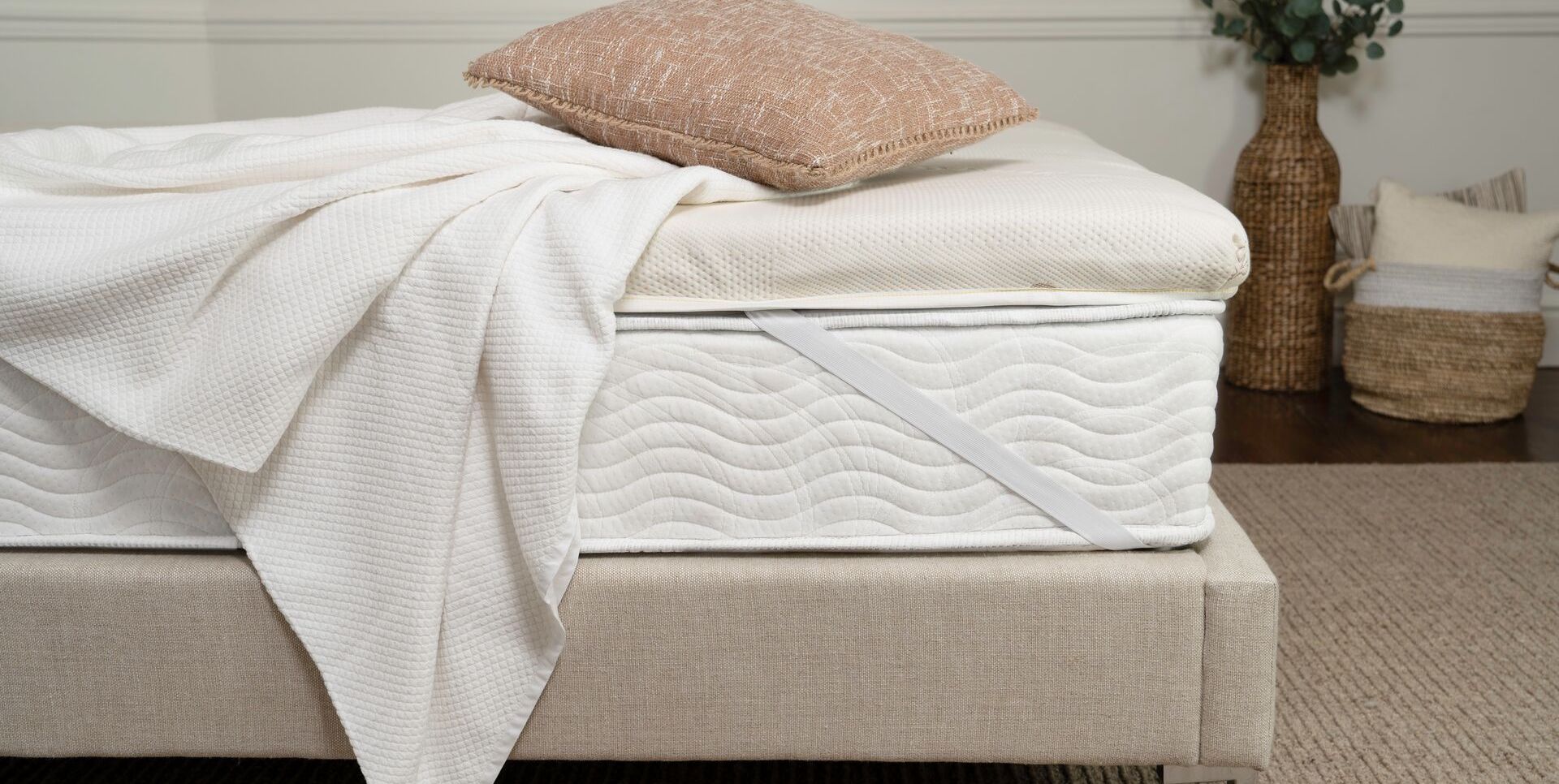 Thoughtfully designed to relieve pressure points and offer the responsive feel of an innerspring. It gives you the best of both worlds with a hybrid of micro-coils and gel-infused comfort foam.
How much does a mattress topper cost?
Mattress toppers range from less than $100 to around $400, depending on size and material. Down alternatives are at the low end, while latex and memory foam mattress toppers are at the higher end of the spectrum.
How to care for a mattress topper
Mattress toppers sometimes have removable washable covers but are otherwise not designed to be washed. Some can be dry-cleaned, but spot-cleaning is your best bet. (Here are some cleaning tips for topper and mattress materials.)
Keep in mind that, because a mattress topper can add a significant few inches to your mattress, you may need to buy new sheets to accommodate it, so it's a good idea to check the thickness of the mattress topper before you take the plunge. (Learn about how long mattress toppers last.)
Ultimately, a mattress topper's main function is to provide you, the sleeper, with a better night's rest—something that can be elusive for many of us. "Pain and discomfort can interfere with sleep, and a lack of sleep can worsen pain and discomfort," says Terry Cralle, RN, certified clinical sleep educator. "Bottom line: Toppers can save your sleep."
Looking for a new bed? Here's what you need to know about innerspring mattresses.