Cleaning your mattress is something you probably don't think about too often. But as you put together your spring cleaning game plan, it may be something you want to add to your to-do list.
Over time—and no matter how much of a clean freak you are—a buildup of dead skin cells, dried sweat, household dust, and other allergens can collect on your mattress. This can lead to the presence of fungus, bacteria, mildew, and dust mites, all of which can worsen allergies and cause other health issues.
That's the bad news. The good news is that knowing how to clean a mattress in a few simple steps can help keep it fresher longer. Below, we're outlining how to deep clean your mattress and answering frequently asked questions about cleaning your bed.
1. Break out the vacuum
If you're only going to do one thing to clean a mattress, make it this one. A good once-over with a vacuum cleaner will help get rid of a significant amount of dust, crumbs, dust mites, and other nasties.
Use the vacuum's upholstery and crevice attachments to get into the nooks and crannies of a mattress. Bonus tip: If you have a garment steam cleaner, go over your mattress with that before vacuuming to kill and loosen even more dust mites.
2. Spot clean mattress stains
Most experts recommend using a pet-stain upholstery cleaner to treat sweat stains or other bodily fluids, like urine stains. While a stain-removing cleaning solution should do the trick, you may want to consider something less harsh.
If you'd prefer something with fewer chemicals, look for a natural enzyme cleaner formulated for stains and odors, such as ones made by Biokleen and Simple Solution.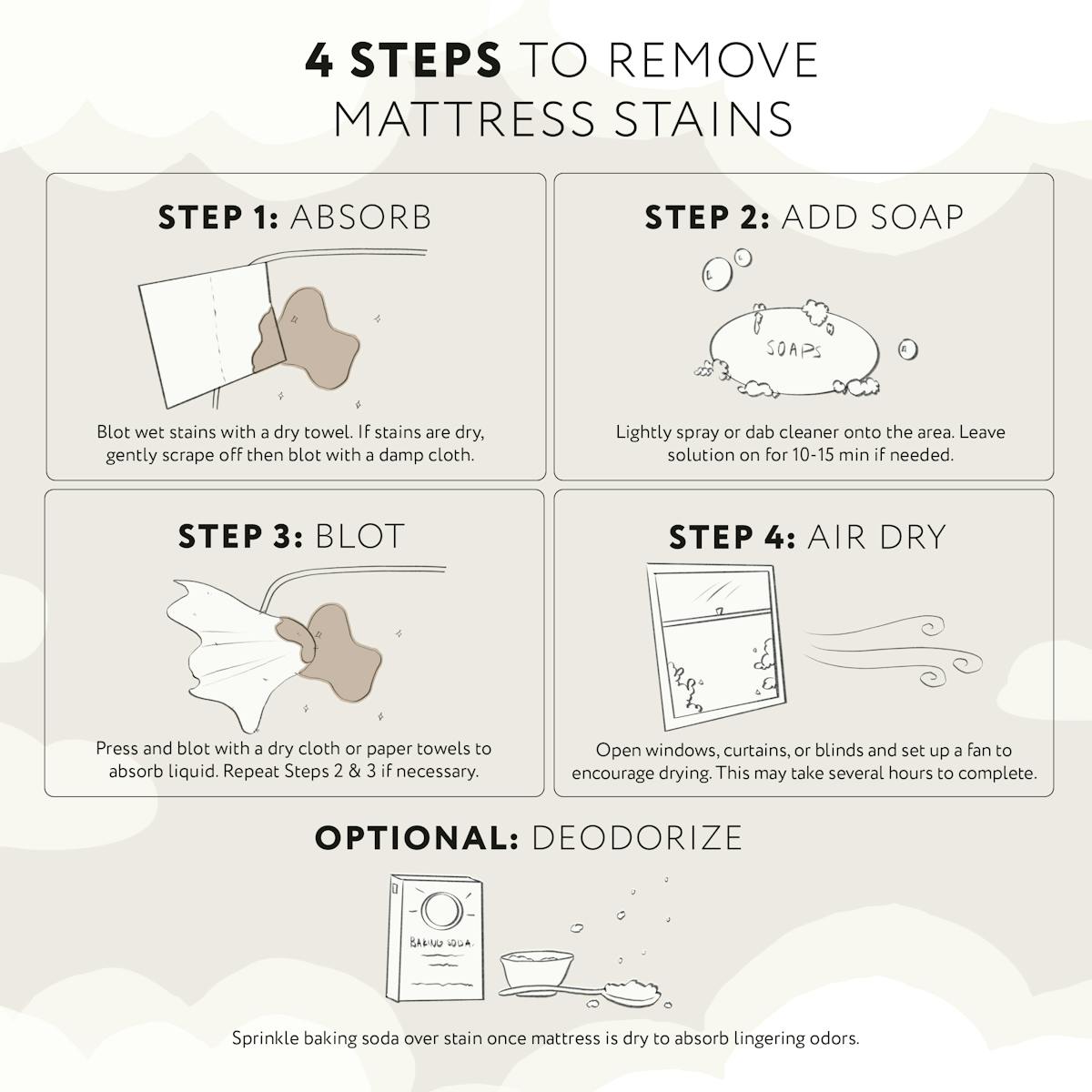 Or try this all-natural DIY stain remover: Make a paste from lemon juice and salt, spray on the stain with a spray bottle, and let sit for up to an hour. Then just wipe off the salt with a clean towel; no need to rinse.
If you have a more stubborn stain, like a blood stain, you can use hydrogen peroxide mixed with warm water on the surface of the mattress. From there, the solution should lift the stain. Dab the excess liquid with a damp cloth and allow your mattress to air dry before putting a fitted sheet back on.
Keep in mind that you'll want to use a gentler solution on memory foam because the bleach can cause staining or damage the material. You can use a mixture of either liquid dish soap or white vinegar with cold water for a similar effect.
3. Deodorize your mattress with baking soda
Generously sprinkle your whole mattress with baking soda—up to a full 1-pound box of it if this is the first time you've cleaned your bed. Leave it on for a full day if possible, then vacuum it up and go over the mattress one more time with the upholstery attachment.
Get rid of even more odor-causing bacteria by exposing your entire mattress to antibacterial UV light, either through a big sunny window or, if you're really motivated, by carrying it outside on a dry, sunny day to soak up the sun's rays and get some fresh air.
4. Change your mattress covers and pillow covers
Mattress and pillow protectors will lessen your need for mattress cleaning in the future by keeping mites, dust, and other dirt from building up in your bed again. You can purchase dust mite
Additionally, if you use any
5. Get a fresh set of sheets
After you get done cleaning your bed, it's important to put a fresh set of sheets on top of your mattress. In general, you should aim to change your sheets and pillowcases every one to two weeks to help reduce the buildup of dead skin cells, sweat, dust mites, and other allergens.
You can clean most bed linens in the washing machine with regular laundry detergent. However, some fabrics may require special care. Always read the maintenance instructions before throwing your sheets and pillowcases in the washer.
Signs that you may need a new mattress
Mattresses don't last forever. No matter how good a job you do of keeping yours clean, there will come a point when it's time to replace your mattress.
Most mattresses have a lifespan of seven to 10 years, but this number could change based on the type of mattress you have and the quality of the materials inside the mattress.
There are a few signs you may need a new mattress. These include:
Your mattress is sagging (especially on a memory foam mattress).
Your mattress has an odor.
There are stains you can't get out.
You wake up sore in the morning.
You've had your mattress for more than 10 years.
All of these are signs your current mattress could be past its prime. When shopping for a new mattress, it's important to keep things like your bed frame type, sleeping preferences, and budget in mind.
Frequently asked questions
Should I make my bed every morning?
If you're really dedicated to keeping mites at bay, the best way to keep a mattress clean might be to skip making your bed in the morning. That's because the microscopic critters need moisture from your sweat to thrive.
So instead of making your bed every morning, try turning the covers back. This can help decrease the moisture in your bed. A heated blanket or bed pad will also have the same effect in the winter.
Can I clean all types of mattresses the same way?
Different mattress types may require different cleaning methods. For example, you'll want to use a gentler cleaning solution on a memory foam mattress to avoid staining and damage. Always check the manufacturer's instructions before starting the cleaning process so you can ensure you're using the proper solution.
Can I flip my mattress to make it last longer?
Some mattresses are made to be flippable so they can last longer. However, not every mattress is meant to be flipped. If your mattress has a pillow top, for example, you won't be able to flip it. You can find some innerspring and foam mattresses that can be flipped to extend the lifespan.
Find your dream bed with Saatva
Cleaning your mattress can go a long way toward keeping it in tip-top condition for as long as possible. But it's also important to replace your mattress if it's no longer providing you with adequate comfort and support.
Saatva offers a wide variety of mattresses and bed accessories so you can upgrade your sleep experience. Take our mattress quiz to find the best mattress for your sleep style. Then check out our range of sheets, pillows, and bed frames to complete your setup.