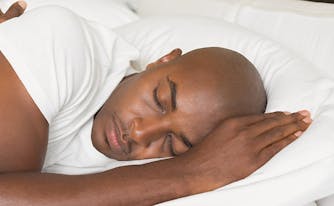 How to Break In a Latex Mattress for Better Sleep
As anyone who's ever slipped on a new pair of Italian leather loafers knows, good shoes aren't always comfortable right away; it takes a few wearings until they begin to soften and conform to your unique shape. The same is true of a quality latex bed. When it arrives from the factory, foam and fabric can be stiff. That's why, when a customer occasionally calls us to say they didn't get a great night's sleep on their new Zenhaven, we ask that they give it some time to break in (and with a 180-day home trial, there's no pressure on anyone to make up their mind quickly).
As you'll see from the customer reviews below, that break-in period usually makes all the difference. Here's why.
We ship our latex beds factory fresh
Unlike most mattress companies, at Zenhaven we make our all-natural latex mattresses to order. That means yo­ur latex bed isn't sitting around in a warehouse or storeroom for weeks on end. Instead, soon after we receive your order, your mattress is assembled in one of our 19 factories across the United States and then delivered directly to you. And because we use 100% natural latex, Zenhaven will never off-gas in your home.
(Learn about the average latex mattress lifespan.)
While on-demand manufacturing is more efficient and eco-friendly, factory-fresh ingredients don't always reach their full comfort potential in the first few days. Some people let us know that it takes a bit longer for their mattress to relax and feel "just right":
I decided to splurge on a Zenhaven mattress in part because I have chronic lower back pain and I found that the right mattress can help a great deal. It was the most expensive option but so far I'm happy with my purchase. Initially I was surprised that the firm side of the mattress didn't feel nearly firm enough, but after sleeping in it for a couple of months, I can say this is the best mattress I've ever owned.
(Read the full review here.)
We build our latex beds to last
Nothing is more important to us than the long-term satisfaction of our customers. That's why we offer one of the most generous warranties in the industry. We'd much rather build a quality mattress that takes some people a few days or weeks to fall in love with and lasts 15 years than one that makes no demands and falls apart after five.
For us, luxury means four layers of pure latex wrapped in 100% organic cotton and New Zealand wool. We made Zenhaven flippable, which means you have two firmness options to try. The center third of the mattress is firmer for extra lumbar support. As a result of all these features the Zenhaven is extremely durable, but may take a little time to respond to your body weight.
The setup guys were terrific and they gave me the "soft side" up —as apparently most people want —but my first impression was, "oh, this is awfully firm." I say that to ease anyone's concern, because after a few months on my Zenhaven I have no more morning back pain and feel this is one of the best purchases of my life! It has give but not too much, I can move at night anytime I need to, and in short I feel great. Many thanks Zenhaven!
(Read the full review here.)
See What Saatva's Latex Mattress Can Do for You
Zenhaven Latex Mattress
100% natural latex responds to every curve for pressure-free support and responsive comfort. Natural latex is supple, resilient, and durable, for the ultimate in elevated sleep. (It's naturally hypoallergenic too.)
Shop
Your body needs time to adjust to a latex bed, too
Most likely you've been sleeping on your current mattress for years (in some cases even decades!). So while your old bed may no longer be giving you the support or comfort you need, your body is used to it. Adapting to something else—especially if you've never slept on a latex mattress before—is like standing up straight after having been hunched over for a long time: It's better for your back, but it might not feel great at first.
More often than not, though, that improved posture is just what your body needs:
I love this mattress now, but it took about 3 weeks before I, and it, adjusted. I'm the "princess and the pea" kind of person and this mattress is perfect for me now. So glad I gave it more time before jumping to a hasty and wrong conclusion.
(Read the full review here.)
We're always here to help
We'd never ask anyone to sleep on a mattress they don't love, which is why we offer a comfort guarantee. If you're not happy at any point during your 180-day home trial, call us. Our customer service staff is available 24/7 to answer questions and address concerns:
I started with the firmest side and finally realized it may be too firm for me. Charlie at Zenhaven called about that time to see how I was doing with the mattress and not only offered to send a team out to flip the mattress so I could try out the other side, he also extended my 100 day trial period to see if that would help me make a decision! I am now sleeping on the Luxury Plush side and am very encouraged that I may have found the right side.
Note to anyone interested in purchasing this mattress - I am so happy with the customer service and the efforts of the Zenhaven team! They are going above and beyond and will stand by their return policy if I need it.
(Read the full review here.)
Bottom line: Your satisfaction is our top priority, even if it means that Zenhaven is not the right mattress for you. But backed by more than 1,000 five-star reviews, our top Google ratings, and one of the lowest return rates in the industry, we're pretty confident it will be.
Call us to let us know at 1-877-672-2882.