Do you no longer have room for one of the mattresses in your home? Are you in between living spaces and in need of a place to stash your furniture temporarily? At some point, you may have to put your mattress in storage.
If you're not planning to use your mattress for a few weeks or months at a time, then storing your mattress is a smart move. After all, a good quality mattress can cost upwards of $1,000, so it makes sense that you wouldn't want to get rid of it.
Keep reading this article to learn how to store a mattress so that it stays in the best condition possible until you're ready to sleep on it again.
5 steps to safely store your mattress
Below, find step-by-step instructions for storing a mattress safely, from prepping the mattress to finding the right storage location.
Cleaning and airing out the mattress
The first step to storing a mattress is thoroughly cleaning and airing it out. The best mattress cleaning method involves one of the most inexpensive and effective odor eliminators available: baking soda.
For many years, baking soda has been used to freshen everything from clothing to carpets. Mattresses are no exception.
Follow these easy steps to ensure your mattress is clean and fresh before putting it into storage:
Remove sheets and pillows from the mattress.
Evenly sprinkle up to 1 pound of baking soda onto your mattress. Make things easier by purchasing a small 16-ounce box from your local market.
Allow the baking soda to sit at least eight hours to absorb odors.
Vacuum the baking soda and use the upholstery attachment to get into any grooves.
Allow a few more hours for the mattress to air out.
If you're feeling up to it, take your mattress outside on a clear and sunny day. The sun's ultraviolet rays will help absorb odors.
Watch this video for more advice on cleaning a mattress:
Covering the mattress
So you've cleaned and aired out your mattress. Now it's time to protect it from damage during transport to your chosen storage location. Experts recommend covering your mattress with a light, breathable plastic material such as a high-density polyethylene mattress storage bag.
Polyethylene keeps out moisture and prohibits the growth of mold, which can ruin your mattress. You can find mattress storage bags selling for around $20-$40 at hardware or packing/moving supply stores.
Here are easy tips to help you cover your mattress like a pro:
Cover the entire surface of your mattress and secure tightly with packing tape, paying attention to the edges.
For an additional layer of security from moisture and damage, try placing your mattress in a cardboard box.
Are you storing your mattress for a few months or longer? Air out your mattress at least once every three or four months.
Open the plastic wrapping for a few hours or a whole day if possible. Remember to reseal afterward.
Identifying the best storage location
Whether you choose to store your mattress at home or in a rented space, consider the following:
For long-term storage, use a temperature-controlled environment. Ideally, you should choose a facility that offers heat in the winter and air conditioning during the summer months. This will help prevent mold and mildew from forming on your mattress, and, in turn, ensure the bed's longevity.
Using your basement or garage for storage? Reduce the risk of mold and mildew by placing a dehumidifier in the storage space. This will help keep moisture out of the air.
Transporting the mattress
It's transport time! You've found the perfect place to store that mattress, and you've cleaned and covered it. Sure, you could strap that mattress to the roof of your car and speed over to the storage facility. Not only is this dangerous, but it's also illegal in some places. It could also damage your mattress—and bad weather can make things especially tricky.
The best option for transporting your valuable investment is to hire movers or rent a moving truck yourself. A quick internet search will uncover a list of local moving companies in your area. If you'd prefer to rent a truck, U-haul rental prices start at just $19.95.
You can store the mattress on its side in the truck for space if necessary. Just avoid piling heavy furniture or items on top of the mattress, which can cause damage.
Storing the mattress in your home? Follow these steps to transport it to your basement, garage, or whatever room you'll be leaving the mattress in:
Before storage, clean and air out your mattress.
Clear a path when maneuvering between rooms.
Place the mattress at an angle or sideways when going through doorways.
Positioning the mattress for storage
Finally, you have to consider how you're going to position the mattress while you store it. The best storage position for optimal mattress upkeep is flat on the floor. That's because storing a mattress on its side for an extended period can cause springs to shift and fabric to sag. Make sure to place a tarp on the floor before laying your mattress down to keep it from getting dirty—and avoid placing objects on top of the mattress to prevent damage.
Common mattress storage questions
In this section, we answer your most frequently asked questions about mattress storage to make the process easier for you.
How long can I store a mattress?
This depends on how and where you store the mattress. If you keep your mattress in a temperature-controlled storage unit, then you should be able to store it for a few months to a year or more without any damage.
For non-temperature-controlled areas, the rule of thumb is simple: The less time in storage, the better. Moisture in the air can cause mold and mildew to grow, making your mattress unusable.
And remember: The optimal position for storing a mattress is flat on the floor with no heavy objects on top of it. If you're keeping the mattress on its side, then you'll also want to limit the amount of time it's in storage because this can cause springs to shift and fabric to sag.
Are there any considerations I need to keep in mind for specialty mattress types?
A basic
innerspring mattress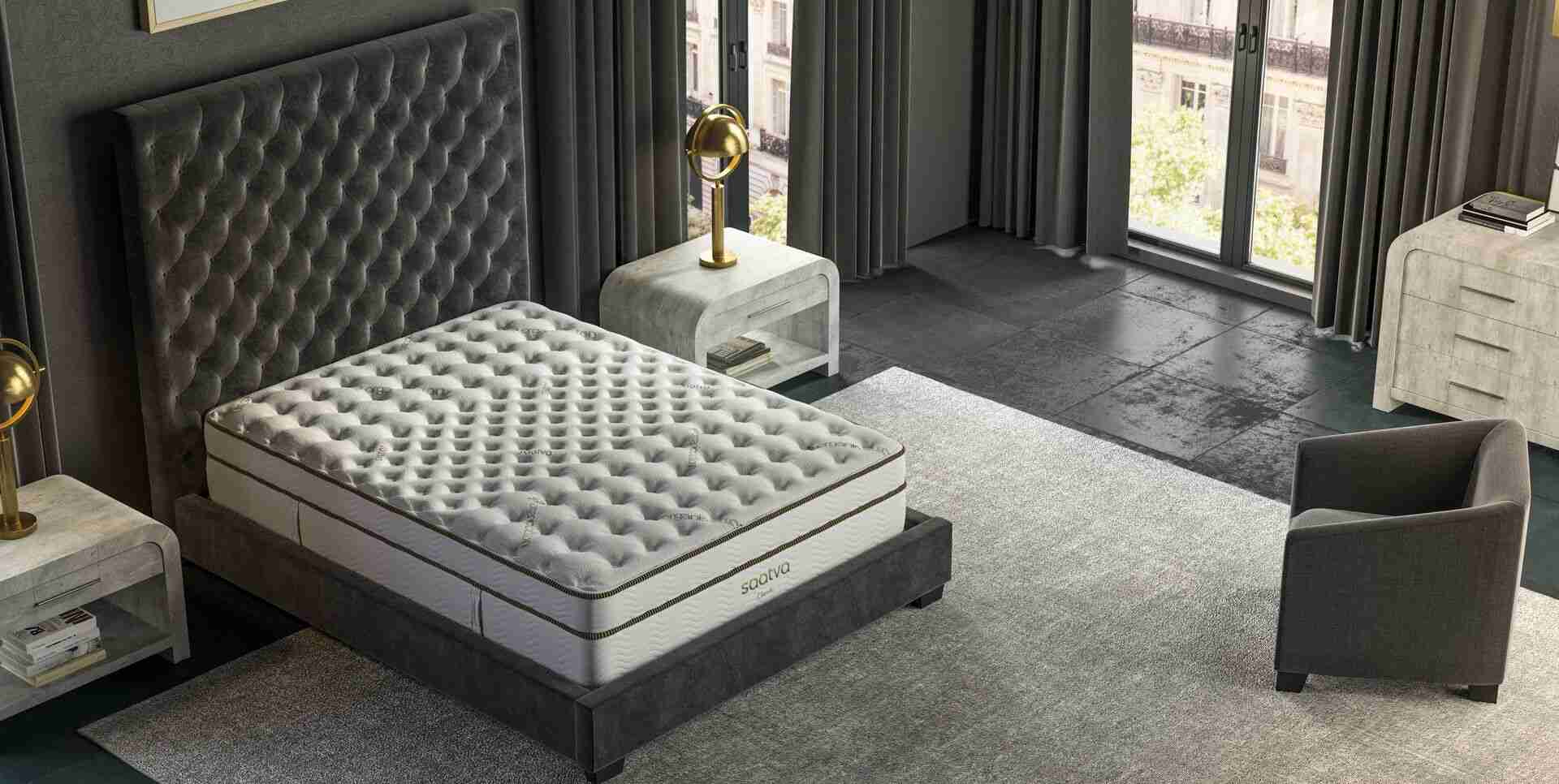 Saatva Classic
America's best-selling online luxury innerspring

 is relatively easy to store, but certain other mattress types require special consideration. Here's what you need to know.
Pillow tops: Store pillow-top mattresses flat on the floor of your storage unit. This storage position will prevent coils in the innerspring base from shifting. Be careful not to place anything on top of your mattress.
Memory foam:  Even though a

memory foam mattress

Loom and Leaf

Our ultra-premium 5-lb memory foam mattress for a body-hugging feel

doesn't have springs in it, you still shouldn't store it on its side. Storing a memory foam mattress on its side could cause the mattress to lose its shape over time. Treat a memory foam mattress like an innerspring and place it flat on the ground, with no heavy objects on top.
Latex:  A

latex mattress

Zenhaven

Our dual-sided organic natural latex mattress for buoyant, pressure-relieving comfort

also doesn't have springs, but that still doesn't mean it's ideal to store it on its side. As with memory foam, storing a latex mattress on its side for an extended period could lead to the mattress becoming distorted. So, it's best to store a latex mattress flat. Also, keep in mind that latex mattresses are the heaviest on the market. Fun fact: A queen-size latex mattress could weigh 125 pounds or more! That means it may be difficult to maneuver on your own. You may need help transporting this type of mattress to a storage unit.
Adjustable: To store an adjustable mattress safely, you should always check with the manufacturer first. Some brands advise storing the mattress as is, just as you would with other mattress types. Others advise disassembling the mattress, which would include deflating the air chambers, packing the inflator pump in a secure box, and folding up the air chambers and foam layers and storing those in a box.
Can I store a mattress with its frame, box spring, and topper all together?
You can store the mattress on top of the frame and box spring as long as they are on a flat and steady surface. Make sure both items are wrapped separately, though, to avoid dirt and keep out germs. Don't place heavy items on top of the mattress and box spring, as this may cause damage if stored for an extended period.
As for the mattress topper, it's best to clean it, then roll it up and place it into a protective bag to prevent damage.
Do I need to do anything special to remove the mattress from storage?
When you're ready to remove a mattress from storage, follow the same process you used when putting your mattress into storage.
Clean the mattress with baking soda, then let it air out.
Completely wrap the mattress in a breathable plastic material such as a high-density polyethylene mattress bag.
Finally, rent a truck to transport it safely to your home.
There you have it: a concise yet extensive guide on how to store a mattress. Follow these tips for a smooth and worry-free mattress storage experience every time.
Thinking of upgrading to a larger apartment or looking to buy a house? You'll have to figure out how to move your mattress in the process. Check out our expert tips for moving a mattress to your new home.