The world of mattress accessories is a confusing one. To protect your new mattress from stains, for example, you need a mattress pad. Wait—or is it a mattress protector? What about an old mattress that feels too firm? Well, that calls for a mattress topper—but what kind?
Have no fear: We're here to help you navigate the land of bedding and its baffling accoutrements. Here's what you need to know about mattress pads, protectors, and toppers.
What is a mattress pad?
A mattress pad is a thin piece of quilted material that covers the surface of your mattress, usually under a fitted sheet. Mattress pads are typically secured with either elastic straps in the corners or a skirt of fabric, also lined with elastic.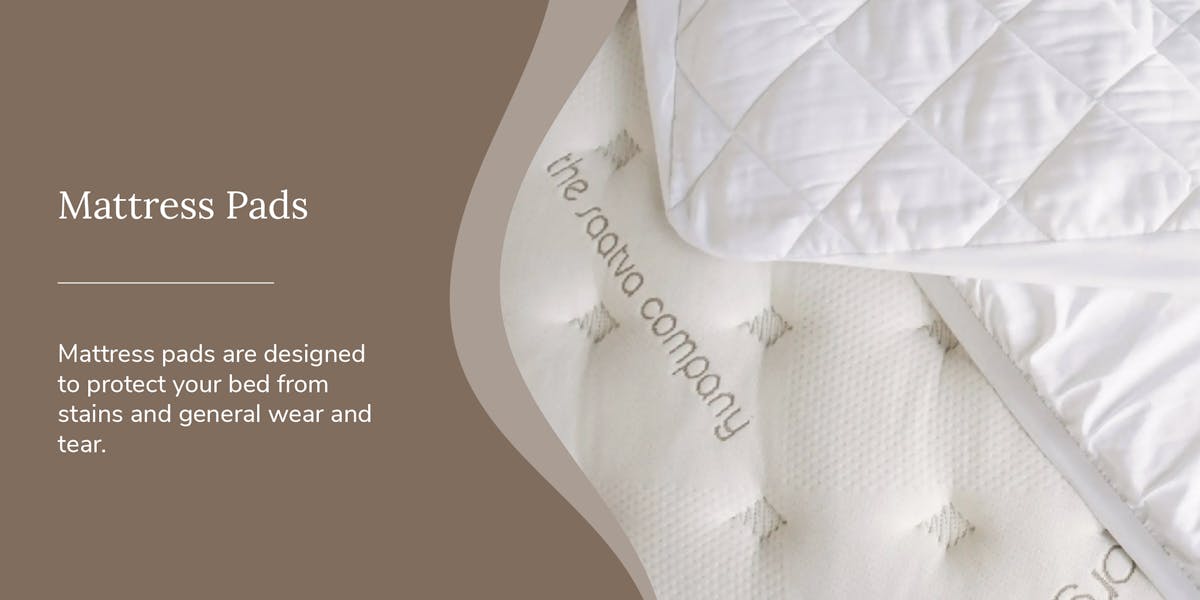 Mattress pads serve a range of functions, but they're designed primarily to both protect your mattress from stains and general wear and tear as well as add a thin layer of padding to give an additional layer of comfort to your mattress.
Do I need a mattress pad?
Not everyone needs a mattress pad. But if you're wondering if a mattress pad is right for you, here are some reasons why you may consider buying one:
You sweat a lot during the night and want to prevent mattress stains.
You don't need a thick topper but still want to add a layer of softness.
You want something light to protect your mattress that can be easily removed, machine-washed, and packed for storage.
What are the benefits of mattress pads?
Using a mattress pad can have an array of benefits, depending on the one you choose. It can both protect your mattress from damage and provide another layer of comfort.
Check out the top benefits of mattress pads below:
Protect against wear and tear, spills, and stains
Prevent allergens from getting into your mattress
Add an extra layer of comfort to your mattress
Prolong the life of your mattress
Keep you cool or warm, depending on the material
Is there a difference between mattress pads and mattress protectors?
Unlike a mattress pad, a mattress protector is meant only to provide an extra layer of protection for your mattress. They typically provide no extra comfort or cushioning—just peace of mind that your mattress is shielded from stains, bacteria, fungi, bed bugs, dust mites, allergens, and other unwanted contaminants that can build up over time.
Mattress protectors are usually thin sheets made out of cotton or polyester designed to cover most (if not all) of the mattress. Some mattress protectors are secured with elastic, like a fitted sheet, whereas others are zipped over the mattress like cushion covers. They come in a variety of materials—the one you choose depends on the specific purpose.
Mattress protector fabric can be waterproof, quilted, natural, or synthetic. They are designed to be washable and (with the exception of waterproof vinyl) breathable. Mattress pads and mattress protectors can both extend the life of your mattress, especially if you have young children (or are particularly accident-prone.)
What is a mattress topper?
A mattress topper is a thick layer of memory foam, latex, or quilted material, usually 1-3 inches thick, that sits on top of your mattress. Mattress toppers sometimes have removable covers but are otherwise rarely designed to be washed.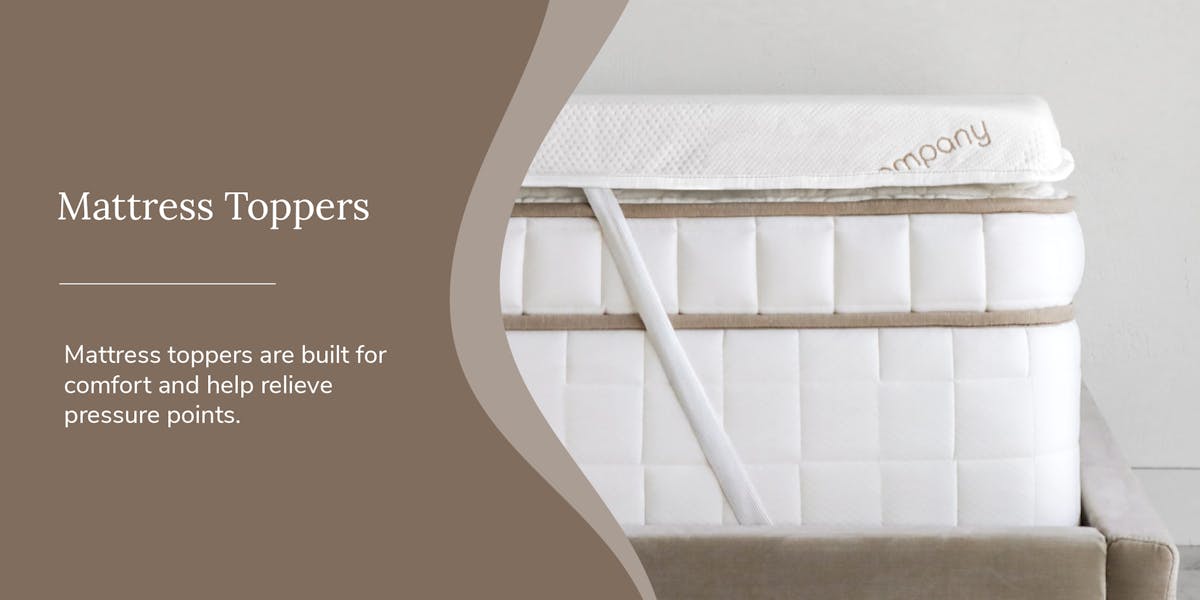 Mattress toppers are built for comfort. The topper's extra layer of foam or quilting relieves pressure points, while the underlying mattress provides additional support and structure. Toppers can completely change the way your bed feels and are a cost-effective way to make an older mattress feel new again—at least for a while.
Although they can greatly improve your sleeping experience, mattress toppers typically don't provide much mattress protection and can be just as impacted by spills, allergens, and other pollutants.
Do I need a mattress topper?
If you have a good quality mattress, possibly not. However, you may want to consider getting a mattress topper if:
Your old mattress is too firm or uneven, but you can't or don't want to buy a new one just yet.
You have a temporary need for a softer sleep surface, for example, due to an injury.
What are the benefits of mattress toppers?
Even though they seem like they do less than mattress pads, toppers have a slate of benefits that can be useful to you, depending on your situation. (Here's more on how to determine if a mattress topper is worth it.)
Here are the top benefits of mattress toppers:
Make your mattress feel more comfortable, especially if you have back pain, arthritis, or a temporary injury
Prolong the life of an old mattress
Reduce motion transfer
Regulate temperature if you sleep too hot or cold
Ease the break-in period that sometimes happens with a new mattress
What are the different types of mattress toppers?
Mattress toppers come in three main varieties: memory foam, latex foam, and down/down alternative.
The best mattress topper for you depends on your needs and preferences:
Memory foam mattress toppers: Memory foam contours to your body, making it great for pressure relief for side sleepers. Regular memory foam can feel quite hot as you sleep, but gel memory foam offers a cooler sleeping option.
Latex mattress toppers: Latex offers a bit more support than memory foam, making it a good option for people who prefer a firm mattress feel. Latex can also be good for people with back pain, as well as people who prefer natural materials.
Down/down alternative mattress toppers: Down toppers provide an extremely soft sleeping experience (like a plush pillow top). Down toppers are great for people who don't need extra support. Down is also the most breathable of these three materials, so if you tend to sleep hot, this may be the best option for you.
Key differences: mattress pads vs. mattress toppers
Check out the table below to learn more about how mattress pads and mattress toppers differ.
| | | |
| --- | --- | --- |
| Comparison | Mattress Pads | Mattress Toppers |
| Comfort | Provide a thin layer of extra padding | Can significantly alter the comfort level of a mattress |
| Protection | Offer protection from spills, stains, allergens, and general wear and tear | Protect against wear and tear but not against spills or stains |
| Durability | 3-10 years | 3-5 years |
| Maintenance | Typically machine washable | Hard to clean |
| Cost | $15-$200 | $70-$400 |
FAQs on mattress pads and toppers
We're answering your most common questions to help you determine which bedding product is right for you.
How long can mattress toppers change the feel of your mattress?
A high-quality mattress topper should last you around three to five years. That said, the lifespan of a mattress topper depends on a variety of factors, including your body weight, the material and thickness of the topper, and the condition of the mattress underneath. Latex toppers tend to last the longest due to the durability of the material.
Do mattress pads make you hot?
The waterproof lining in some mattress pads can trap heat and make you feel hot as you try to sleep. There are cooling mattress pad options, though. Materials like latex and organic cotton are quite breathable and can help you feel cooler as you sleep.
Will a mattress topper help with back pain?
An old, sagging mattress can exacerbate back pain. If you're not ready to invest in an entirely new mattress yet, then a mattress topper can be a less expensive way to improve your comfort. Toppers can provide additional support where your mattress is lacking. Plus, because toppers increase comfort, you're less likely to need to move around to find a comfortable position while you sleep. This can also help mitigate back pain.
Can you use a mattress pad and mattress topper together?
While mattress toppers can help prevent wear and tear on your mattress, they're still susceptible to spills and stains. Using a mattress pad that covers both your mattress and topper can help extend the life of both products. Make sure to choose a deep pocket mattress pad that can fit the full height of your mattress and topper.
Find all your bed accessories at Saatva
Whether you're in the market for a mattress pad or mattress topper, we've got you covered—literally.
Mattress pads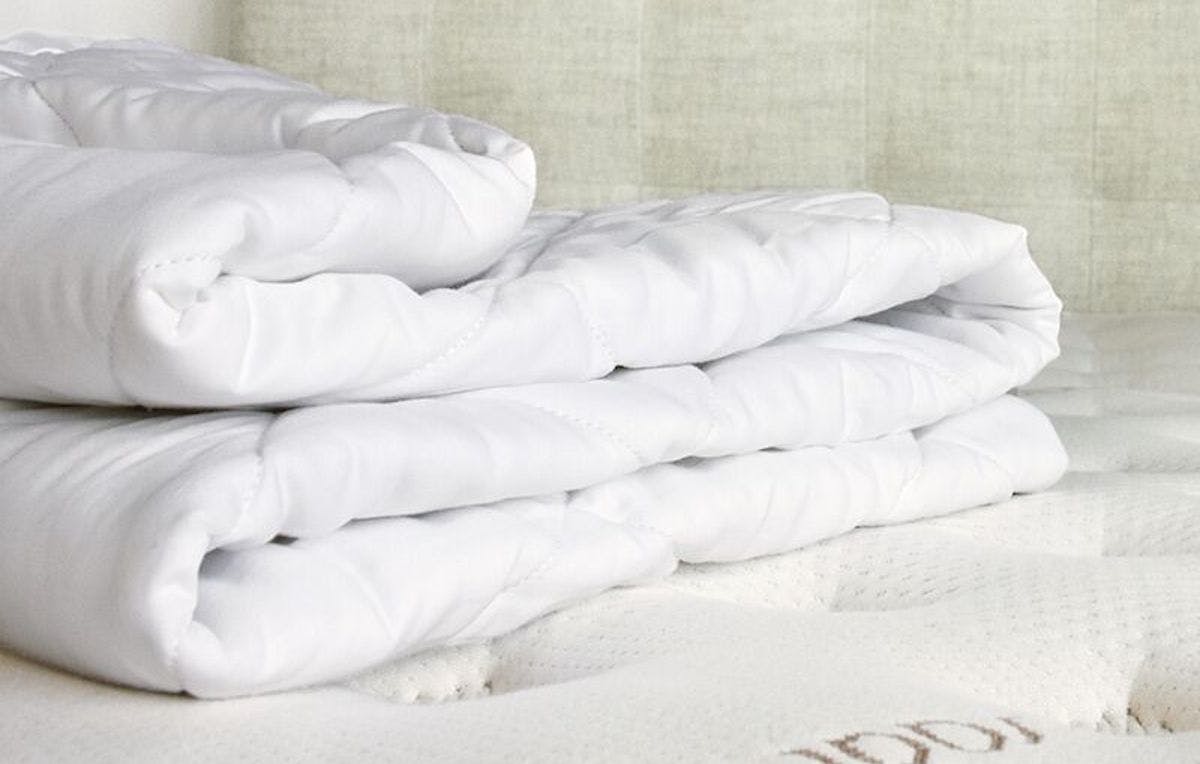 Luxurious diamond-patterned cotton mattress pad made with 100% organic cotton for optimal breathability and comfort. Side panels finished with an extra-wide elastic band to keep the mattress pad in place.
Mattress toppers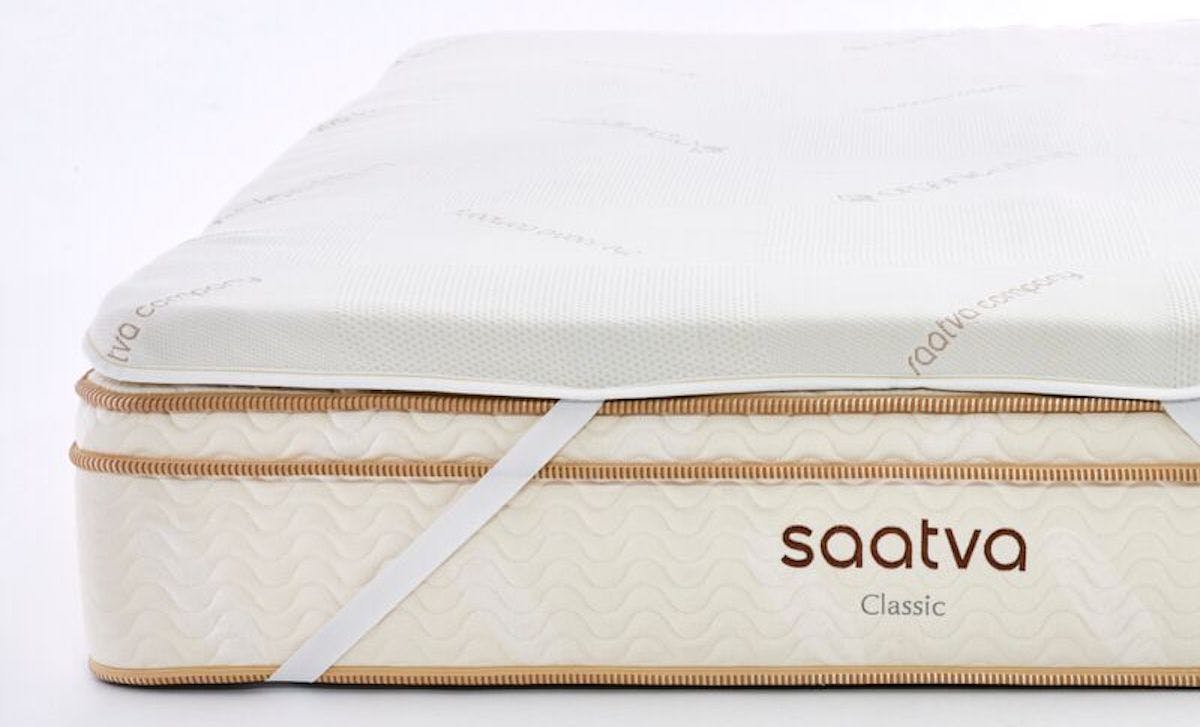 The latest in high-tech cooling. The contouring support of memory foam, plus the advanced heat-dissipating properties of graphite.
This breathable, comfortable, and durable topper instantly adds a layer of responsive softness and unmatched pressure-point relief.
High-density foam evenly distributes body weight for instant pressure relief. Ideal for adding comfort to any new or existing mattress.
Find the right mattress accessory for you at Saatva
Whether you're trying to manage pain, prevent future stains, or squeeze new life out of your current mattress, accessories like pads, protectors, and toppers can be just the ticket.
Saatva offers a variety of high-quality mattress pads and mattress toppers to suit your needs. Check out our bedding accessories to see what's right for you. We give you 45 days to try our bedding before deciding.
Decided it is indeed time for a new mattress? Take our mattress quiz to find out which Saatva mattress is right for you.