Adjustable beds are the latest darlings of the luxury sleep world. It's easy to understand why.
Want to elevate your feet at the end of a long day or raise your head for the perfect TV viewing angle from bed? Just push a button on your adjustable base to make it happen.
It can even help ease symptoms of certain health conditions, like sleep apnea and chronic back pain. If you're having trouble breathing at night or need to relieve your lower back pain, you deserve a bed that can help you. An adjustable bed base is the perfect choice.
How do adjustable beds work?
Adjustable beds are the perfect solution for restless sleepers and couples with different sleeping preferences. They give you the flexibility to change the angles of your mattress and provide an extra sense of comfort and support.
You can use the wireless remote control to adjust the angle of your mattress in two different areas: the head and the foot. Both parts can individually be adjusted by between 40 and 70 degrees. This range allows for the perfect amount of customization and will give you the flexibility to adjust your mattress to your needs.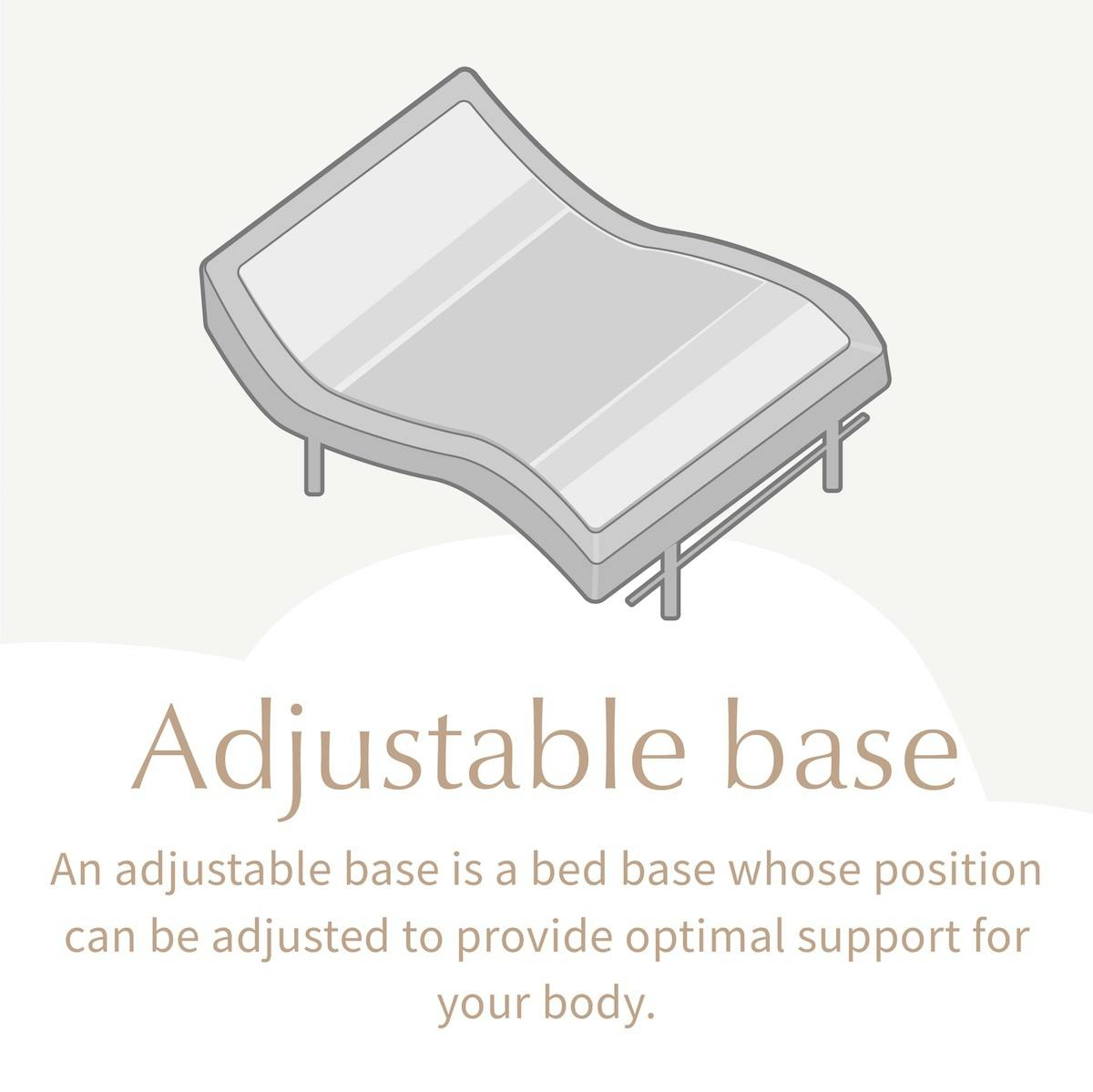 Some adjustable bed bases also have extra massage features or USB ports. They also tend to support accessibility for people who are sick or have disabilities.
Before buying an adjustable bed, you'll want to make sure it's worth the investment. Below, we'll take a look at the biggest benefits of having an
Which mattresses work best with adjustable beds?
Can you use any mattress with an adjustable base? Virtually any foam mattress, whether it's memory foam or natural latex foam, can be used on an adjustable base.
Additionally, as many as half of the innerspring mattresses currently on the market would likely be compatible too.
Mattresses to stay away from include anything too thick to flex properly. Mattresses made with a border wire—a heavier steel rod used in some beds to keep the springs in position—also don't work with adjustable bases since the stiff wire would interfere with movement.
Foam mattresses
Most, if not all, memory foam beds on the market will work with an adjustable bed base.
Traditional
Hybrid mattresses
Innerspring mattresses
Traditional innerspring mattresses will work with adjustable bed bases in some cases, depending on the type of coils inside the mattress. Pocketed coils work best, as they are usually more flexible than other types.
If you're concerned about comfort, support, and durability, an innerspring mattress might be the best option for you. They typically rank fairly high on the mattress firmness scale, and there are also pillow tops on the market to add an extra-plush top layer to the bed. This will also work well with adjustable frames.
What else to consider when looking for your adjustable bed
Before making a purchasing decision on an adjustable bed, it's important to take a look at some of the common features, noise levels, and prices. There are so many different options on the market, and you should be confident in the one that you're purchasing.
Common features
Many adjustable beds come with enhanced features that make them feel more luxurious and high-end. These features commonly include:
USB ports
Massage features
Bluetooth connectivity
"Zero gravity" capabilities
Internal, gentle wake-up alarms
Noisiness
One common concern many people have is about the noise levels of adjustable beds. Most people think they're similar to hospital beds and are made out of durable (but noisy) stainless steel.
The good news: Most adjustable bed bases are fairly quiet, as they won't be moving quite as much. However, it's always best to read reviews or test out the product in-store or at home before finalizing your decision.
Pricing
High-quality adjustable bed bases are an investment—and you want to stay away from the cheaper ones if you want one that will hold up for years to come. A good adjustable base bed will cost anywhere between $1,000-$3,000.
Single vs. split mattresses
For the most customizability for your sleeping position and adjustable bed base, take a look at the major differences between split and single mattresses to determine which one is right for you.
Single mattresses are likely what you're used to—a single mattress with a consistent material and firmness level throughout. When paired with an adjustable bed frame, head and feet move together as one.
However, a split mattress is essentially split down the middle into two separate mattresses.
This gives sleepers the flexibility of having two different firmness levels and materials in one bed. It's perfect for couples with different sleeping preferences who prefer to share the same bed. When paired with an adjustable bed frame, head and feet move separately for added customization.
The benefits of an adjustable bed base
People often wonder if buying an adjustable bed would be a good investment for them. This type of bed does have quite a few benefits.
For starters, a bed with an adjustable base makes it easy to get into the sleeping position that's most comfortable for you, while keeping your body properly supported. Finding the perfect position for your body and sleeping style can help assist with pressure relief. Contouring the mattress properly to your body will alleviate certain pressure points and help with things like back pain, spinal alignment, or heartburn.
Adjustable beds are also useful if you have a medical issue like sleep apnea, snoring, or acid reflux, as sleeping with your head elevated can help mitigate symptoms.
These beds help create a curated sleeping experience that's perfect for people who have difficulty sleeping. They're easy to use and come with a wireless remote to help change the settings. Plus, you can use just about any type of mattress in conjunction with them.
Once you start considering it, you'll likely be wondering if you need a special mattress, or if certain kinds of mattresses work best with adjustable bed bases. While there are caveats (i.e., mattresses that are too thick to flex properly), most new mattress styles are compatible with an adjustable base.
Warranties and sleep trials
If you're still unsure of which mattress is right for you and your adjustable bed base, you're in luck: Many beds come with comfort guarantees, like an in-home trial period during which you can return a mattress for a full refund if you're not satisfied. However, keep in mind that most adjustable bases can't be returned once they're in your home.
If you think an adjustable bed might be right for you, you'll just need to find the ideal mattress. Thankfully, trial periods and warranties on mattresses are easy to come by. Most companies offer a 100- to 365-night sleep trial or a 10-year warranty, 20-year warranty, or even a lifetime warranty.
With the vast amount of warranties and trial periods on the mattress market, you won't need to worry about picking the wrong type of mattress, firmness level, or material.
FAQs
What kinds of mattresses work best with an adjustable frame?
Memory foam, hybrid, and pocketed coil innerspring mattresses will work best with an adjustable bed base.
How thick should a mattress be for an adjustable bed?
When it comes to an adjustable bed, you should stay away from mattresses that are too thick to flex properly. Always check with the manufacturer of the adjustable bed first to make sure your mattress is compatible.
Where to buy the best mattress for adjustable beds
After figuring out which type of mattress you're in the market to buy for your adjustable bed frame, you'll need to find a mattress company you can trust. Saatva has a large selection of mattresses, ranging from the California king to the twin XL, all the way down to crib-size mattresses.
Our products are high-quality, will work with adjustable bed frames, and can help you get a better night's sleep. To find out which of our mattresses is best for you, take our online mattress quiz today.