Between the linens, pillows, and upholstered furniture, a bedroom can be a very cozy place. But there's one item a bedroom needs to make it truly feel like a warm, soft sanctuary, and that's a rug. Not only is a rug practical if your floors are cold, but it's also a great way to add aesthetic value to your sleeping space.
Stephanie Lindsey, principal designer of Etch Design Group, says rugs are wonderful for bedrooms for all sorts of reasons—they add interest, texture, and can unify the space.
Most importantly, though, rugs promote tranquility. "Rugs are comfortable to the touch, help warm chilly hardwood floors, and even help reduce noise," she says.
Perhaps you're wondering, "What is a good size rug for a bedroom?" Ahead, we'll answer your question by explaining how to choose the best size rug for your bedroom, depending on the size of your mattress. We're also addressing frequently asked questions about bedroom rugs.
What's the best size rug for a bedroom?
What's a standard-size rug for a bedroom? It turns out there isn't really a standard size at all. It simply comes down to choosing a rug size that complements the size of your bed.
Here are some of the most popular bedroom rug sizes you can find:
5' x 7'
8' x 10'
9' x 12'
The best rug sizes for king beds
Naturally, a king-size bed may require a rug on the larger side to look correct in the room and to fit underneath the bed correctly. If the rug is too small, it'll look engulfed by the bed that's resting on top of it.
Lindsey says that oftentimes, people tend to choose rugs that are "much too small" for a sizeable bedroom with a king bed—and this can make the entire room seem off-kilter.
She recommends going with a large rug at 9' x 12' with a profile that will fit the bottom two-thirds of a king bed. This is the most visually pleasing setup in a bedroom with a king bed. (Here's how to layer rugs in your bedroom.)
The best rug sizes for queen beds
Then there are those beds that land in the middle range of sizes—queen-size beds. You won't need a rug as large as one to adequately fit a king bed, so you'll be going down a size.
But don't go too small—you'll run into the same problem that could happen with a king bed. A too-small rug won't look right with a queen bed.
"Make sure the rug is large enough," Lindsey says. "We recommend 8' x 10' rugs in spaces like this."
The best rug sizes for full beds
A full-size bed, which is sized between a queen bed and a twin bed, can present its own challenges. A large rug may overwhelm it, but a small rug may still be too small for the space.
For a look that feels right in a room with a full bed, Lindsey recommends a 6' x 9' area rug.
The best size rug for twin beds
In the case of a room with a twin-size bed, which may be occupied by one of your children, it takes a little more planning and taking the layout into account.
"The correct rug size here depends on the layout of the room," Lindsey says. "Are there multiple twin beds in the space—or just one? Would you like the rug to go beneath a nightstand and bench at the foot of the bed or just the lower two-thirds?"
A 9' x 12' rug would fit two twin beds comfortably, says Lindsey, while a 5' x 7' rug would be suitable for covering the flooring at the lower two-thirds of the bed.
Find stylish, high-quality bedroom rugs at Saatva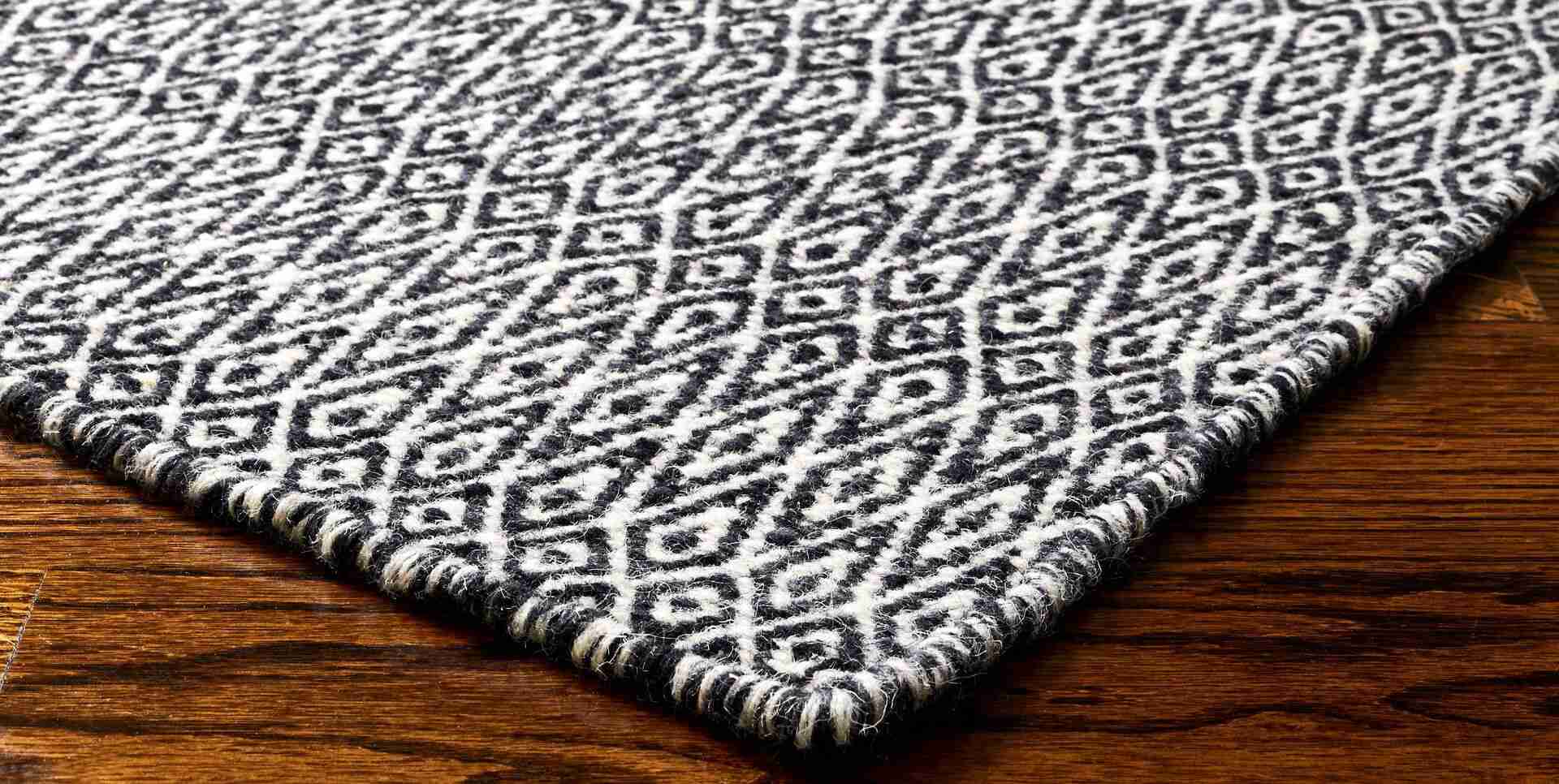 The subtle yet captivating diamond trellis pattern on the Adamas flatweave wool area rug imbues a distinct elegance to any bedroom.
FAQs
What is the average size rug for a bedroom?
Since a queen mattress is the most popular mattress size in the United States, it's only natural that an 8' x 10' rug is the average size rug for a bedroom.
Is a 5'x7′ rug big enough for a bedroom?
While a 5' x 7' rug may be the most economical option among larger area rug sizes, it may not look right in every bedroom. Lindsey says a 5' x 7' rug only looks correct if it's in a bedroom housing a twin bed. "Rugs should match the size of the furniture in the room," she explains.
How big should a rug be in proportion to a room?
While a small room calls for a small bed and rug, a large room calls for a large bed and rug, which makes perfect sense. Lindsey says the rug should be proportional to the room's floor space and leave an equal amount of bare floor on all sides.
Choose the best bedroom rug for you at Saatva
The right bedroom accessories, including area rugs, can really go a long way toward making your bedroom feel cozier and more comfortable.
Luckily, Saatva offers a variety of high-quality bedroom rugs to outfit your sleep space. Check out our selection of rugs to give your bedroom a stylish makeover.