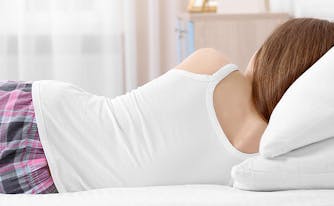 Can Sleeping on a New Mattress Cause Back Pain?
They say good things come to those who wait—and that's certainly true when it comes to sleeping on a new mattress. A quality mattress, featuring lumbar support for your spine and components that are fresh from the factory, takes some time to get used to. It may even cause some minor back pain at the beginning. But once your body adjusts to this new sleep surface, and the materials in the mattress soften up a little bit, you'll be amazed at how great your back feels.
Here's what to expect when you make the switch from a mattress that's past its prime to one that offers proper support for your back.
New mattresses have an adjustment period
"There is a transition period when you go from an old unsupportive mattress to a new supportive one," says Wisconsin-based chiropractor Thomas Tozer.
If you were previously sleeping on a less-than-terrific mattress for years and years, your body likely got used to it, even though it wasn't all that great for your back. When you move to a more supportive mattress, it may not feel quite as comfortable at the start, even though it's much better for your back.
Think about how it feels to sit up straight after being hunched over for a long time—that's similar to what happens when you switch from a saggy mattress to one that can keep your spine in a neutral, properly aligned position.
Here, one Saatva customer explains how it took three weeks to get used to their new mattress:
We did about two months' worth of research and settled on the Loom and Leaf Relaxed Firm because we were leaning toward trying a foam mattress for the first time to replace our aging spring bed… It took me about 3 weeks to get used to the change with minor back pain during the three weeks after we got the bed, but that subsided around week four and I've had no more issues.It took me about 3 weeks to get used to the change with minor back pain during the three weeks after we got the bed, but that subsided around week four and I've had no more issues. My wife hasn't had any trouble since day one. We're side and back sleepers and my shoulder pain has subsided as well. Can't thank Loom and Leaf enough for a great product!
(Read the full review here.)
Related: Here's what a new mattress can and can't do for your back
These Saatva Mattresses Can Help Relieve Back Pain
Saatva Classic Innerspring
Our flagship luxury mattress is expertly engineered with coil-on-coil construction for durability, a layer of memory foam for enhanced back support, and a cushiony Euro pillow top for extra comfort.
Shop
New mattresses take time to break in
What's more, just like a good pair of shoes, a quality mattress has a break-in period. Components like springs and foams can be stiff at first but will soften up and conform to your body over time. It's a sign, in fact, that the mattress is doing its job. (If your new mattress feels too firm, consider using a mattress topper until it's broken in, Tozer suggests.)
Here's what one Saatva customer had to say about the break-in period of their new mattress:
The first week, it took a while to get used to the firmness of the mattress. I even thought about returning it as it felt the same as sleeping on the floor except in an elevated position. I decided to give it another week. This was crucial because the mattress DOES take time to break-in and conform to your body. It's been exactly 9 weeks to the day and the mattress feels GREAT!!
(Read the full review here.)
Related: How to break in a mattress to get better sleep
Why you should give your new mattress time
Because it takes time for your body to get acclimated to a new mattress, and because new mattresses soften with use, Tozer recommends finding a company that offers a generous home trial. At Saatva, for example, we give you 180 nights to sleep on a mattress to see if it's right for you.
And it's worth it to be patient. "The increased support [of a new mattress] will result in better alignment," says Tozer. Research has shown that when your spine is in neutral alignment while you sleep, you can expect less back pain.
One study found that when participants with back pain switched to a mattress designed to accommodate their sleep position, they noticed immediate improvements. Another study found that when participants with mattresses more than five years old were given new ones, they experienced less back pain, better sleep, and even decreased stress.
Tozer adds that the right mattress will help you sleep better—and "proper rest is going to allow your body to recover so that healing can take place."
See How Saatva's Adjustable Air Bed Can Help Alleviate Back Pain
Solaire Precision Adjustable Air
Featuring 50 precise firmness settings on each side of the bed for personal customization. Natural latex and gel-infused memory foam layers provide luxury comfort and support.
Shop
The bottom line: A new supportive mattress takes some getting used to, but in the long run it will help reduce your back pain and give you the chance to get better, more restorative sleep.
Next, find out how one writer cured her chronic back pain.