While you're in the market for a new mattress, you may be wondering whether you really need a bed frame, box spring, or foundation to go with it.
You may think, "Why not just put the mattress on the floor?" After all, it's easy, has its own aesthetic of simplicity, and can save space—so why not?
Before you spend a chunk of money on a new mattress with plans to put it directly on the floor, stop and read this article. Below, we'll explore your options and explain what can happen if you put your mattress on the floor.
Pros of putting your mattress on the floor
There are a few reasons why someone might put their mattress on the floor. It could potentially:
Help with back pain: A mattress on the floor may feel firmer. This could help relieve back pain by keeping your spine straight while sleeping.
Take up less space: A bed can be an imposing piece of furniture, especially in a smaller bedroom. A bed frame with the typical headboard and footboard takes up a lot of space. Plus, positioning a mattress and foundation or box spring at a typical 25 inches off the floor takes up vertical space. Putting your mattress on the floor can be a space-saver if you have a small bedroom.
Feel cooler: For those who sleep hot, it may feel more comfortable to sleep closer to the floor where the air is cooler.
Save you money: A bed frame and foundation or box spring indeed cost money, so not buying one could be a budget-friendly option. But as you'll see below, the tradeoff in terms of the impact on the mattress—and your wallet—could wind up costing you much more money than you would save.
Cons of putting your mattress on the floor
There are quite a few downsides to putting your mattress on the floor. It could potentially:
Void your warranty: Since most mattresses are designed to rest on a bed frame or base, putting them on the floor can quickly damage them. Most mattress brands advise against putting your mattress on the floor—and doing so risks voiding your mattress warranty.
Lead to mold and mildew growth: The slats of bed bases such as box springs and foundations help air flow through your mattress. Placing it directly on the floor cuts off air circulation. Sweat and body oils can become trapped in the mattress, which can lead to mold and mildew growth—especially if you live in a humid environment. Mold, in particular, can irritate your eyes, nose, and skin, worsen allergies, and trigger asthma attacks.
Worsen allergies: You may not be aware of them from the usual height of a mattress off the floor, but putting the mattress on the floor puts you right where dust, dirt, mites, and your own shed skin cells can trigger allergic reactions. Ending up with itchy eyes, a runny nose, or trouble breathing would definitely interfere with getting the rest you need.
Leave you susceptible to bed bugs: If those things that accumulate on the floor don't put you off, putting your mattress on the floor also gives bed bugs, spiders, ants, and other creepy crawlers easy access to your mattress and you.
Be uncomfortable for certain sleep positions: Side sleepers, in particular, may find it hard and painful to sleep on a mattress directly on the floor. If you sleep on your side, you need a softer mattress that contours to your shoulders and hips.
Feel uncomfortably warm: The lack of airflow around and under the mattress can make it feel warmer than usual.
Be hard to get in and out of bed: When your mattress is on the floor, it can be challenging to get in and out of bed because you can't simply slide off the edge as you can do when it's at a more typical height off the floor. If you have mobility problems, it could even be painful.
What kind of mattresses can you put on the floor?
There are a few types of mattresses designed to be placed on the floor. The most common ones are:
Rollup mattresses: Thin mattresses you can roll up like a sleeping bag. They store and travel easily.
Folding mattresses: Also thin mattresses you can fold into mats that are easy to travel with.
Air mattresses: Inflatable with a manual or electric pump, they're compact and easy to store when they're deflated.
What kind of mattresses should you avoid putting on the floor?
You wouldn't want to put a
memory foam mattress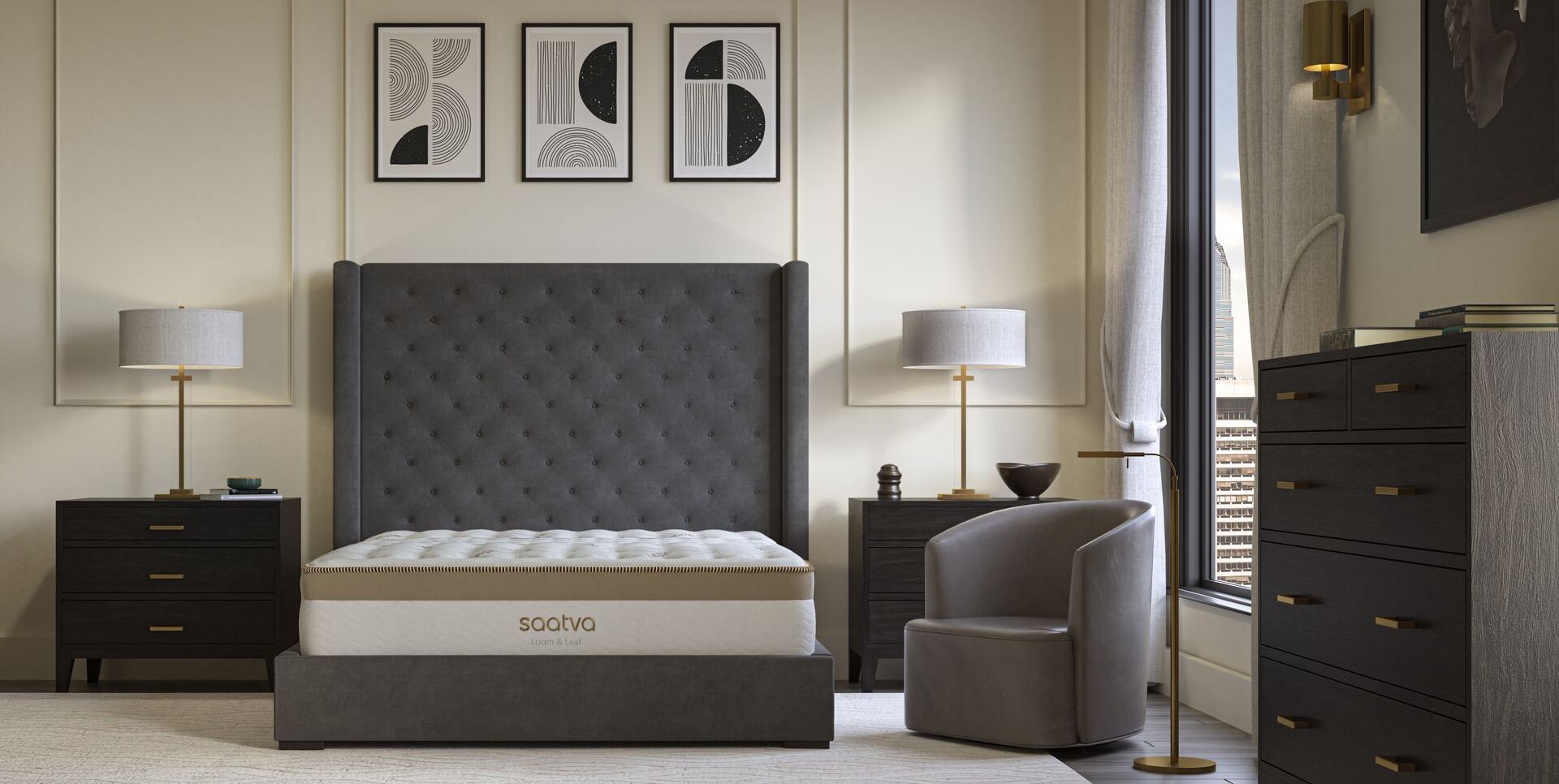 Loom and Leaf
Our ultra-premium 5-lb memory foam mattress for a body-hugging feel
on the floor because this can trap heat and lead to uncomfortably warm sleep.
Putting this type of mattress on the floor could also damage the materials. The foam can trap heat and moisture when air circulation is restricted, leading to mold and mildew growth—and degradation of the foam itself.
Tips for using a mattress on the floor
If you're still thinking about putting your mattress on the floor, here are some tips to do so safely.
Check your warranty: Many mattress brands will state in the warranty whether or not the mattress is suitable for use directly on the floor. Check with your mattress retailer to be sure.
Clean your floor regularly: Putting your mattress directly on the floor means you should dust, vacuum, and mop the floor regularly—at a minimum of once every four weeks. Make sure the floor is dry after you mop it before putting your mattress back down on it.
Let your mattress air out often: Because your mattress on the floor is at risk of the mold and mildew that thrive off of moisture, you should frequently—at least once a week—prop your mattress against the wall to let both sides of it air out.
Use a mattress protector: A high-quality, breathable

mattress protector

Waterproof Mattress Protector

Breathable, undetectable protection from spills, dirt, stains, and humidity

that fits your mattress size will keep out dust, dirt, and bacteria on the floor.
Put your mattress on a finished surface: If possible, place your mattress on a finished surface such as hardwood or tile because carpet can quickly accumulate moisture and lead to mold and mildew.
Place a barrier between your mattress and the floor: Keep your mattress close to the floor but without directly touching it by placing a layer of plywood, foam, or cardboard between the floor and mattress.
Improve your sleep with these Saatva mattresses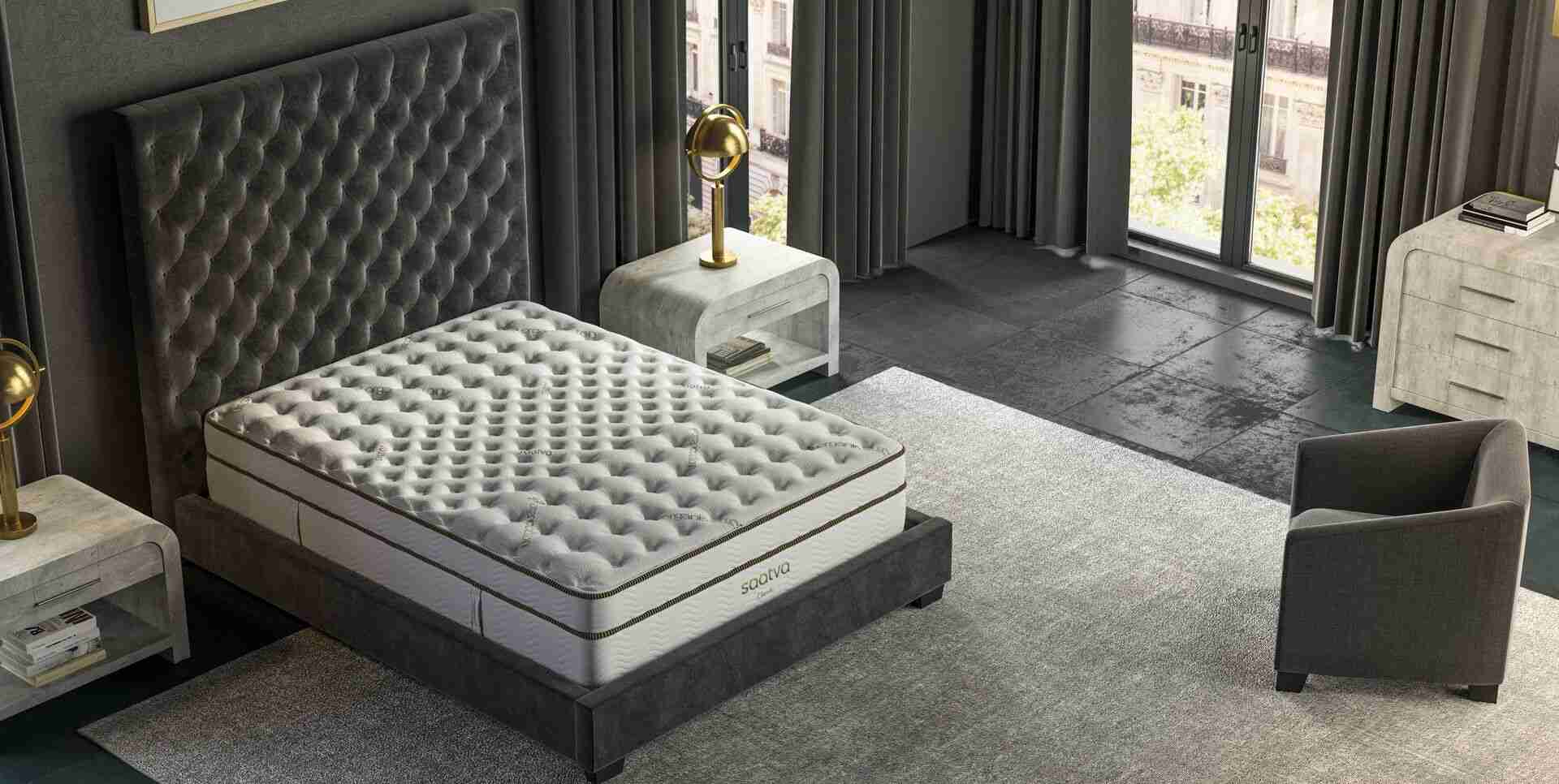 Our flagship luxury mattress is expertly engineered with coil-on-coil construction for durability, a layer of memory foam for enhanced back support, and a cushiony Euro pillow top for extra comfort.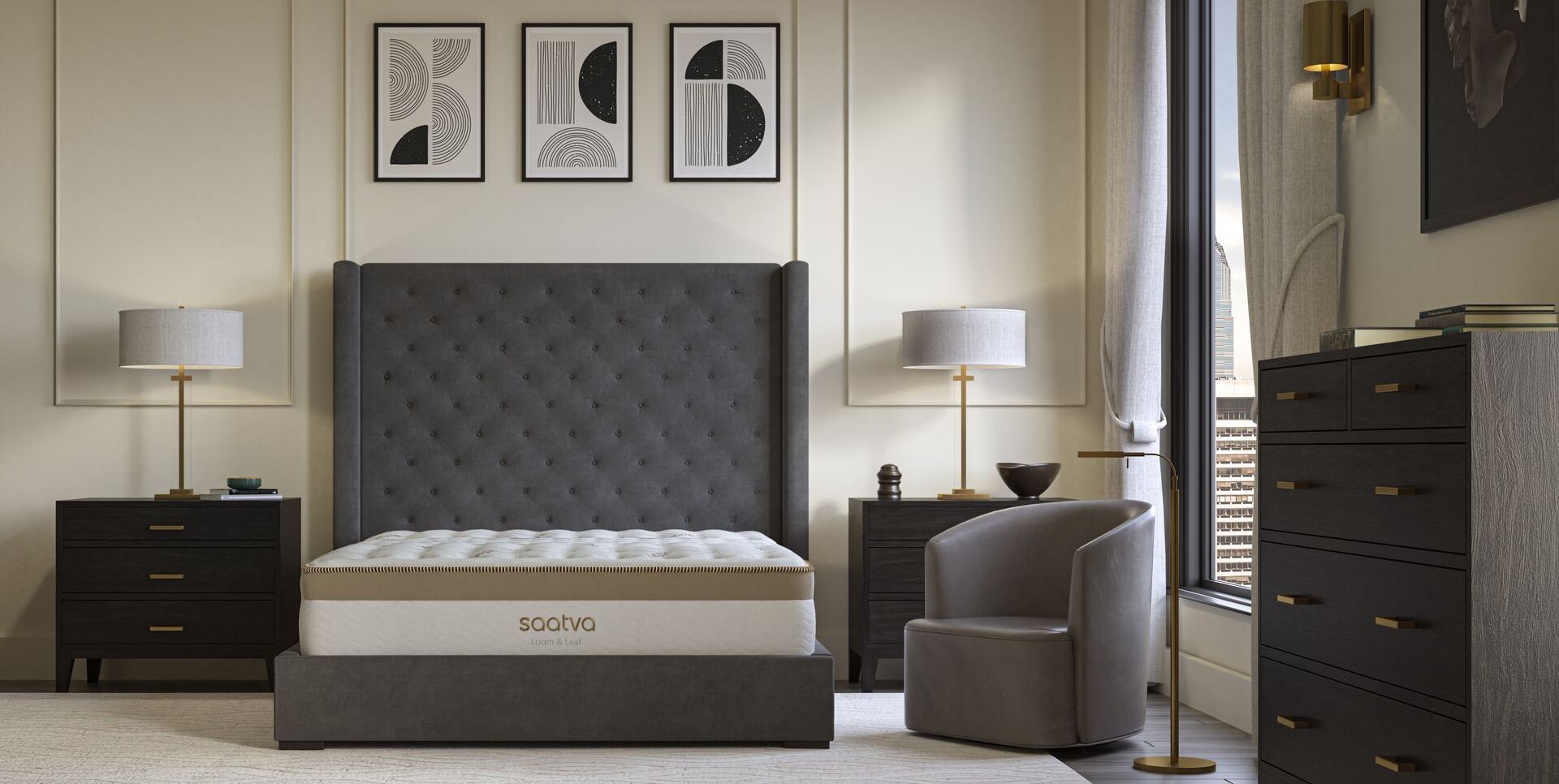 Premium memory foam, handcrafted in the U.S. with eco-friendly materials. Breathable organic cotton, cooling spinal gel, and layers of high-density support foam assure a cool, comfortable night's sleep.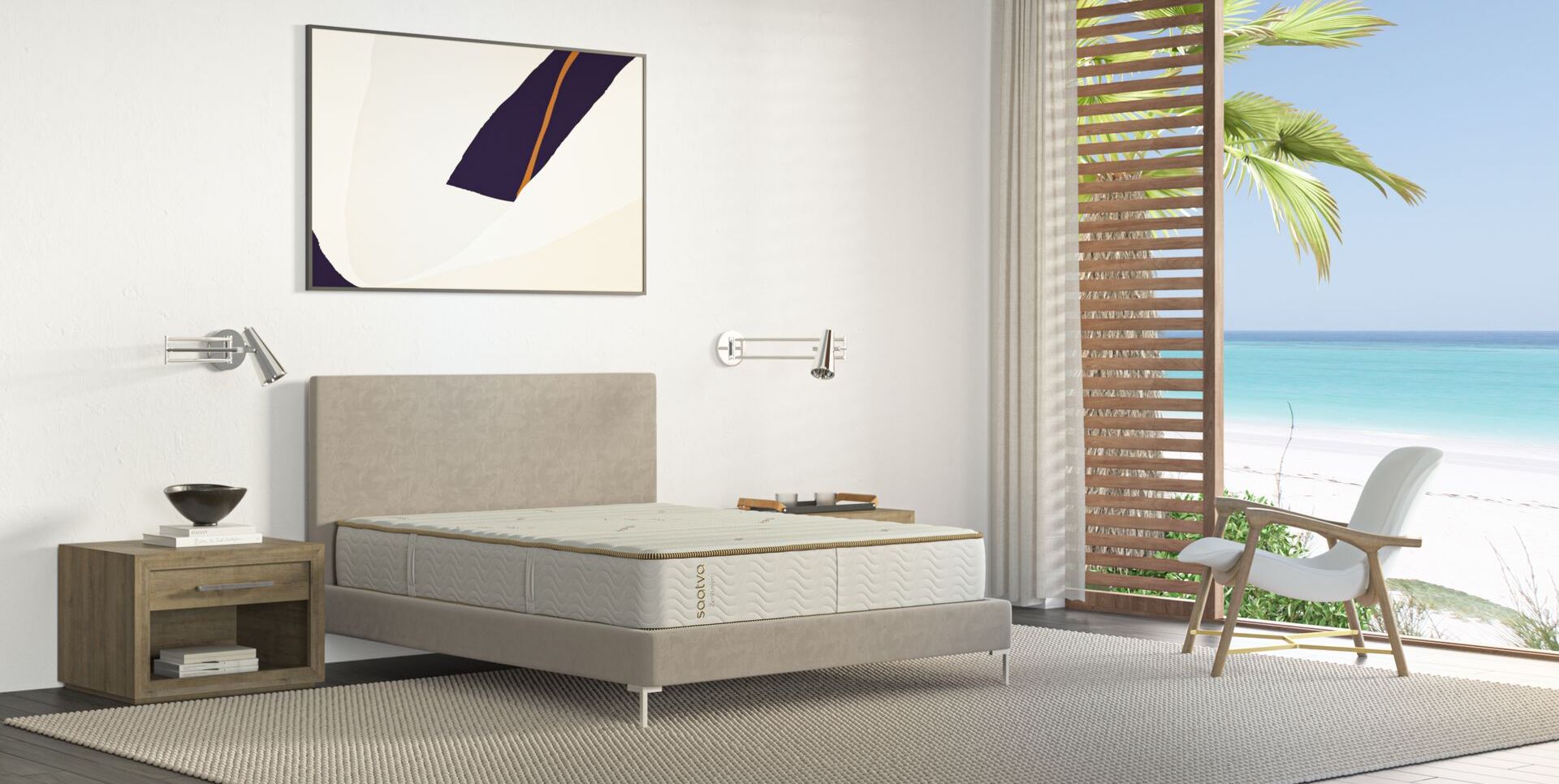 Natural latex responds to every curve for pressure-free support and responsive comfort. Natural latex is supple, resilient, and durable, for the ultimate in elevated sleep. (It's naturally hypoallergenic too.)
FAQs
Is it OK to put a mattress on the floor?
The choice, of course, is yours. But you'll want to measure the positives of what you expect having it on the floor will give you versus the real negatives that could wind up ruining your sleep, affecting your health, and costing you money to replace the mattress sooner than you expect.
Is sleeping on the floor with a mattress good?
Again, the answer is that it depends on how you define "good." Does it mean you'll enjoy the cooler air at the floor level and that will help you sleep better? Will the floor's firmness provide the extra support you need for your back and can't get while using the mattress on a foundation or box spring? Will it offer other benefits you value? These are questions you should ask yourself before you decide.
Shop mattresses, foundations, and bed frames at Saatva
The bottom line is this: Putting a mattress on the floor isn't really the best idea in most cases. Luckily, Saatva offers a wide range of mattresses, as well as foundations and bed frames to go along with them.
Using a foundation and/or bed frame can help keep your mattress in great shape for years to come and ensure you get the comfort and support you need during sleep.
Check out Saatva's mattress quiz so you can find the right mattress for you.