There's nothing better than cozying up in a neatly made bed at the end of a long day. But while some people excel at bed-making, others struggle to make their beds look nice and neat.
If you're someone who finds it difficult to style your bed, we're here to help. We've compiled our best tips to help you make your bed every morning like a pro. Our bed styling advice will help you create a neat and cozy bed that rivals any luxury hotel.
How to properly layer and style your bedding
It turns out there's an art to bed-making. Before you get started, it's important to understand exactly how your bedding should be layered for maximum comfort and coziness. Bed sets come with a variety of pieces to help you create a perfectly made bed.
The following is a list of bedding items that will make your bed feel as comfortable—and look as aesthetically pleasing—as possible. Some pieces are definitely essential, but there are a few you can opt to leave out as well.
Bed skirt (optional)
Mattress pad and/or mattress protector (optional)
Fitted sheet
Flat sheet/top sheet (optional)
Duvet or comforter
Sleeping pillows
Finishing touches (optional)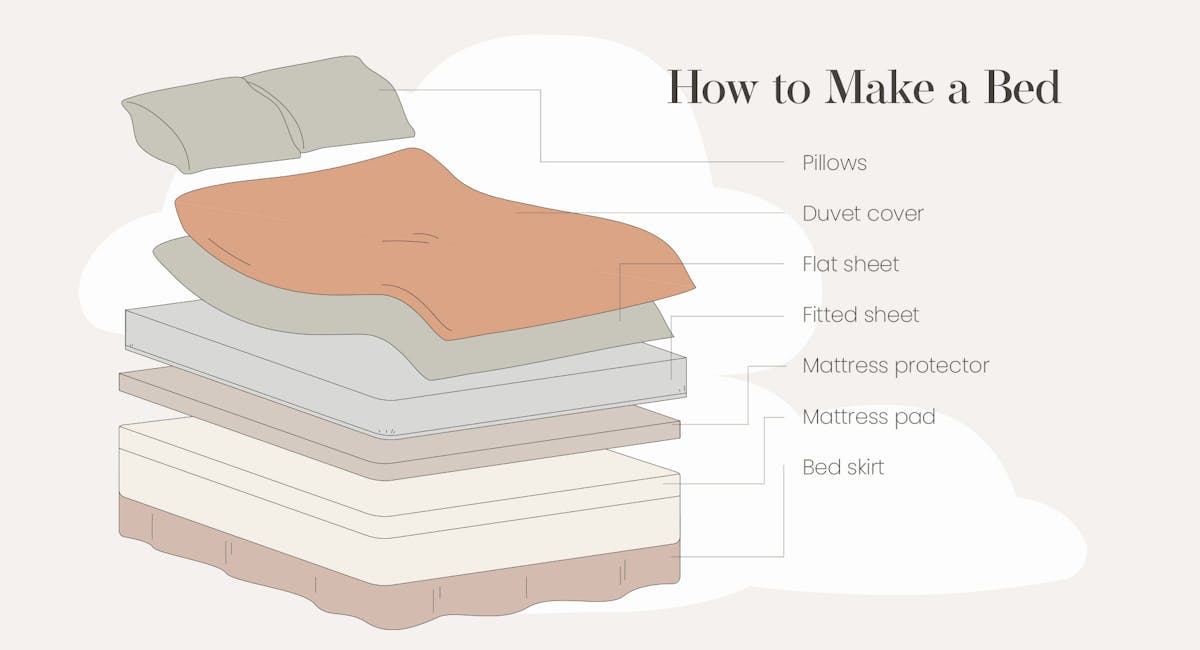 Note that we've listed these layers in order from the first one you should add to your bed to the last. Now, let's get into how to properly use each of these bedding items. Making your bed every morning can help you get a better start to your day and potentially even improve your sleep at night.
Step 1: Add your bed skirt (optional)
The first step in the bed-making process should be a bed skirt. A bed skirt, also known as a dust ruffle, is a decorative piece of fabric that fits around the corners of your box spring or foundation. Although this step in the process is entirely optional, a bed skirt can add an additional styling element to elevate your bed-styling technique.
If you do decide to use a bed skirt, it should go on your bed first—even before your mattress. You can spread the elastic corners over your box spring and fluff it to ensure it looks neat. If you have a three-sided bed skirt, make sure the blank side is facing your headboard. Four-sided bed skirts can be used as normal.
Once you're done putting on the bed skirt, you can place your mattress directly on top of the bed skirt for an elevated and polished look.
Step 2: Layer on a mattress pad and mattress protector (optional)
Next up is a
A mattress pad is a thin piece of quilted material that covers the surface of your mattress for protection. It lies directly on top of the mattress and is typically secured with elastic straps in the corners or a skirt of fabric, also lined with elastic. Mattress pads also provide an additional layer of cushioning, so they're great if you're seeking more comfort from your mattress.
A mattress protector, on the other hand, encases your mattress like a fitted sheet and helps prevent stains. This makes your mattress easier to clean and ensures it has a longer lifespan. A mattress protector's sole purpose is protection—it doesn't do much for comfort.
You can layer a mattress protector on top of both your mattress and mattress pad by stretching the elastic cover over the corners of your mattress.
Step 3: Top with a fitted sheet
A fitted sheet is a necessity when layering your bedding—after all, you don't want to sleep directly on top of your mattress!
As the name implies, a fitted sheet fits snuggly on your mattress. It's designed to sit on top of your mattress, mattress pad, or mattress protector for additional protection and softness while you sleep.
Because you'll be sleeping directly on top of it, it's a good idea to purchase a high-quality bottom sheet made of breathable material, like cotton.
Step 4: Include a flat sheet (optional)
On top of your fitted sheet, you may want to include a flat sheet, also known as a top sheet. Keep in mind this layer is optional.
While some people prefer sleeping without a top sheet altogether, you can use one to make your bed look even neater. Top sheets are also great for adding an extra layer of warmth and keeping your duvet from getting dirt, oil, and other grime trapped in it.
A flat sheet can be used in a few different ways. You can drape it on top of your fitted sheet for a casual, breathable feel, tuck in the corners for a tighter fit, or use hospital corners for a polished look.
Folding hospital corners
Hospital corners are a great way to layer on a flat sheet and give your bed a neat, tidy look. Don't be intimidated: Achieving this look is easier than you might think.
Start by tucking in the flat sheet to the top edge of the mattress while leaving the sides flowing. Then, grab a piece of the excess fabric on the sides and form a 45-degree angle. Tuck in the extra fabric at the corner of the mattress. You'll be left with a triangle-shaped piece of fabric you can tuck into the edges to form a hospital corner.
Repeat these steps with the other three corners of your bed and you'll have the perfect hospital corners in no time.
Watch this video to see how to fold hospital corners:
Step 5: Add on your duvet cover or comforter
Whether you prefer bright colors or shades that are more subdued, a
A duvet cover is a large cloth bag used to cover a duvet (the upper layer of bedding used to keep you warm at night). Duvet covers come in a variety of colors and patterns to suit your style. They can be removed regularly, which helps keep the duvet inside protected from dirt.
You can style a duvet cover in a few ways, depending on how you like to sleep. For a simpler, free-flowing look, drape the duvet cover on top of your sheets, ensuring there's an equal amount of excess fabric on all sides. You can also tuck in the sides of your duvet cover for a tighter, cozier look and feel. (Learn more about the differences between a duvet vs. comforter.)
Step 6: Put down your sleeping pillows
Pillows are one of the most important parts of the bed-making process. It's important to choose high-quality sleeping pillows that are comfortable so you don't wake up with neck pain. Keep in mind that decorative pillows and throw pillows aren't the same things as sleeping pillows. While decorative pillows add style to your bed, they don't offer much in the way of comfort.
For sleeping pillows specifically, choose ones made of materials like latex, memory foam, or down alternative to help keep your head and neck in neutral alignment while you sleep. Don't forget about your pillowcases—these should be made of a breathable material like cotton and match your sheets.
When you make your bed in the morning, you can add throw pillows or pillow shams on top of your standard pillows for an additional element of style. When it's time to go to sleep, move these decorative pillows behind your sleeping pillows or store them elsewhere overnight.
Step 7: Include your favorite personal style elements
The last and final step in the bed-making process is to add your own personal style with some finishing touches. Here are some of our favorite interior design elements you can include on your bed:
Decorative pillows and throw pillows: These can add a pop of color or style to your bedroom. Remember: These pillows aren't great to sleep on, but they can make your bed look and feel more luxurious. You can also opt for pillowcases or pillow covers in different patterns if you'd prefer more variety. (Here's how to arrange pillows on a bed.)
Throw blankets: Draping a blanket at the foot of your bed can also elevate your bed and make it look more stylish. Throw blankets come in many colors and patterns to suit your personal style.
Bedrooom furniture: You can make your bedroom look much more cohesive and make your bed look more stylish by simply adding on matching bedroom furniture. Consider a matching set of nightstands, a new bed frame, or a stylish headboard to give your bedroom a sophisticated touch. (Check out these aesthetic bedroom styling ideas and trendy bedroom design ideas for inspiration.)
Frequently asked questions
What are the benefits of making your bed properly?
Making your bed every morning can have benefits for your physical and mental health. For starters, it's a great habit to get into because it allows you to start your day off with a productive task to set the tone for the rest of your day. Plus, tidying up your bed can enhance the overall feeling of your bedroom and spread a sense of calm. This can make it easier to fall asleep at night. Additionally, making your bed in the morning means you have a cozy bed to slip into at night. This could help you fall asleep faster and get better sleep in the long run.
Can the quality of my bedding affect my sleep?
It's important to invest in a high-quality mattress and bedding because these products do have a direct impact on your sleep. The right mattress can help prevent sleep-disrupting back pain, while the right bedding can help keep you cool and comfortable throughout the night.
Look for a high-quality mattress that suits your sleeping preferences and a sheet set that's soft and breathable.
Should I use a top sheet?
A top sheet can help you protect your duvet cover from getting dirty faster, but it's definitely not necessary. You can make the choice to use a top sheet, but many people go without them, especially if they're hot sleepers. At the end of the day, it depends on your preference and what makes you feel best in bed.
How often should I clean my bedding?
Ideally, you should clean your bedding every one to two weeks to get rid of bacteria, dirt, and oils that have built up in your bed. This includes your duvet cover (especially if you opt not to use a top sheet), bed sheets, and pillowcases.
For mattresses and pillows, we generally recommend cleaning them every three to six months. Make sure to follow the manufacturer's care instructions for maintenance on your mattress and pillows. (Check out our guide to repurposing old pillows.)
Get high-quality sleep on luxury bed accessories with Saatva
Making your bed in the morning is an excellent habit to start and can even make for a cozier night's sleep if done correctly. Saatva's wide variety of mattresses and bed accessories can help you make your bed feel as luxurious and comfortable as possible.
Saatva is your one-stop shop for high-quality mattresses, sheets, and other bed accessories. Check out our selection of products to upgrade your bedroom for your best sleep yet.