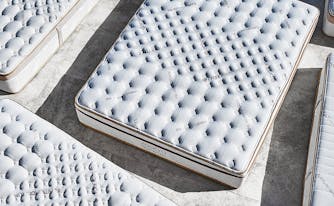 Buying a New Mattress? Read This First
Choosing your next mattress is a big decision. After all, you could be living with it for a decade or more. That's why you want to select the best mattress for your sleep style, your budget, and even the size of your bedroom. Then, once you've got that figured out, you have to go buy the thing—but from where?
To make the process easier, we've compiled this mattress guide, covering everything from the difference between mattress materials to how to decide on the right firmness level to the best way to care for your mattress so it will last for years to come. Have a question you don't see addressed here? Send us an email at sleepenlightened@saatva.com.
Getting started
The first step to finding the best mattress is understanding common mattress terms and fine print policies so that you can make an informed decision. These overviews of the mattress-buying process will give you the tools you need to get started.
Exploring mattress types
There's a mattress to suit just about any preference (hey, we hear even waterbeds are making a comeback), but the four most common types of mattresses are innerspring, memory foam, latex, and adjustable air. Hybrid mattresses, which typically combine innersprings with a memory foam or latex layer, are also gaining in popularity. Each type has a different feel and provides different benefits.
Innerspring mattresses
Memory foam mattresses
Latex mattresses
Adjustable air beds
Hybrid mattresses
How mattress types compare
Other important mattress considerations
Choosing the best mattress for your sleep style and body type
Comfort is subjective. What feels good to you may not feel good to somebody else. So the surest path to mattress happiness is to consider the way you sleep and your body type before making a decision.
Selecting the right mattress size
This might seem like an obvious one, but even here you have more choices than you might think. Do you sleep alone? With a partner? How about pets or children? These should all factor into the mattress size you choose.
Mattress shopping for a family
If you sleep with a partner or have kids or pets that share the bed, there are other mattress considerations to take into account, plus strategies that can help all of you get better sleep.
Knowing what's in your mattress
Some mattresses have chemicals in them that are bad for the environment—to say nothing of your health. Finding one that uses organic and eco-friendly materials is a great idea if you're concerned about mattress chemicals.
Comparing mattress brands
You have a lot of mattresses to choose from, which makes mattress-shopping overwhelming. See how different mattresses stack up against each other.
Choosing the best foundation for your mattress
Every mattress needs a base, whether that's a standard frame and foundation or an adjustable one. The right support will keep a mattress from sagging, raise it to a comfortable height, and help prolong its life.
Deciding when and where to buy a mattress
Should you go to a mattress store or shop online? And should you wait for a holiday like Black Friday or Memorial Day to snag a sale? It turns out that in-store mattress sales aren't always what they're cracked up to be.
The best bedding for your mattress
You may want new sheets, pillows, protectors, and other accessories to go with your new mattress.
Taking care of your mattress and bedding
A quality mattress should last you 10-15 years—if you take care of it right.