Today, you're likely aware of the multitude of potentially harmful chemicals found in the foods you eat, the personal care products you put on your body, and other items in your home. One much-used product where icky chemicals may also lurk? Your mattress.
One way to ensure you're not exposing yourself to hazardous chemicals while you sleep is to buy a nontoxic mattress—that is, one that's free of harmful chemicals. Let's explore why you should always choose a nontoxic mattress and the best ways to identify a mattress made with safe, organic materials.
Why choose a nontoxic mattress?
Nontoxic mattresses have a variety of benefits that make them better choices than mattresses made with toxic chemicals. For example, nontoxic mattresses tend to be hypoallergenic and are often more durable because they're usually made using high-quality materials.
Additionally, nontoxic mattresses are much more eco-friendly. The materials used to construct them are free of harmful chemicals and contribute to fewer carbon emissions and less soil and water damage.
Many mattress companies that focus on creating nontoxic, organic mattresses also have recycling practices in place so they can ensure their products are being disposed of properly.
With a nontoxic mattress, you don't have to worry about off-gassing or taking in large amounts of harmful chemicals like volatile organic compounds (VOCs), chemical flame retardants, and more. Mattresses that are low in VOCs are better for your health.
Nontoxic mattress materials
There are so many great nontoxic mattress materials to look for when shopping for a new mattress. These will ensure your mattress is safe to sleep on, low in VOCs, and breathable and comfortable. Our top picks for nontoxic mattress materials include:
Organic cotton mattresses
Memory foam mattresses
Natural latex mattresses
Natural thistle mattresses
Organic wool mattresses
Choosing one of these mattress materials can help you cut down on toxic materials in your bedroom and hopefully allow you to get a better night's sleep.
Organic cotton
You'll find organic cotton in the mattress cover and padding in the top layer of a nontoxic mattress. Organic cotton covers are better for your health and the environment than conventional cotton.
According to the Organic Trade Association, conventional cotton production accounts for as much as 25% of global pesticide use. Organic cotton, on the other hand, is grown without chemical insecticides or synthetic fertilizers. That means less chance of skin irritation in people with sensitive skin and less damage to the soil and local water systems.
The process of growing organic cotton is better for workers too, as their exposure to toxic chemicals is minimized.
Memory foam
Most memory foam mattresses are made with polyurethane foam and are notorious for their off-gassing. Off-gassing is what happens when VOCs leak out of upholstery materials and mattress foams and into the air you breathe.
If you want a nontoxic memory foam mattress, look for memory foam that uses plant-based ingredients, like soybean and corn oil, in place of some of the standard petroleum-based derivatives. This type of memory foam is lower in VOCs and free of formaldehyde adhesives and heavy metals.
Natural latex
Considering an organic latex mattress? To ensure it's nontoxic, choose one made from natural latex. Natural latex is made from the sap of rubber trees that has been molded into foam.
Latex foam mattresses are also naturally allergen-free and tend to cut down on dust mites and other common irritants. You can choose from two types of latex mattresses: Talalay latex or Dunlop latex. Both are nontoxic and have a different feel to them.
Synthetic latex, on the other hand, is made from petroleum-based ingredients and may release toxic chemicals into the air that are responsible for that unpleasant new mattress" smell and can cause problems in people with allergies or other sensitivities.
Natural thistle
All mattresses produced after 2007 are required to contain fire retardants. The problem is, many manufacturers use chemical flame retardants that are known to be detrimental to your health.
Fortunately, nontoxic options exist. One nontoxic flame retardant is natural thistle, which is made mainly from wood pulp and bonded with a small amount of polyester.
Natural wool
This is another nontoxic flame retardant. Beyond being natural, wool is also antibacterial, antimicrobial, resistant to dust mites, and hypoallergenic.
New Zealand wool is one of the best types of wool to look for in a mattress. It's soft, nontoxic, and feels incredibly luxurious.
Check out Saatva's selection of nontoxic mattresses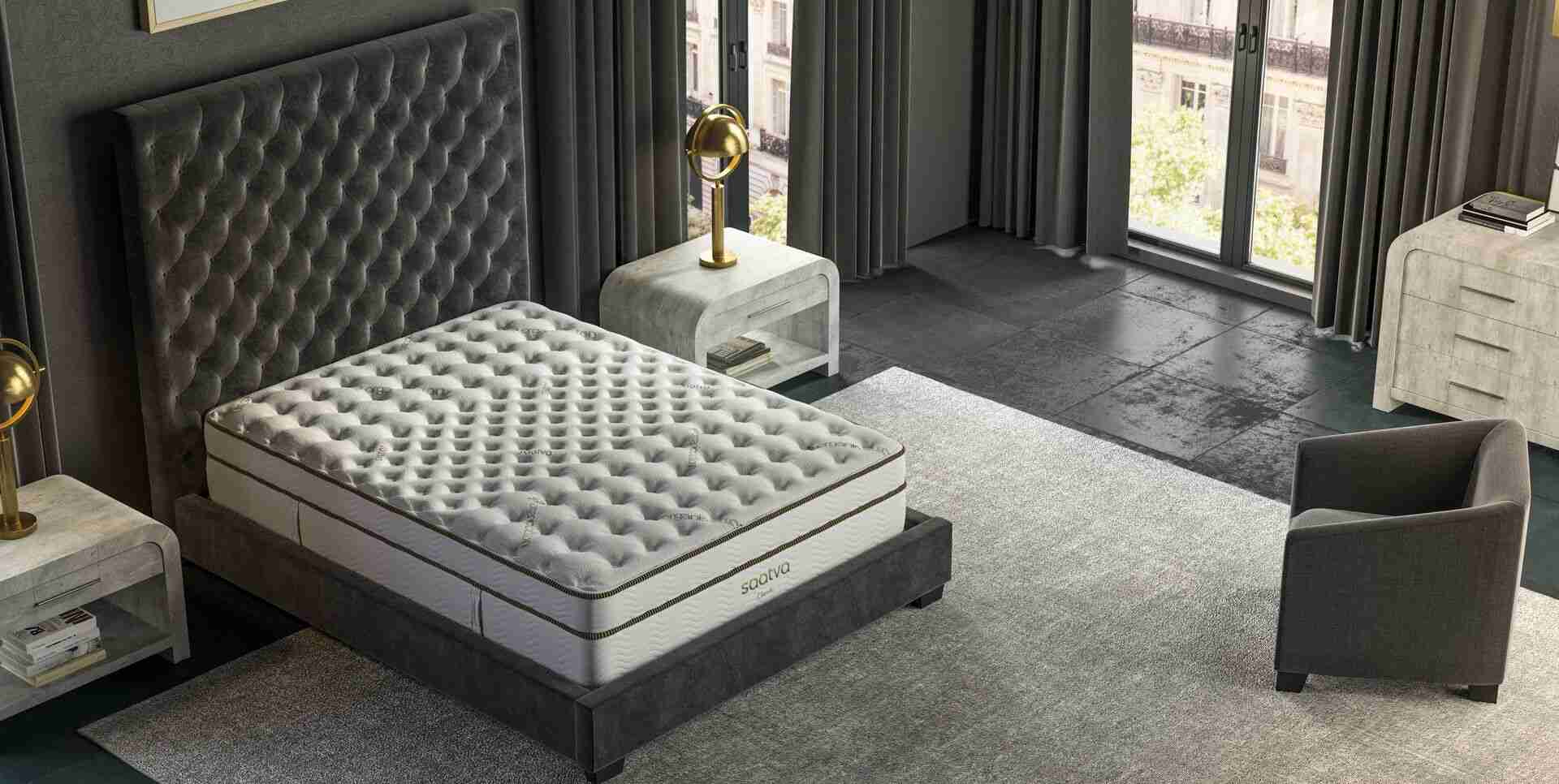 Our flagship luxury mattress is expertly engineered with coil-on-coil construction for durability, a layer of memory foam for enhanced back support, and a cushiony Euro pillow top for extra comfort.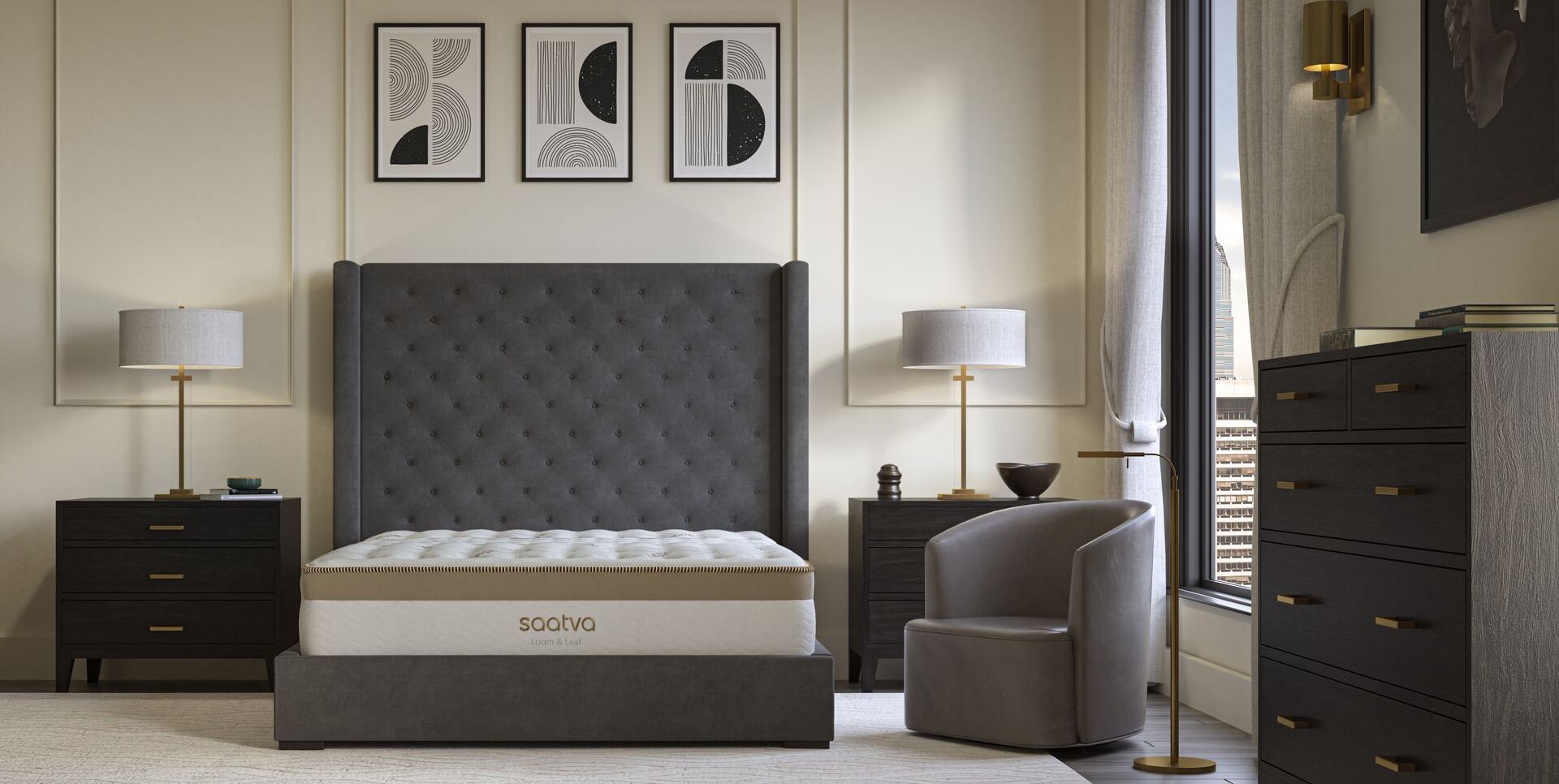 Premium memory foam, handcrafted in the U.S. with eco-friendly materials. Breathable organic cotton, cooling spinal gel, and layers of high-density support foam assure a cool, comfortable night's sleep.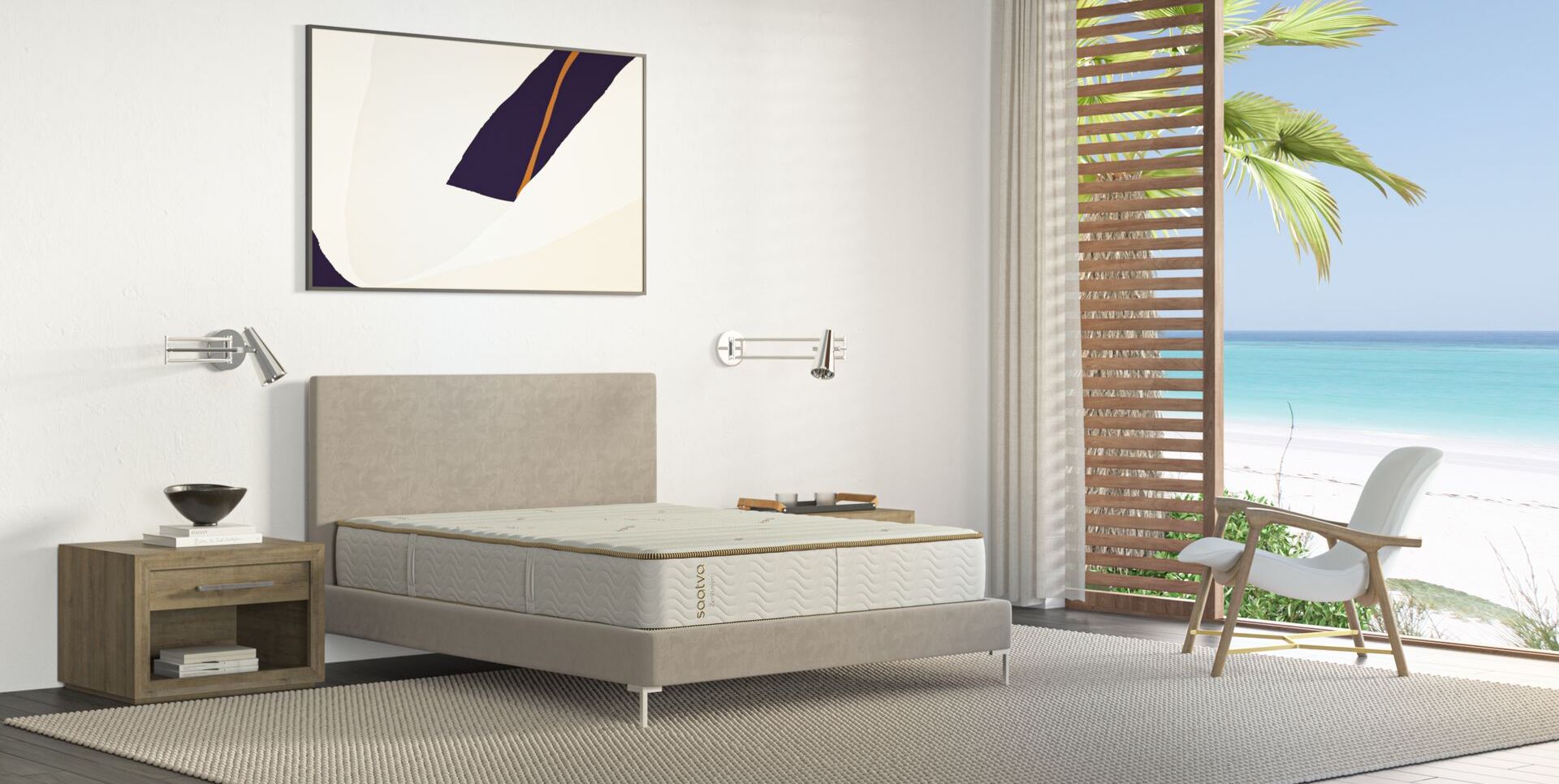 Natural latex responds to every curve for pressure-free support and responsive comfort. Natural latex is supple, resilient, and durable, for the ultimate in elevated sleep. (It's naturally hypoallergenic too.)
Nontoxic mattress certifications
The top way to discover if a mattress is made with nontoxic materials is to look for third-party certifications. These certifications ensure the materials in a mattress meet strict safety standards and aren't harmful to your health.
Some of the most common third-party certifications you'll see on mattresses include:
You can guarantee your new mattress is safe and made with nontoxic, natural materials if it's been certified through one of these third-party companies. Mattress companies that sell products with these certifications usually list them on their website, so the information is easy to find.
Toxic chemicals to look out for
Finally, when searching for a nontoxic mattress, there are certain chemicals you'll want to avoid.
Petroleum-based chemicals
Polyurethane foam is a petroleum-based foam that is used in many mattresses. It's known to emit VOCs into the air, resulting in off-gassing. This can irritate people with asthma and other respiratory conditions or sensitivities. The most common petrochemicals are ethylene, propylene, butadiene, benzene, toluene, and xylene.
Chemical fire retardants
To comply with safety regulations established by the U.S. Consumer Product Safety Commission, all mattresses need to contain flame retardants to be able to withstand 30 minutes of exposure to an open flame.
Unfortunately, some chemicals used as flame retardants can be bad for your health when they build up in your body. Specifically, halogenated flame retardants (a.k.a. organohalogen flame retardants), which contain chlorine or bromine bonded to carbon, and organophosphorus flame retardants, which contain phosphorus bonded to carbon, are associated with endocrine disruption, immunotoxicity, and negative effects on child development.
To stay on the safe side, buy a mattress made in the U.S., as these are subject to stricter safety regulations than mattresses made in many other countries.
PBDEs
Other chemical flame retardants are called polybrominated diphenyl ethers (PBDEs), which have been banned in the United States since 2005.
According to the U.S. Environmental Protection Agency (EPA), PBDEs have been linked to thyroid disruption and neuro-developmental toxicity in rats and mice. The EPA also notes that traces of PBDEs have been found in human tissue, blood, and breast milk.
If you're still sleeping on a foam mattress that was purchased before PBDEs were banned, and it has a ripped cover or foam that's misshapen or breaking down, the Washington State Department of Health advises replacing it.
FAQs
How do I know if my mattress is toxic?
The top way to discover if a mattress is made with nontoxic materials is to look for third-party certifications, which ensure the materials in a mattress meet strict safety standards and aren't harmful to your health. You can also look for certain chemicals, such as petroleum-based chemicals and chemical fire retardants, that are toxic to avoid them.
Are Saatva mattresses nontoxic?
Saatva mattresses are made with nontoxic materials, like organic cotton, natural latex, and eco-friendly memory foam.
Explore Saatva's collection of high-quality, nontoxic mattresses
It's important to find a natural mattress that doesn't contain any harmful or toxic chemicals. Nontoxic mattresses are hypoallergenic, durable, eco-friendly, and better for your health.
Finding a mattress brand dedicated to providing nontoxic eco-friendly mattresses to their customers can be difficult at times. Luckily, Saatva can help. We offer a wide range of high-quality mattresses that are comfortable for every kind of sleeper. All of our mattresses are made with nontoxic materials, like organic cotton, natural latex, and eco-friendly memory foam.
Take our mattress quiz to find out which one of our nontoxic mattresses is right for you. We give you 365 nights to try a mattress in your home before deciding. Plus, all of our mattresses come with a lifetime warranty.