If you're battling back pain, then you know that finding a comfortable sleeping position—and staying asleep throughout the night—can be a real challenge. Eight in 10 of us will experience back pain at some point in our lives, and of those, the majority will struggle to get enough quality sleep too, per a recent study in the Clinical Journal of Pain.
While your mattress might not be the source of your back pain, an uncomfortable sleeping surface (and, in turn, too few quality Z's) can certainly make things worse.
Choosing the right mattress for back pain
The reverse is also true: "The right mattress is absolutely a contributing factor to someone overcoming back pain, especially chronic back pain," says Wisconsin-based chiropractor Thomas Tozer. "A good mattress will allow you to have the proper support your body needs and take stress off of the tissues that are experiencing pain."
Of course, the "right" mattress depends on multiple factors including your body type, preferred sleeping position, the cause of your back pain, and the needs of your sleeping partner. No matter your situation, though, support and comfort are a must, says Tozer. While memory foam and latex mattresses are popular options for comfort, innerspring mattresses have come a long way, incorporating new materials and technologies to optimize back health.
This guide will help you find the best innerspring mattress for back pain.
Innerspring mattresses and back pain: what you need to know
Here's how back pain affects sleep, and how innerspring mattresses work to prevent pain while you sleep.
How back pain affects sleep
The leading cause of disability worldwide, back pain disrupts your day-to-day life and interferes with much-needed shut-eye, according to the American Chiropractic Association (ACA). If your muscles are contracting and working all night to get your body into a comfortable position, you aren't going to get the seven to nine hours of sleep you need, says Bill Fish, certified sleep coach and co-founder of sleep website Tuck. Worse yet, the less sleep you get, the more your pain could intensify, creating a vicious cycle of disrupted sleep and chronic pain, finds a recent study in the journal Pain.
While back pain can be caused by multiple conditions from arthritis to injury, many cases are mechanical, meaning they're rooted in misalignment, says Tozer. Thankfully, a quality mattress can help by supporting neutral posture (a.k.a. proper spinal alignment). If you imagine yourself standing fully upright, that's the position you want in bed too, as this balances your muscles so you can rest and recover, he explains.
How an innerspring mattress works to prevent back pain
Just as the name suggests, innerspring mattresses are comprised of a responsive support core made of steel coils, often topped with additional comfort layers. Mattresses that offer the firmness and support of coils combined with the comfort of foam, latex, or other materials are also known as "hybrid mattresses."
Some innerspring mattresses (like the
Saatva Classic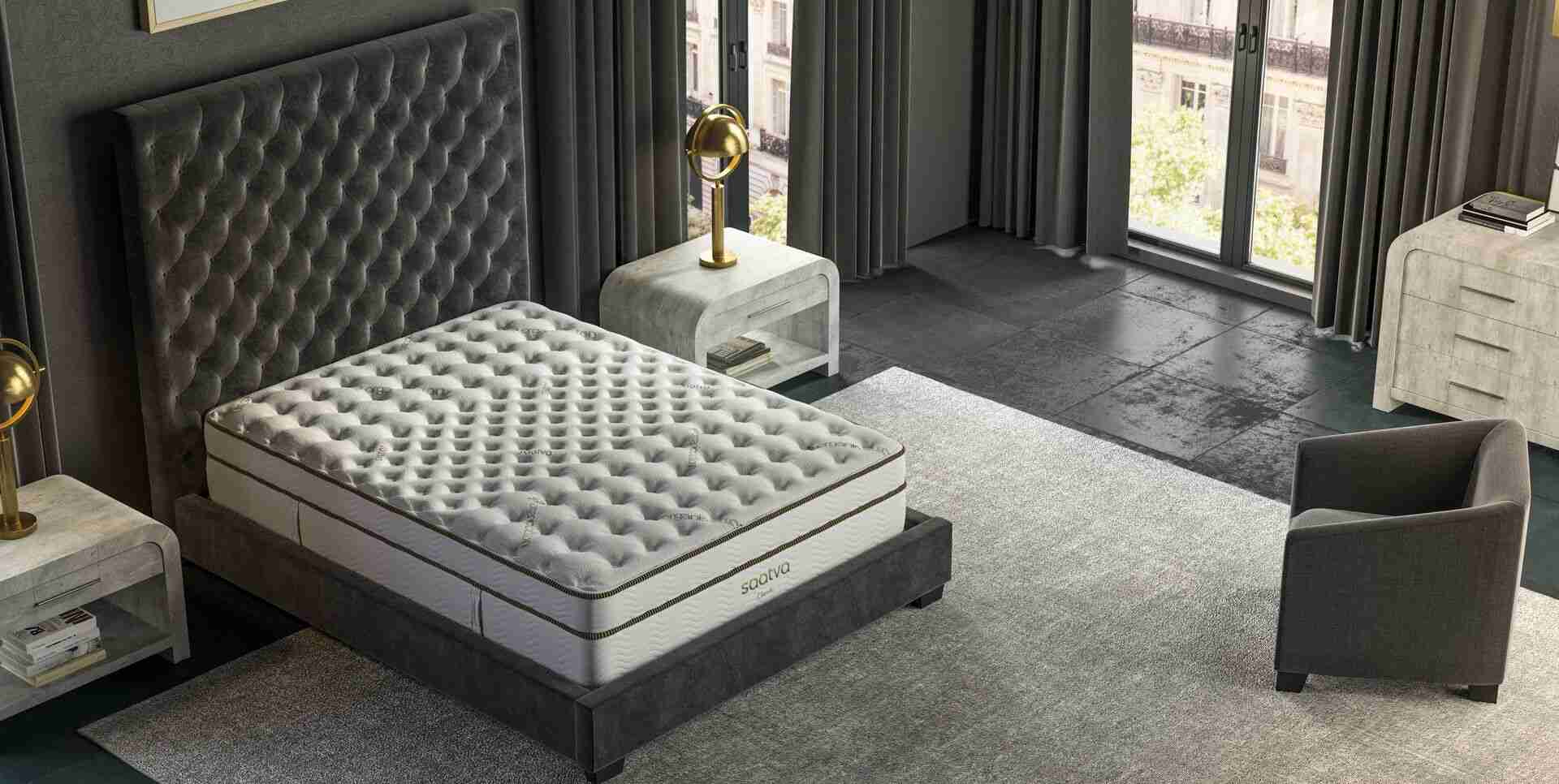 Saatva Classic
America's best-selling online luxury innerspring

, for example) offer an additional layer of comfort with a second set of thinner, more flexible coils above the steel coil base. While the base provides long-term, durable support, the comfort coils contour to your body so your muscles can fully relax.
Our best innerspring mattress for back pain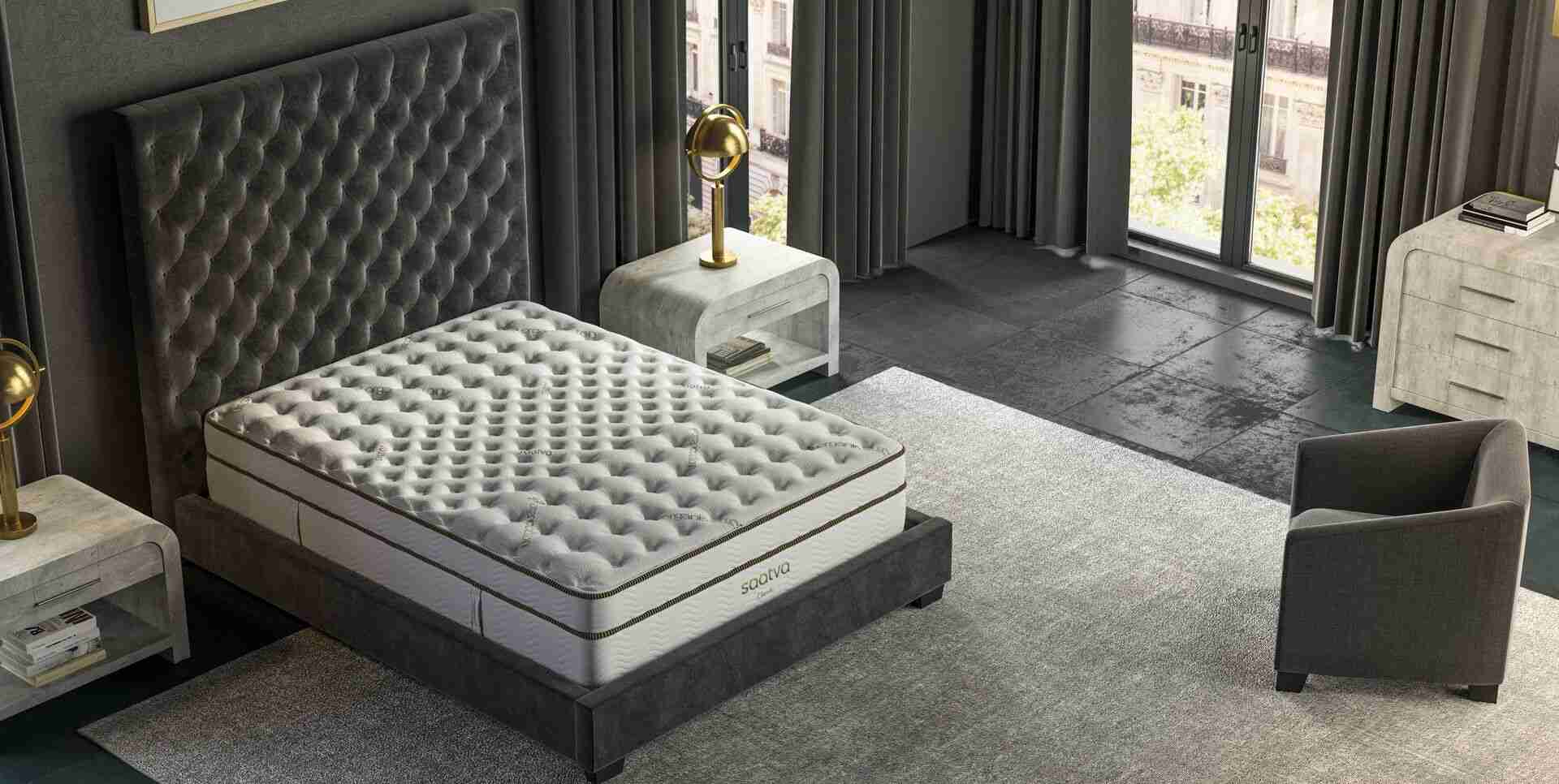 Our flagship luxury mattress is expertly engineered with coil-on-coil construction for durability, a layer of memory foam for enhanced back support, and a cushiony Euro pillow top for extra comfort.
How to find the best innerspring mattress for back pain
Here are four ways an innerspring mattress can offer relief from back pain and how to find the right one for you.
1. Innerspring mattresses provide essential lumbar support
Since you hold much of your weight in your midsection, it's natural for your hips to sink further into the bed, especially if you're on the heavier side, says Fish. That's where the highly supportive coils of an innerspring mattress can help evenly distribute your weight to keep your spine in proper alignment and ward off back pain. "We recommend that sleepers over 200 pounds go with a mattress where the support layer is comprised of coils as opposed to memory or poly foam," says Fish.
Even better, added reinforcement in the center third of the mattress provides extra lumbar support. Look for an innerspring mattress with a layer of denser foam in the lumbar zone or other technology designed to strengthen the area of the mattress between shoulders and hips.
2. Innerspring mattresses support all sleeping positions
No matter your sleep position, an innerspring mattress can provide the proper firmness to help support your back and combat pain. Generally, the ACA recommends a medium-firm mattress to keep your spine in proper alignment, especially if you're a back sleeper.
However, softer mattresses can better support side sleepers by cushioning the pressure points of your shoulders and hips, whereas firmer mattresses better suit stomach sleepers—though Tozer and other experts advise against this sleeping position, as it places undue stress on your back and neck.
Another plus: If your back pain means lots of shifting throughout the night, the responsiveness of the innerspring core below makes it easier to change positions.
3. Innerspring mattresses are layered for comfort
An innerspring mattress topped with a comfort layer can help relieve your joints of pressure with body-contouring support, says Tozer. "Think of it as the least amount of muscle firing and tension on your ligaments, tendons, and joints," he says. The cushioning provided by a pillow top also cradles your body's primary pressure points including your back, hips, and shoulders so you can sink into sleep.
4. Innerspring mattresses are adjustable
Because most innerspring mattresses are compatible with an adjustable base, they can help take the stress off of your back by raising your head or feet. Furthermore, adjusting your position as needed can allow the muscles in your back to relax, and rest is key for recovery from back pain, notes Tozer.
While the most comfortable sleeping position isn't always the best position for combating back pain, an adjustable bed can also help you gradually progress from your current sleeping position to a more neutral (read: healthier) posture over time, Tozer explains.
For back pain relief, a trip to the chiropractor and a new mattress can help. A final piece of advice: Opt for a mattress from a company that allows for a sleep trial so you can bring it home, sleep on it for a few weeks, and allow your body to adapt to a new support system, suggests Tozer.