For most people, a "mattress" means an innerspring mattress. It's the classic, the type you probably slept on (and jumped on) growing up. These days, innersprings come in a wide variety of materials and price points, but their basic construction—a steel spring support core, covered by layers of cushioning—remains the same.
Adjustable air beds, on the other hand, are the new kids on the block, featuring remote-controlled inflatable and deflatable air chambers and other bells and whistles that make them customizable.
Adjustable air beds vs. innerspring mattresses
If you're trying to decide between these two types of mattresses, here's a closer look at the differences between adjustable air beds vs. innerspring mattresses and how to determine which type is best for your specific sleeping needs.
How they're made
Innerspring mattresses contain a support core of steel or titanium coils that are surrounded by layers of polyfoam, memory foam, or other types of padding. (The combination of springs and foam, as in the
Saatva Classic Innerspring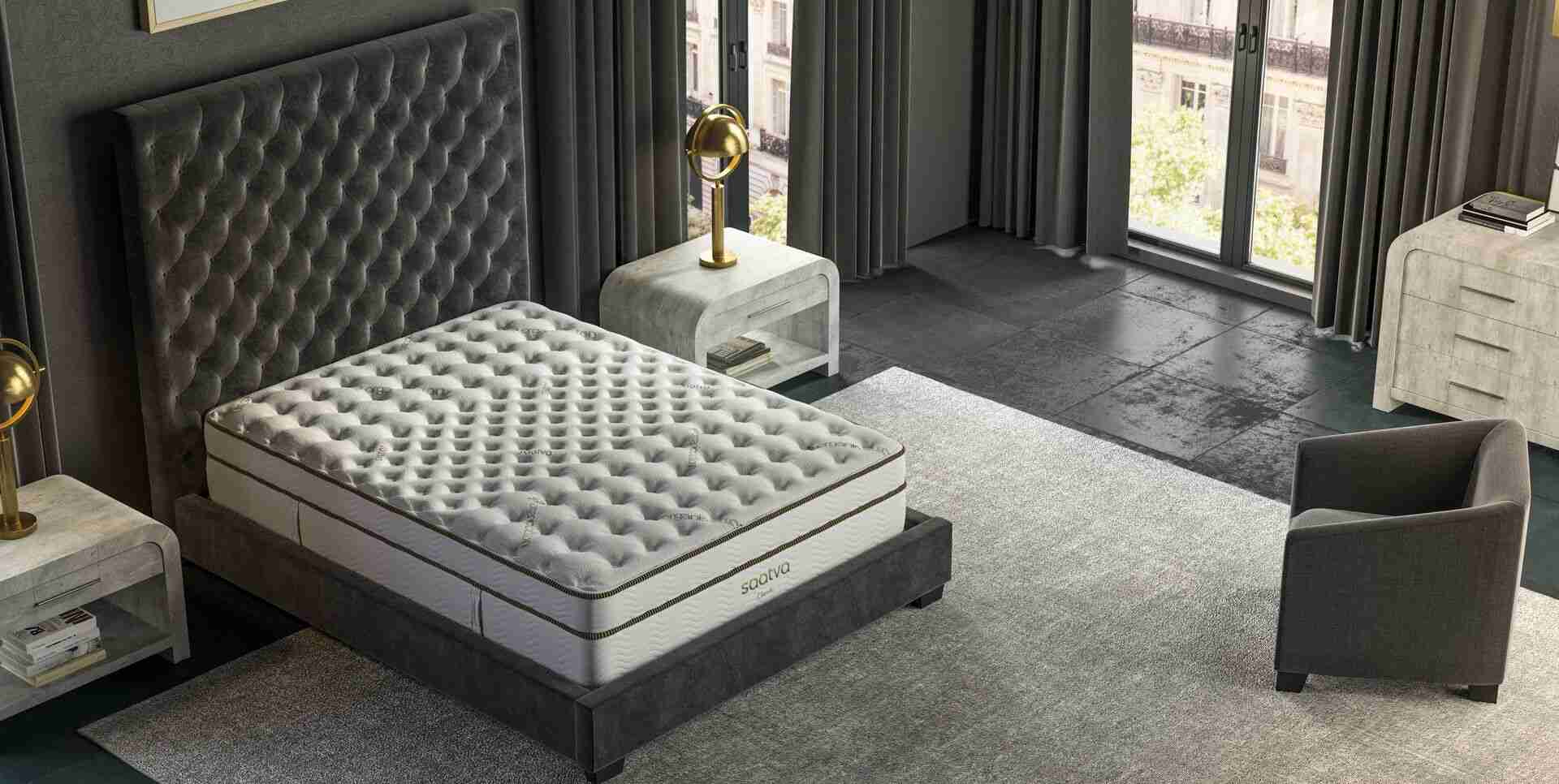 Saatva Classic
America's best-selling online luxury innerspring

, is often referred to as a
hybrid mattress
.) The springs come in different shapes and sizes and can be distributed throughout the mattress in a variety of ways.
Air beds, by contrast, have internal air chambers that can be adjusted by adding or removing air with an electric pump, resulting in customized firmness and support. The number of chambers varies from two to 10 or more in select models, with anywhere from 20 to 100 possible settings. You use a remote control device or an app to inflate and deflate selected areas; the higher the setting, the firmer the feel. Many air beds feature dual firmness settings that allow couples to customize each side of the bed to match their individual preferences.
How they feel
While the specific materials in the layers of an innerspring give each mattress a distinctive feel, the signature of this type of mattress is its responsiveness, thanks to all those springs at the bed's core. Depending on the materials and composition of the comfort layers on top of the springs, innerspring beds can feel firm or plush and provide some of the same contouring and pressure relief as latex and memory foam mattresses.
Air beds are all about adjustability. If you've got back pain, for example, you can inflate or deflate the mattress until you find the most comfortable firmness level. When your back pain improves, you can easily change the settings again. If the mattress has two air chambers, each partner can fine-tune the firmness according to their needs, making adjustable air beds ideal for couples with different comfort preferences. Similar to innersprings, adjustable air mattresses also come with a "comfort layer" of latex or memory foam, which will affect the overall feel of the bed as well.
How to choose
There are so many variables among mattress types that there's no black-and-white answer as to which mattress is perfect for any given sleeper. That said, here are some important things to consider when choosing between an innerspring mattress and an air bed.
Whether you sleep alone or with a partner. Older innerspring mattresses used to perform poorly when it came to minimizing motion transfer—the movement one sleeper feels when the person on the other side of the bed gets up or shifts position. But innovations such as individually wrapped coils that can move independently and foam comfort layers have improved motion transfer. Air beds, especially those with dual chambers, absorb and isolate motion more effectively.
Your sleep position. Both innersprings and adjustable air mattresses are generally well-suited for most sleep positions: back, side, stomach, or a combination. (Here's some more advice for finding the best mattress for the way you sleep.) Both beds will also accommodate a wide range of body types.
Whether you sleep "hot" or "cool." The coil construction of an innerspring allows for good air flow within the mattress, hence they tend to sleep cooler than other mattress types. Air beds are generally temperature neutral, although the composition of the comfort layer can make a difference. Memory foam, for example, tends to "sleep hot."
How sensitive you are to noise. Both innerspring mattresses and adjustable air beds are on the noisier end of the spectrum compared with latex and memory foam beds, which have no mechanical components or moving parts.
Which kind of base you prefer. For the ultimate in customized comfort, you can pair an air bed with an adjustable base. An adjustable base lets you raise or lower the head and/or the foot of the bed. Many innerspring mattresses are also compatible with an adjustable base, but ones that are particularly thick or built with metal support rods may not be. If you're buying a new base, your best bet is to purchase the one that is recommended to go along with the mattress. (Here's a quick primer on bases and foundations.)
How long they last
The typical lifespan of an innerspring mattress is seven to 10 years, though better quality models can last longer. Air beds can last for eight years or more, but because they contain mechanical components, you may have to replace one or more of the moving parts. That's both good and bad: On the one hand, repairs can be inconvenient or costly; on the other hand, the fact that parts can be replaced or repaired means you can get more total years out of the mattress. Air bed warranties last for 10 to 30 years, but usually only the first two to three years are fully covered; after that period, owners are often required to pay a percentage of replacement part costs.
What they cost
Innerspring mattresses remain the most popular type of mattress, in part because they provide excellent value for the money. They are widely available and come at every price point, from as low as a few hundred dollars into the tens of thousands, with the average running about $1,000. Air beds, on the other hand, are among the priciest mattresses out there, with the average cost of a queen running upwards of $2,000.
Find the right innerspring or adjustable air mattress for you at Saatva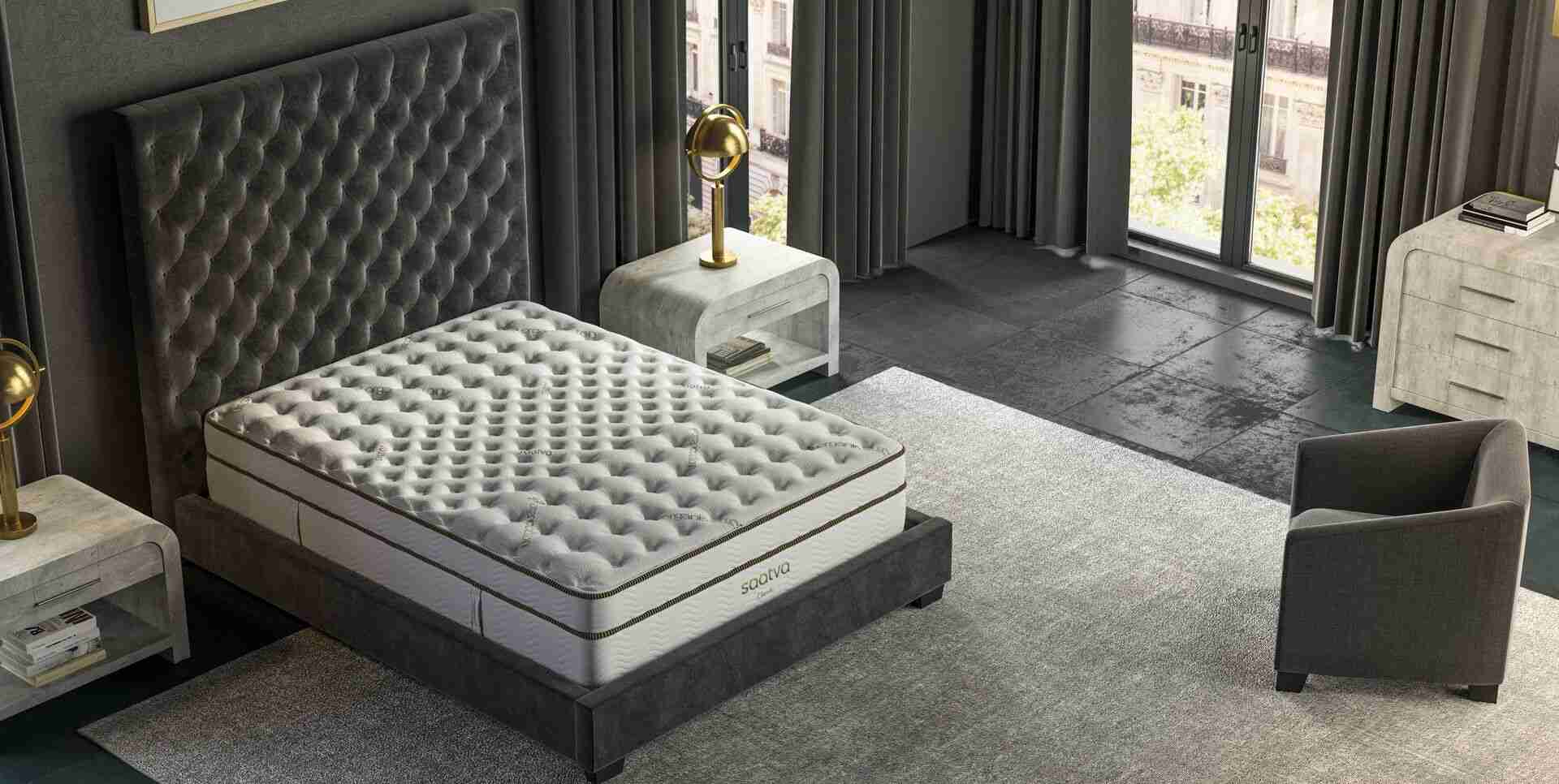 Our flagship luxury mattress is expertly engineered with coil-on-coil construction for durability, a layer of memory foam for enhanced back support, and a cushiony Euro pillow top for extra comfort.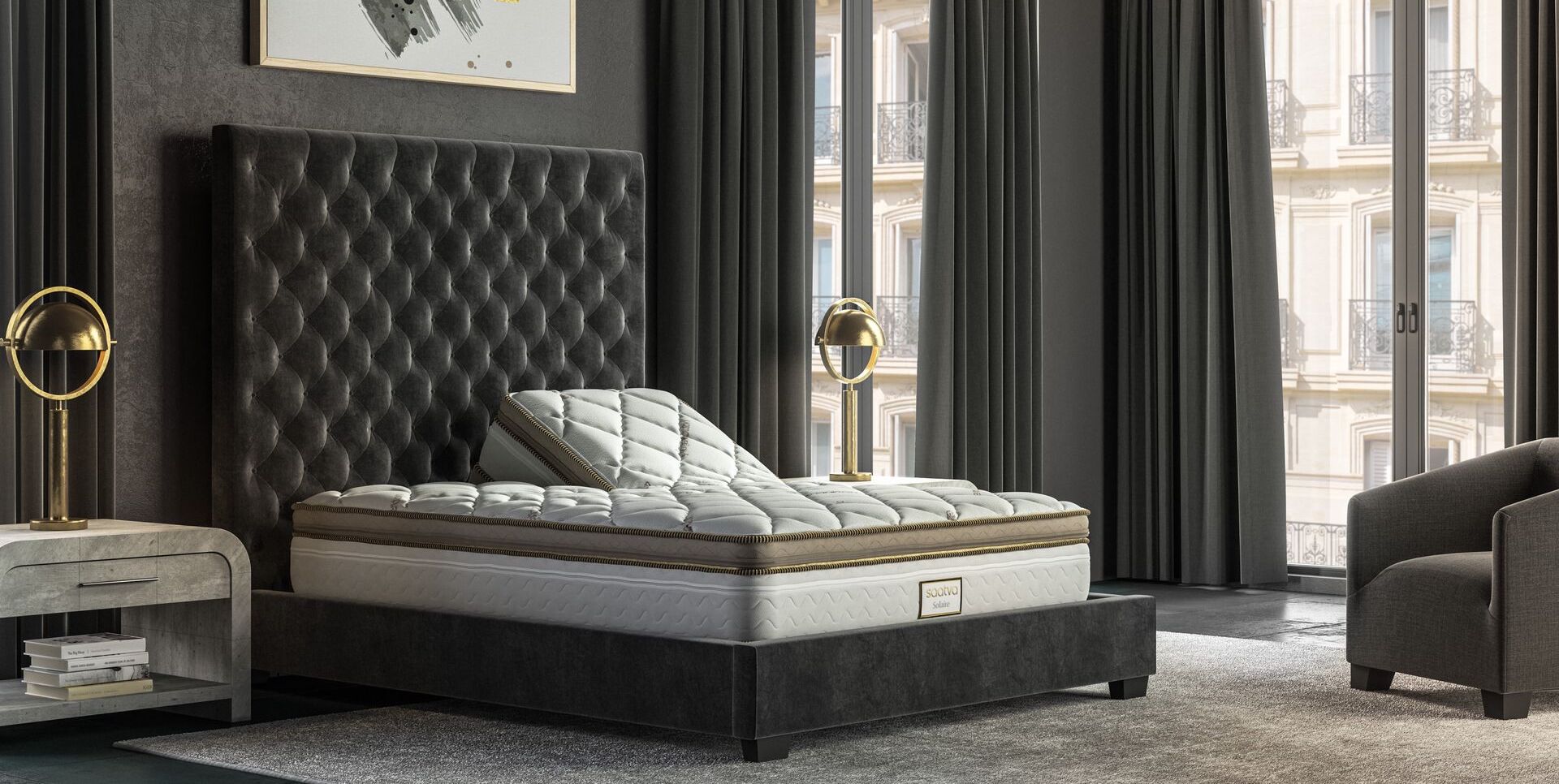 Featuring precise 50 firmness settings on each side of the bed for personal customization. Natural latex and gel-infused memory foam layers provide luxurious comfort and support.
Once you've decided whether an adjustable air bed vs. innerspring mattress is right for you, here's insight into the best time to buy a mattress.
Related reads:
The Definitive Guide to Adjustable Air Beds
Memory Foam vs. Adjustable Air Bed: 7 Key Differences