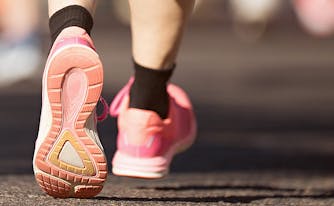 An Olympic Marathoner Shares Her Winning Sleep Routine
If you're a runner, then you know just how important it is to get good sleep while you're gearing up for a big race. The physical stress you put on your body during training means rest is especially crucial so your body has time to recover. And as professional trainer Jamal Liggin previously told Saatva, the more tired you are, the higher your chances of injury.
With the 2020 Summer Olympics on the horizon—we chatted with Natasha LaBeaud Anzures, an elite runner who hopes to qualify for the marathon and represent Canada in the upcoming summer games in Tokyo. Here, learn about how sleep affects her performance, what she does to ensure she gets quality shuteye, and more.
Q: How does sleep affect your performance?
Sleep is important, but people don't focus on it—especially in American culture, where less sleep is considered better if you can get more done. But that's a common misconception. Instead, I focus on my routine, which isn't the same for everyone. It's important to find what works for you. I'm up at 4 a.m. for my morning training, have a second round of evening training, and I'm in bed before 9 p.m. On weekends, I often nap.
Q: What makes getting to sleep easier for you?
At night, I have no cell phones after a certain hour. That way, I'm not looking at the blue light. In the evening, I don't go on the computer or check emails—this helps me get seven hours of deep sleep.
Related: 3 ways to break up with your phone before bed
Q: How does your sleep routine change the week vs. the day before a race?
I maintain a schedule, but If I'm doing a big race with a lot of training, like a marathon, I won't sleep well the night before. Since it's something I prepare for, I can relax.
Q: The day before a race, what parts of your routine are the most important?
Especially with travel and press events, my morning routine can be different. But my evening routine is consistent. On the road and the night before, I'll limit my exposure to cell phones and won't look at work.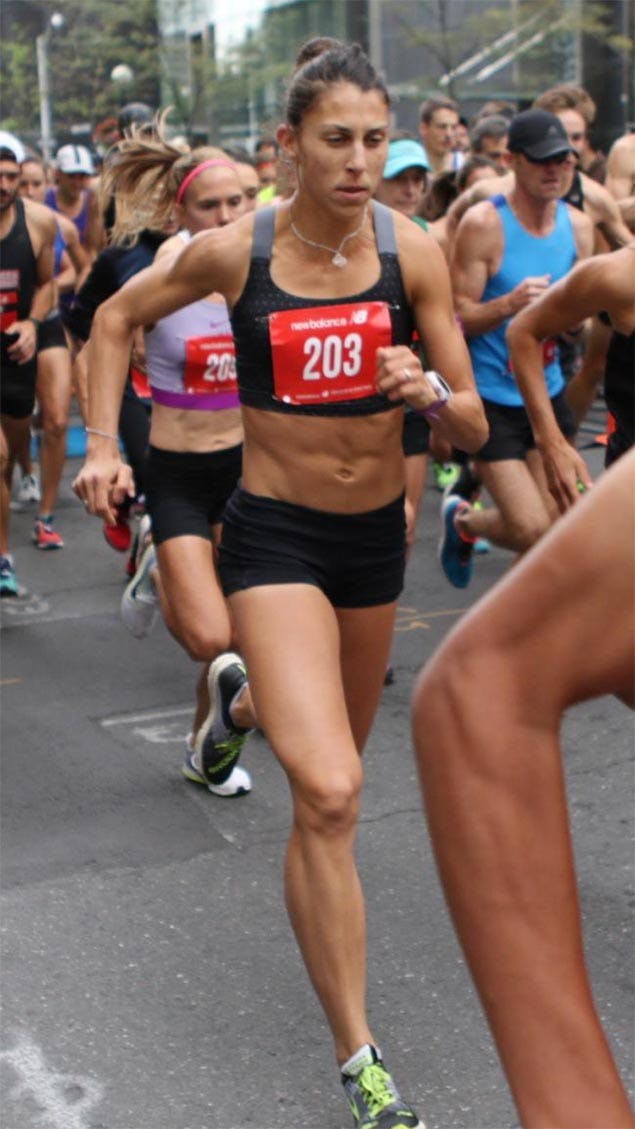 Elite runner Natasha LaBeaud Anzures wakes up at 4 a.m. to train and is in bed by 9 p.m.
Q: Does anything else influence your routine?
In 2006, I learned that I have celiac disease, which affected how I ate. I'd been having a lot of gluten intolerance issues, and the doctors weren't sure what was going on. This led to a shift in how I ate, and I've taken what I eat into my own hands. When traveling for races, I pack huge suitcases to fuel myself and avoid gluten contamination, which can cause significant issues.
Q: What's your advice for runners facing similar challenges?
Knowing your needs is important and going with somebody else's flow is too easy. In college, I'd go to team dinners with spaghetti or something like that. It's what everyone did, but it didn't benefit me.
Related: Here's what the keto diet does to your sleep
Q: Has your evening routine changed now that you're training for the Olympics?
Consistency is key. After dinner, I lower the lighting. Then I have a shower and start my stretching routine, which relaxes my body.
Q: How does your evening routine change after a competition is over?
With long-distance races my body gets sore at night, and it's hard to relax—but I try to maintain my routine. Some runners are up late and celebrate. But after 8 p.m., I sleep, eat, recover, and move forward.
Q: How do you work around the chaos of travel?
When traveling, I have a sleep routine that reminds me of home and tells me it's time to sleep. I'll also make where I'm sleeping as home-like as possible.
"Consistency is key. After dinner, I lower the lighting. Then I have a shower and start my stretching routine, which relaxes my body."
Q: What's your secret to managing pain?
I work with a physical therapist, who helps me do stretches which reduce pain. When I'm stretching, I use diverse tools, including baseballs, Lacrosse balls, and TheraBands. Having routines reduces pain, but you'll still have nibbles that won't go away. Having a tool kit, knowing what works, and knowing when your pain is happening and why is important.
Related: 7 real-world tips for sleeping with chronic back pain
Q: Any advice for runners who are preparing for their first race?
Training for your first race is exciting, and unexpected things come up. Curating a team of people who understand what your body is doing will keep you healthy for future races. It's also important to choose people you're comfortable with who can be your source of advice.
Q: You're the co-founder of a nonprofit, and you work for a PR agency. How do you balance it all?
I stimulate myself with physical and mental training. In 2011, my husband and I founded a not-for-profit called 2nd Recess because we wanted to teach kids healthy running habits. At 2nd Recess, we've affected thousands of kids in San Diego county. If I'm having a bad day, seeing a kid inspired by running inspires me. Inspiring through action is both our motto and a huge part of what I do. I used to train with professional athletes whose only focus was running, and this burned them out. So thriving in all areas of my life is important.
Have trouble falling asleep? Here are 10 nighttime activities to help you relax.