Most people are familiar with the standard mattress sizes—twin, full, queen, and king. Chances are, you have one of these mattress sizes in your bedroom right now.
However, sometimes the standard king-size bed doesn't offer enough space—especially for parents with kids and/or pets who like to pile into the bed or for couples who move around a lot in their sleep.
Luckily, there are some oversized bed options that are larger than a king-size mattress for those who need just a little more wiggle room.
Here, we'll go over the biggest bed sizes and their dimensions to help you decide which one is best suited for your sleeping space.
Oversized mattress dimensions and sizes
When it comes to oversized mattress sizes, there are plenty of options to choose from, including the California king, Wyoming king, Alberta king, Texas king, Alaskan king, and the family and family XL mattresses.
These mattresses come in a variety of different sizes and dimensions, so choosing the right one for your bedroom size can be tricky. Below, we break down each oversized mattress option for you so you can find the right size for your sleep needs.
| | | | |
| --- | --- | --- | --- |
| Mattress Size | Dimensions | Recommended Room Size | Average Price |
| California King | 72" x 84" | 12' x 12' | $900 – $3,000 |
| Wyoming King | 84" x 84" | 12' x 12' | $1,500 – $4,000 |
| Alberta King | 96" x 96" | 13' x 13' | $5,000 |
| Texas King | 80" x 98″ | 12' x 14' | $2,000 – $4,000 |
| Alaskan King | 108" x 108" | 14' x 14' | $2,500 – $6,000 |
| Family Bed & Family XL | 144" x 80" / 144" x 84" | 17' x 12' | $2,800 – $6,000 |
California king
A California king bed measures 72 inches wide by 84 inches long. It offers an extra 4 inches of length compared to a standard king but is a little smaller in width. For tall people, it offers extra legroom as well. It's a great option for single sleepers and those who sleep with a partner alike.
This oversized bed is fairly easy to find and should fit comfortably into a primary bedroom. It's usually pretty easy to find sheets and a bed frame to go along with this bed. (Speaking of sheets, here's how to choose between sateen vs. percale.)
Wyoming king
A Wyoming king bed measures 84 inches wide by 84 inches long. This bed is the smallest of the square-shaped beds. It can usually fit inside a standard-size primary bedroom, unlike many of the other mattress sizes larger than a standard king.
The Wyoming king is a great option for couples who want extra room in the bed or for parents who prefer co-sleeping with their children. Though not as common, single adults could surely take advantage of a bigger bed size like this as well—just think about all that space you'd have to stretch out!
Alberta king
An Alberta king bed measures 96 inches wide by 96 inches long. This mattress size is a full foot wider and longer than a Wyoming king.
It's great for couples with a larger primary bedroom because you'd have the room to fit such a big bed. Plus, an Alberta king's large bed dimensions make it perfect for a couple with pets or children that like to sleep with them.
Texas king
A Texas king bed measures 80 inches wide by 98 inches long. Though this bed isn't square-shaped, it does offer quite a bit of extra length compared to other oversized beds.
It's a good option for those who want extra room at the foot of their bed, whether you're tall or just need extra space for pets who enjoy sleeping at your feet. A mattress like this will fit in a slightly larger primary bedroom without taking up too much space overall.
Alaskan king
An Alaskan king bed measures 108 inches wide by 108 inches long, making it the largest mattress size on this list. Its extra-large size means you need to have a fairly large bedroom to comfortably fit this mattress.
It offers plenty of extra space for couples or co-sleeping families. However, it can be fairly difficult to find retailers that sell Alaskan king beds and accessories.
Family bed and family XL mattresses
A family bed comes in a few different measurements. You can find a standard family bed that measures either 144 inches wide by 80 inches long or 120 inches wide by 80 inches long. When it comes to family XL beds, these measure 144 inches wide by 84 inches long.
These mattresses are the largest beds you can buy in terms of width, but the length is only 4 to 8 inches longer than a standard king. This is because they're meant to accommodate an entire family or families who prefer to co-sleep with at least one of their children.
How to choose the best mattress size for you
There are many considerations you should keep in mind before selecting an oversized mattress for your bedroom. Besides thinking about your bedroom size, you should ensure you're selecting the right mattress for your lifestyle.
These considerations include:
Room size: An oversized bed takes up a lot of space, so you need to make sure your mattress won't be too big for your bedroom. If you have a large primary bedroom, you can likely select from most of the oversized mattresses without issue. However, if you have a smaller main bedroom, then a standard king or standard queen-size mattress may be better suited for you.
Number of sleepers: The number of sleepers may also inform which bed size you prefer. If you're a single adult, you have the option to choose from any bed size, ranging from a twin-size bed all the way up to a family bed. If you sleep with two or more people and want extra room at night, then an oversized bed may be the best move.
Height: If you're a tall person, you know how much of a struggle it can be to find a mattress that has enough legroom for you. Oversized mattresses tend to include extra length so your legs aren't too cramped throughout the night.
Cost: Oversized mattresses can be quite expensive compared to standard sizes—almost double the price in some cases. You should aim to select a mattress size that fits within your budget, even if that means sacrificing some square footage in your sleep space.
Oversized beds have a lot of benefits, but they may not be the best decision for everyone. If you have a smaller main bedroom or need to put a bed in your guest room, something like a double bed, standard queen, or Olympic queen bed may work better for you.
Improve your sleep with these king-size Saatva mattresses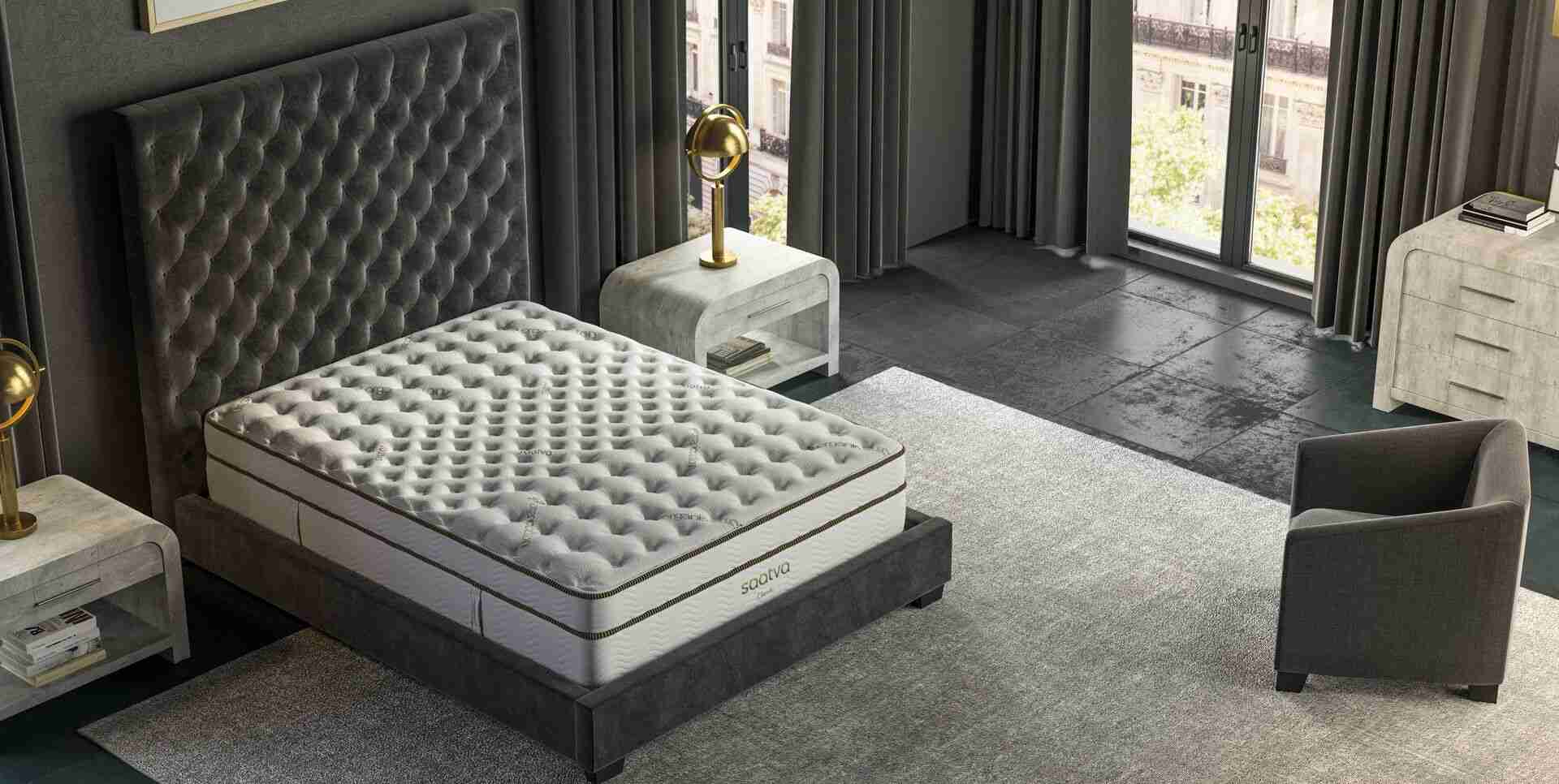 Our flagship luxury mattress is expertly engineered with coil-on-coil construction for durability, a layer of memory foam for enhanced back support, and a cushiony Euro pillow top for extra comfort.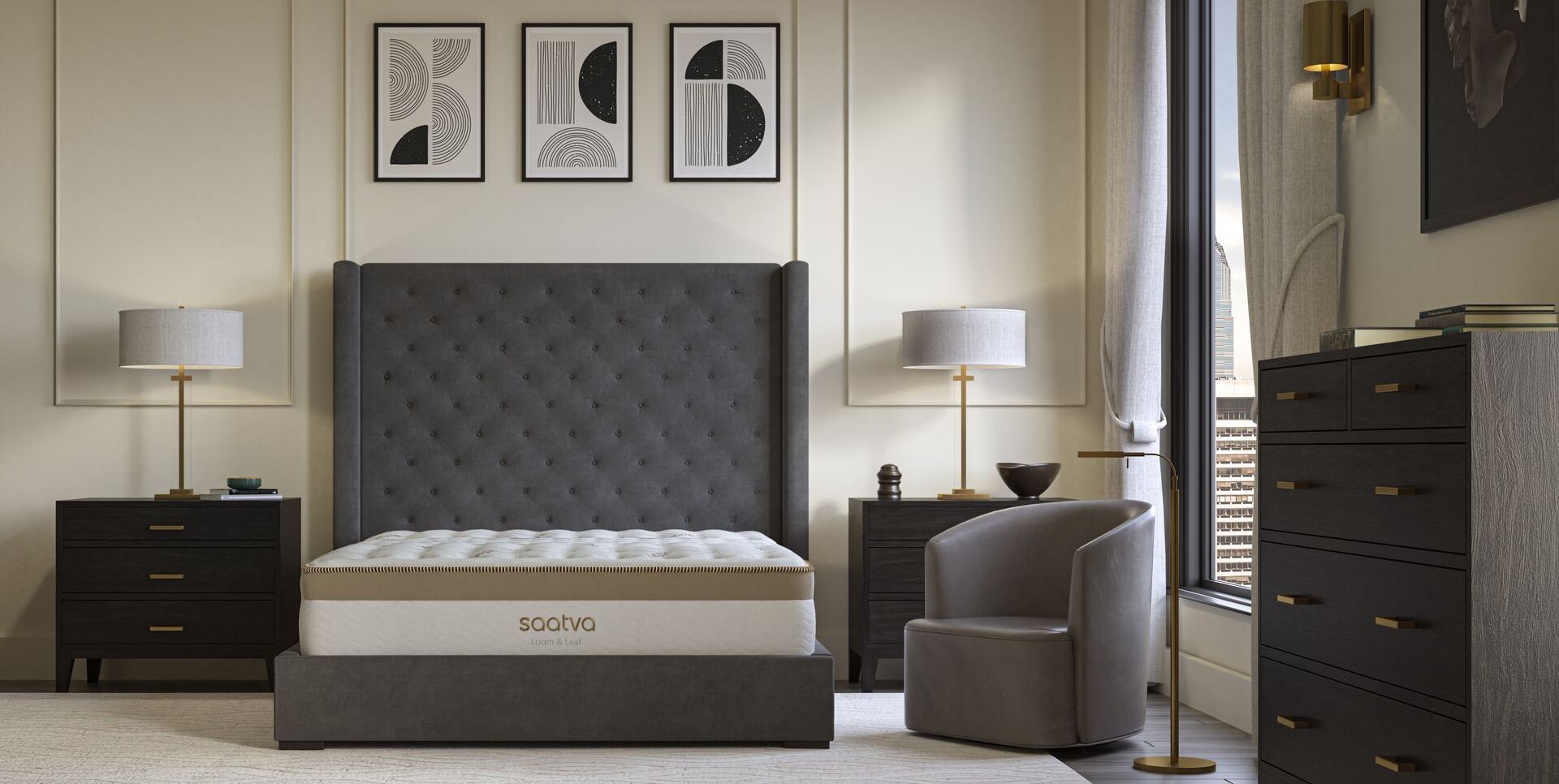 Premium memory foam, handcrafted in the U.S. with eco-friendly materials. Breathable organic cotton, cooling spinal gel, and layers of high-density support foam assure a cool, comfortable night's sleep.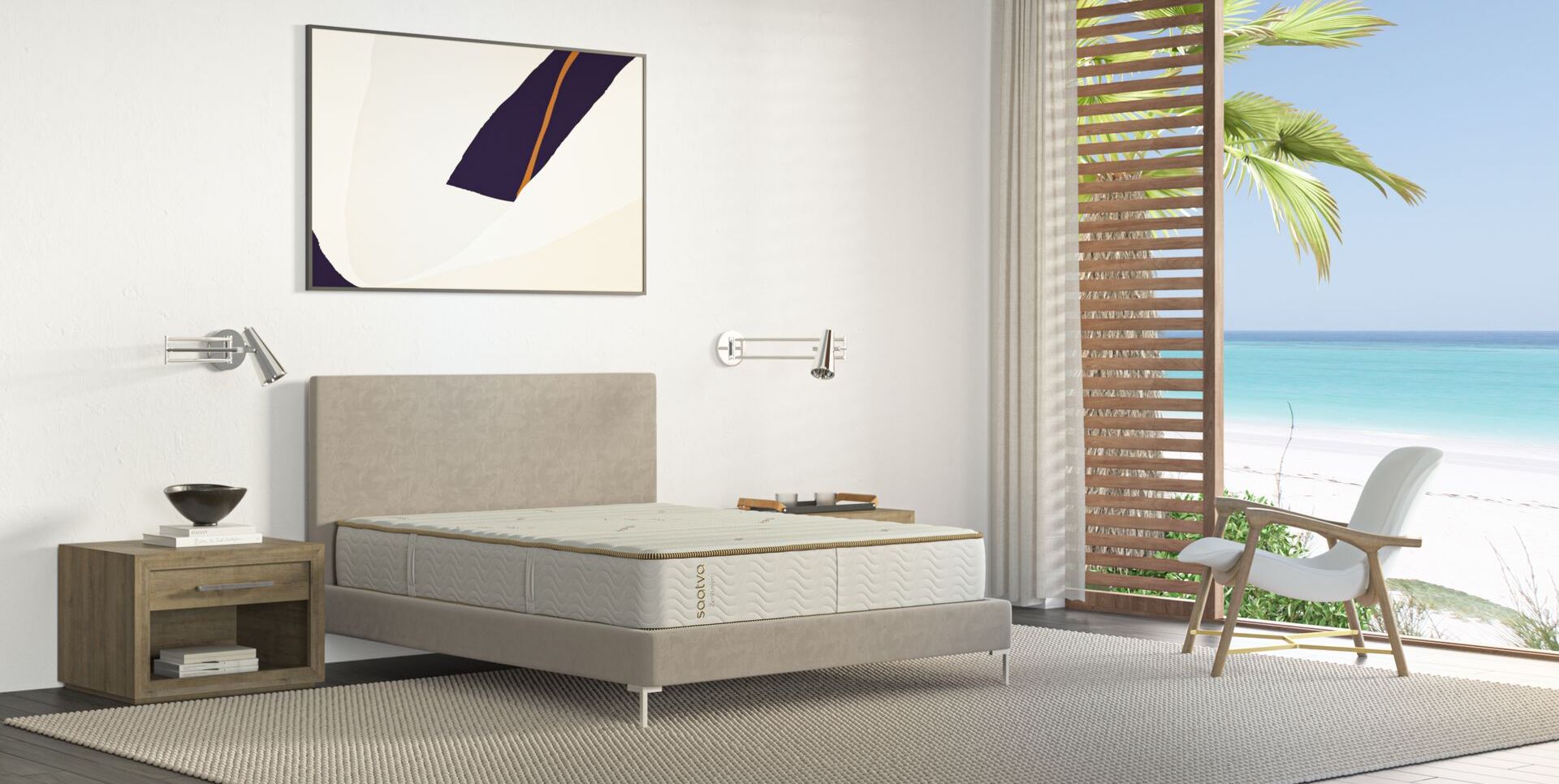 Natural latex responds to every curve for pressure-free support and responsive comfort. Natural latex is supple, resilient, and durable, for the ultimate in elevated sleep. (It's naturally hypoallergenic too.)
Frequently asked questions
Where can I get bedding and other accessories for an oversized mattress?
Bed accessories can be quite difficult to find for both custom mattresses and oversized mattresses because they're not as popular as standard-size beds.
Most retailers will carry bedding ranging from a twin/twin XL mattress up to a standard king or California king. However, you can do some searching online to find retailers that offer larger bedding sizes or get them custom-made for your bed measurements.
How can I find the correct size box spring for an oversized mattress?
You can oftentimes purchase a box spring from the same retailer you buy a mattress. If they offer oversized mattress sizes, then they likely also offer oversized box springs.
If you still have trouble finding a box spring large enough for your mattress, you may be able to set two standard-size box springs side by side to offer support. This works in fairly specific cases, like putting two king-size box springs next to one another to support a family bed.
Can I get an oversized split mattress?
You can definitely find oversized split mattresses if you and your partner have trouble sleeping on the same type of mattress. With split-size mattresses, you can customize the feel of your side of the bed if you have different sleeping preferences than your partner.
At Saatva, we offer our mattresses in a split California king-size. This size is perfect for couples looking for a bigger mattress with a custom feel.
What is an Eastern king mattress?
Eastern king mattresses are just another name for the standard king-size mattress. They measure 76 inches wide by 80 inches long. Any regular king-size bedding will fit well on an Eastern king mattress as well as king-size bed frames.
Explore high-quality mattresses and accessories with Saatva
Oversized mattresses can be a great option for people searching for a bed with some extra space compared to the standard sizes. Saatva offers a variety of mattress sizes, ranging from a standard twin to a California king, as well as a variety of high-quality bedding, pillows, and other bed accessories.
Check out our wide range of high-quality mattresses so you can start experiencing better sleep. All of our mattresses come with a 365-night home trial so you can try one out before deciding if it's right for you.
Take our online mattress quiz to find out which of our mattresses is your perfect match.