When it comes to finding the right mattress, a key piece of advice is to match the mattress to your sleep style and body type. If you're a high-weight person, for example, there are certain features you should look for in a mattress to make sure you get the support and comfort necessary for restorative, quality sleep.
Mattresses designed to meet the needs of bigger bodies are relatively new to the market. Most of them are hybrid mattresses, meaning they combine a supportive innerspring coil base with plush comfort layers made of foams and/or latex. Here, we take a closer look at the differences between two hybrid mattresses made specifically for people who weigh between 300 and 500 pounds:
Saatva HD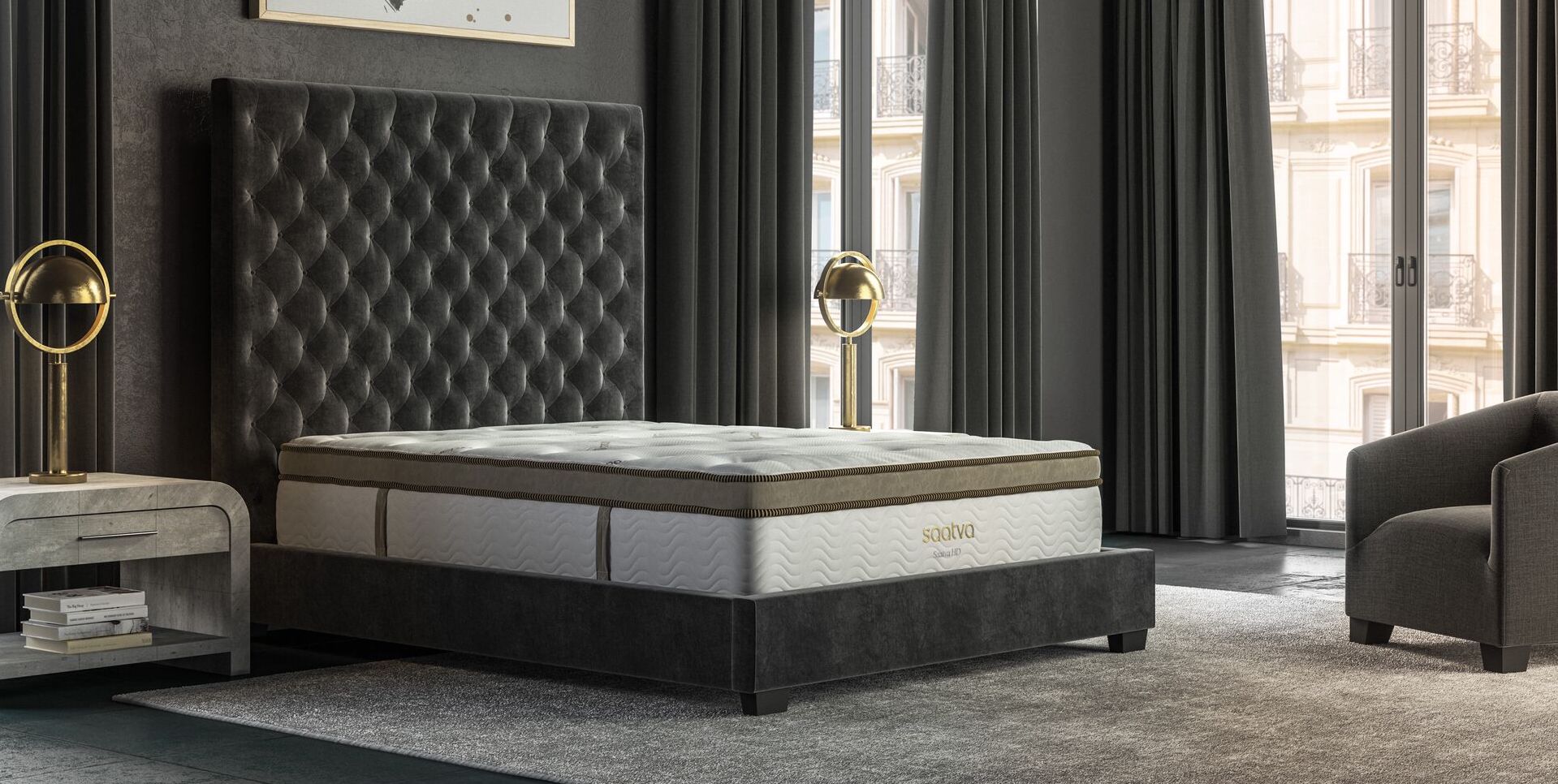 Saatva HD
The first luxury hybrid innerspring for bigger bodies
and Big Fig.
The following information is up-to-date as of May 14, 2019. 
Comfort
Most manufacturers use a numerical scale to describe their comfort levels, with 1 being the softest and 10 the firmest—though it's important to note that no two manufacturers' scales are exactly the same. A firmer mattress is usually better for higher weights, as this will help maintain proper spinal alignment without dipping. The ideal is a mattress that provides support but doesn't trade off comfort—a function of the type of springs, how they are arranged, and the materials and construction of other layers in the mattress.
What is the comfort level of the mattress?
Saatva HD: Medium-firm
Big Fig: Medium-firm
The bottom line: The comfort level of a mattress is determined by the layers of cushioning above the coil spring base. HD and Big Fig both offer a single comfort level in the medium-firm range. On Saatva's 1-10 scale, HD feels like a 5-7, the same as the best-selling Luxury Firm Saatva Classic. Big Fig is in that manufacturer's 6-8 range. (Here's how to find out which comfort level is right for you.)
What kind of coils are in the mattress?
Saatva HD: 12.5-gauge tempered steel coil unit
Big Fig: 15-gauge individually wrapped coils
The bottom line: One of the most important components of a hybrid mattress is the springs. Quality support springs will have a gauge, or thickness, between 12 and 15. (The lower the number, the thicker and stronger the coil; the higher the number, the thinner and more flexible).
The Saatva HD coil unit is made with 12.5-gauge tempered steel, the strongest in the industry, for maximum durability and resistance to sagging. The coils are then threaded with a 17-gauge helical wire for added contouring ability and reduced motion transfer. Big Fig's coils are made with 15-gauge steel and individually wrapped to provide contouring and reduce motion transfer.
How thick is the mattress?
Saatva HD: 15.5 inches
Big Fig: 13 inches
The bottom line: Thicker mattresses are usually the best option for bigger bodies, as they offer support without dipping or sagging and contain more specialized comfort layers.
Saatva HD is approximately 15.5 inches thick, with the following layers:
2.5-inch organic cotton cover and pillow top
1.5-inch firm Talalay latex with five support zones
1.5-inch contouring memory foam
2-inch ultra-durable polyfoam
6-inch coil unit
2-inch base support layer
Big Fig is approximately 13 inches thick, with the following layers:
1-inch Thermogel treated fabric cover with foam layer
5-inch gel-infused latex
3 layers 1-inch polyfoam
7-inch individually wrapped coils
1.5-inch base support layer
What kind of lumbar support does the mattress have?
Saatva HD: Lumbar Zone® Active Spinal Wire and 5-zone natural latex in the center third of the mattress
Big Fig: No added reinforcement in the lumbar region
The bottom line: Lumbar zone reinforcement strengthens the mattress in the center third, where most people's weight is concentrated. The Saatva HD adds lumbar support with our Lumbar Zone® Active Spinal Wire, which encircles and strengthens the area from shoulders to hips. A layer of 5-zone natural latex offers additional back support.
The Big Fig mattress does not have targeted lumbar zone reinforcement. (Here's how to find the best mattress for back pain.)
What does the mattress do to keep you cool?
Saatva HD: Strategic layering of breathable organic cotton, natural latex, and open coil construction
Big Fig: Thermogel-treated fabric cover and gel-infused latex
The bottom line: Sleeping hot is a common concern for some people in the high-weight category, so the more cooling features a mattress has, the more comfortably you'll sleep. In general, the coil core of hybrid innerspring mattresses promotes easy airflow and cooler sleep.
Quality
You're going to be spending a lot of time—and money—on your new mattress, so you want one that's engineered to last. Beyond mere comfort, you'll need to consider the details that affect mattress quality and longevity, such as mattress construction, edge support technology, and eco-friendly materials.
What kind of edge support does the mattress have?
Saatva HD: High-density foam rail encasement
Big Fig: High-density foam rail encasement
The bottom line: Edge support makes it possible to sit or lie on the edge of the bed without the mattress collapsing. A firmer, more supportive edge also makes it easier to get in and out of bed. The Saatva HD and Big Fig mattresses both use the same kind of sturdy edge support: a perimeter of high-density foam encasing the coil unit on all four sides.
Is the mattress hand-tufted?
Saatva HD: Yes, 30 tufts (queen size)
Big Fig: Yes, 16 tufts (queen size)
The bottom line: Hand tufting is the mark of a high-quality mattress. It's a method of securing the top layer to the layers underneath it. The process entails compressing the materials in the mattress and inserting a string from top to bottom to keep the layers in place and prevent shifting that can ultimately lead to sagging. This makes for a durable, long-lasting mattress. Saatva HD has nearly twice as many tufts as Big Fig, assuring the materials will stay securely in place and the comfort will never vary.
Is the mattress cover organic?
Saatva HD: Yes
Big Fig: No
The bottom line: Organic materials are gentler to the environment and soft against your skin. The Saatva HD is covered in organic cotton treated with Guardin®, a plant-based antimicrobial that inhibits bacteria and prolongs the life of the fabric. (Learn more about why natural, breathable organic cotton is a healthy choice for you and for the environment.) Big Fig's Thermogel treated fabric cover is made of a blend of polyester, viscose, and lycra materials. It is not organic.
What is the flame retardant made of?
Saatva HD: Natural plant-based thistle
Big Fig: Natural fibers
The bottom line: All mattresses are required by law to have a flame retardant, but some manufacturers use chemicals in their fire barrier. Both Saatva HD and Big Fig make their fire barrier from natural botanical materials that are free of harmful chemicals.
Value
When you're choosing between mattresses, cost is often a determining factor. But to know whether you're truly getting the most for your money, look beyond the price tag to value-adds such as home trials, delivery policies, warranty terms, and customer service.
How much does the mattress cost?
Saatva HD: $3,295 (queen)
Big Fig: $1,799 (queen)
The bottom line: A mattress made with premium materials, designed for the needs of the heavier sleeper, doesn't come cheap. And the Saatva HD costs more than Big Fig. But that's because we created the Saatva HD to be unique on the market: a luxury mattress, engineered to deliver the plush comfort of the hotel-quality sleep experience, exclusively for people who weigh 300 to 500 pounds.
How is the mattress delivered?
Saatva HD: Free white glove delivery, which includes delivery and setup of the mattress and free removal of your old mattress
Big Fig: Free "to-your-door" delivery
The bottom line: HD comes standard with white-glove delivery. Big Fig offers three options: You can have the mattress sent to you for free and take care of the setup and removal of your old mattress yourself; you can pay $99 for delivery and setup; or you can pay $159 for delivery, setup, and old mattress removal. (Note that a queen-size Big Fig weighs 120 pounds.)
How long is the risk-free trial period?
Saatva: 365 days
Big Fig: 120 days
The bottom line: All mattresses have a break-in period, especially if it's a type of mattress you've never slept on before. HD's home trial is longer. If at any point during your HD trial you decide to return the mattress, Saatva will pick it up and refund the purchase price, less a $99 processing fee. Big Fig asks you to sleep on the mattress for at least two weeks before returning. If you decide to return a Big Fig, the company will pick it up and refund the purchase price.
How long is the warranty?
Saatva HD: Lifetime warranty
Big Fig: 20 years
The bottom line: The Saatva HD mattress carries a lifetime warranty. The warranty works like this: If a mattress is deemed defective during the first two years, Saatva will replace it with a brand-new mattress, free of any charges. Starting in year three and for as long as you own your mattress, Saatva will repair and re-cover your mattress. You will be responsible only for a $149 processing fee.
Big Fig has a 20-year non-prorated warranty. The company will repair or replace defective components during the warranty period, less a processing fee ($150-$200), depending on your location and size of the mattress or piece being replaced.
What about customer support?
Saatva HD: Noncommissioned sleep guides are available in Saatva's New York operations center to answer questions 24 hours a day, 365 days a year.
Big Fig: Big Fig representatives are available Monday-Friday 8 a.m. to 4:30 p.m. EST.
The bottom line: Concierge service is the Saatva standard, with helpful representatives at the other end of the line any time of the day or night.
Improve your sleep with our luxury hybrid mattress for bigger bodies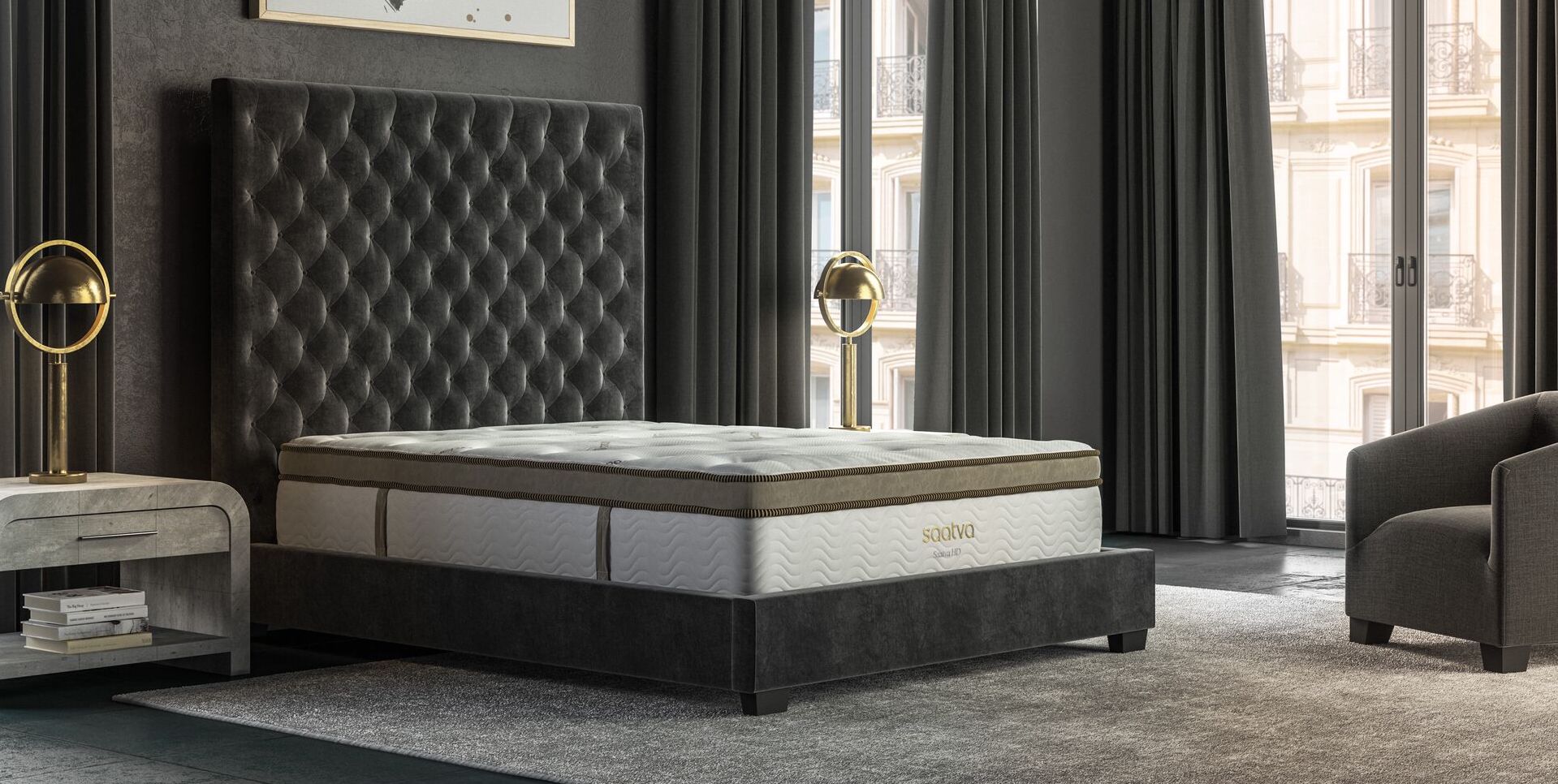 This luxury hybrid innerspring mattress is specifically engineered to support people weighing between 300 and 500 pounds. Plush upper layers made of foam and latex deliver comfort, while a high-durability coil base offers support.
Still haven't made up your mind? Read our reviews. Ready to buy a mattress? Head on over to saatva.com now.