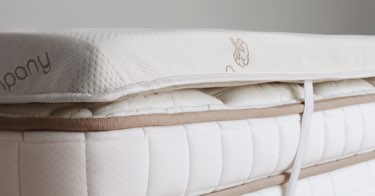 Saatva Mattress Topper
Choose from 3 toppers to add instant comfort to your mattress
Each of our three premium mattress toppers were thoughtfully designed to elevate your sleep experience. Top off your Saatva mattress to enhance your comfort or prolong the life of an older mattress with one easy addition.
Cover made with naturally breathable and moisture-wicking organic cotton
Secure elastic anchor bands keep mattress topper in place
Works with all Saatva mattresses and other mattress brands
Spot clean
Upgrade your sleep sanctuary
Enjoy cooler, more comfortable sleep wrapped in our supremely breathable, naturally hypoallergenic percale cotton sheets.
slide page 1 of 8
Instant comfort boost
Whether you're looking for cooler sleep, improved support, or pressure relief, our mattress toppers deliver better sleep instantly.
Seamless look
Our toppers are designed to blend seamlessly with your new or existing mattress.
Secure fit
Four elastic anchor bands ensure a secure fit to your mattress with no shifting.
Find the right mattress topper for your best sleep
For cutting-edge cooling & pressure-free support
3" memory foam is infused with graphite for the most advanced cooling technology available.
Memory foam instantly limits motion transfer as it hugs your curves for pressure-point relief
Graphite layer draws heat away from the body for cooler, more refreshing sleep
Cover made with breathable organic cotton
, free of potentially harmful chemicals
For durable, responsive support
1.5" hypoallergenic natural latex gives you long-lasting, buoyant support for unmatched pressure-point relief.
Made with natural, eco-friendly mateirals
Perforated natural latex and cover made with organic cotton ensures breathability for cooler sleep
Natural latex is more consistent, durable, and breathable than polyurethane foams
For body-hugging support that feels just right
1.5" high-density foam adds an instant layer of comfort and support to any mattress.
Evenly distributes your body weight for instant pressure-point relief
Body-hugging foam provides support where you need it most
Just-right medium firmness provides great support for all sleep positions
, free of potentially harmful chemicals
Frequently asked questions
Mattress toppers returned within 180 days of the delivery date will get a full refund to the original form of payment. There are no restocking or penalty fees for used products, but we do ask that you wash your used bedding before returning.

To make a bedding return, simply call 1-877-672-2882 or email info@saatva.com. If you received our bedding as a gift, please call us for help with your return.

At this time we do not have an exchange policy for Saatva bedding. If you would like to exchange your merchandise, simply return your order and repurchase the item of your choice.

Spot clean as needed, preferably with a mild, organic cleaning solution.

Mattress toppers are more substantial than mattress pads and protectors, typically around 1" to 4" in thickness. Rather than protect your mattress, they're designed purely to add an extra layer of comfort to new or older mattresses.

Mattress toppers are different from mattress pads and mattress protectors. A pad is a thin quilted layer designed to protect your mattress stains and sweat. Protectors are more like mattress sheets and are primarily used to keep contaminants like mold, bacteria, and bed bugs out of your mattress.

Just like mattresses, there are different types of toppers for different sleep preferences and needs.

Latex mattress toppers are often recommended by orthopedists and chiropractors to relieve neck, back, and shoulder pain. They offer resilient yet responsive support and limit motion transfer. They're also more durable and breathable than memory foam toppers.
Memory foam mattress toppers are particularly great for back and side sleepers because they conform and contour to your curves and provide pressure-point relief. Like latex toppers, they also limit motion transfer.
Cooling mattress toppers, like our Graphite Memory Foam option, are great for those who tend to sleep hot because they draw heat away from the body.

You should expect to replace your topper after about three to five years. This also depends on other factors like the quality of the latex, high-density foam, or memory foam, the age and condition of the mattress, and the thickness of the mattress topper.

If you're looking for the most durable mattress topper material available, go for a latex mattress topper.

Latex and memory foam mattress toppers are best for those who suffer from back pain because they contour to your body, promoting healthy spinal alignment and relieving pressure points.

Foams that are CertiPUR-US® certified are guaranteed to be low in volatile organic compounds (VOCs), so you don't have to worry about off-gassing odors. CertiPUR-US certified foams are also guaranteed to be free of ozone depleters, PBDEs, TDCPP, and TCEP flame retardants, mercury, lead, and other heavy metals, formaldehyde, and phthalates.

Memory foam (also known as viscoelastic foam) is a type of foam that softens and responds to body heat and pressure.

High-density polyurethane foam has a density of at least 3 pounds per cubic foot. Our CertiPUR-US® certified high-density foam has a density of 5 pounds per cubic foot, making it more durable while offering excellent pressure-point relief.

Latex foam can be natural, made from the from the sap of the rubber tree, or synthetic, made of petroleum polymers or a mixture of both.

We only use natural latex foam in our mattresses and mattress toppers. Natural latex foam is naturally hypoallergenic, offers superior breathability, and excellent pressure relief.
Saatva has earned an A+ rating from the Better Business Bureau and 96% of Saatva customers are satisfied with their purchase*.See for yourself why we have the highest customer review ratings in the mattress industry.*Based on Saatva product return rates